EVGA announces the Classified SR-2
Dual Socket 1366 plus Quad SLI or Crossfire.
Published Wed, Mar 17 2010 5:42 PM CDT
|
Updated Tue, Nov 3 2020 12:35 PM CST
If you remember back during CES we told you about EVGA's ambitious project to build a highly overclockable dual 1366 socket motherboard that could run Quad SLI or Quad Crossfire. Well it has finally been announced and given a name. This board will be known as the Classified SR-2.
Just like we told you before this will run two Xeon 55xx or 56xx CPU with up to 48GB of registered DDR3 1333 memory (24GB per CPU) it supports both dual and triple channel setups. It also has a enough PCIe x16 slots to support up to four GPUs in full x16 mode across all of them. However, to get all this in the board has to be huge! It is even larger than full XL-ATX. It is so big EVGA had to come up with a new size name HPTX.
Power will also be an issue, to run Tri SLI and OC both sockets will put you in the area of 1500 Watts of power draw. With Quad SLI you are looking at 2000+ Watts. Most are thinking that to get this off the ground a pair of 1200-1400 Watt PSUs will be needed. Unfortunately there is still no word on when these will actually hit the market.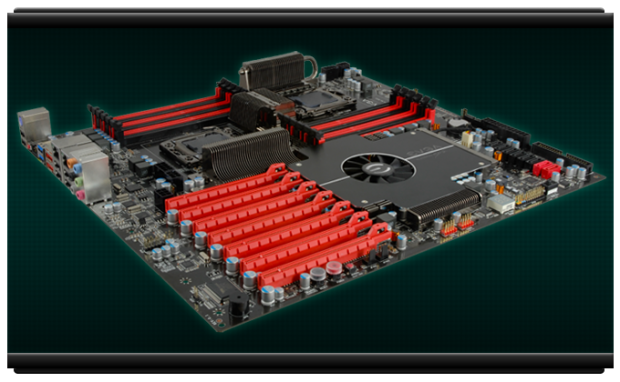 Related Tags