Latest AMD road map leaks with more light on six-core Thuban
And some quad-core based ones on the horizon, too.
Published Fri, Mar 12 2010 12:54 AM CST
|
Updated Tue, Nov 3 2020 12:35 PM CST
A day after Intel lifts the NDA on its latest bad boy that is the 6-core Gulftown monster, leaked slides have made their way onto the web which paint a clearer picture for AMDs processor release plans throughout the remainder of the year.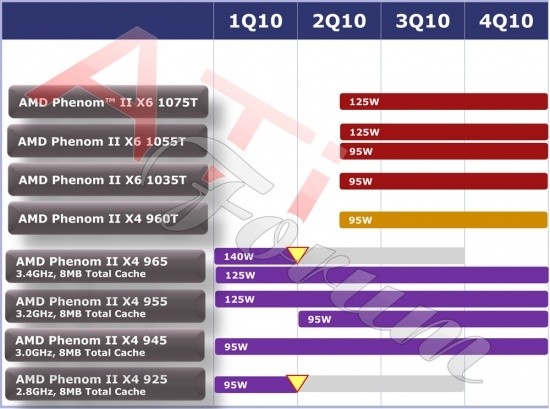 We can ascertain from this road map that indeed AMDs naming scheme on its soon to be unveiled six-core (Thuban) processors will stick to the Phenom II X6 branding. Three six-core models will hit the market initially in the form of the 1075T, 1055T and 1035T and we can see there will also be some new quads coming which make up the Phenom II X4 900T series.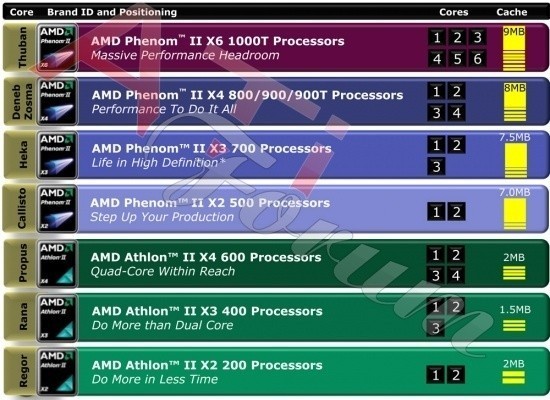 This new quad core family of processors will also be based on the Thuban dies, but with two cores disabled and carrying the codename 'Zosma'. AMD will make six-core Thubans into quads when there are minor defects in one or two of the cores in order to salvage its foundry produce which also in turn gives the ability to target lower price points in the market.
The first in the X4 900T series to be released is the 960T which appears to be set for release around the same time at the initial batch of six-core Thubans, in May at this stage.
Related Tags