ASUS ROG Ares specs and image show up - HD 5970 on steroids
4GB of RAM, big clock increases and big price.
Published Thu, Feb 25 2010 11:33 PM CST
|
Updated Tue, Nov 3 2020 12:35 PM CST
The folks at
Plaza.fi
have obtained both a CAD drawing along with performance expectations of ASUS' suped up Republic of Gamers Ares graphics card which is basically a custom-designed HD 5970 which as many bells and whistles ASUS could jam into it.
This upcoming limited edition model uses two Radeon HD 5870 GPUs with 1600 stream processors each, whilst the core and memory clock remains the same as the HD 5870 at 850MHz / 1200MHz (up from the stock 725/1000MHz on a stock HD 5970). On the subject of memory, ASUS also doubled the memory with 4GB of it residing here.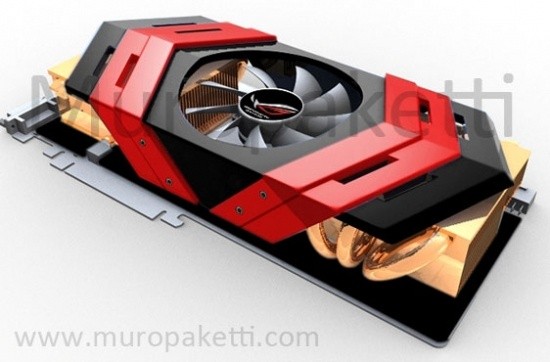 As the CAD drawing above indicates, the card sticks with a single PCB whilst the cooling system is what mostly catches the eye; not too dissimilar to what NVIDIA uses for its current top-end dual GPU based GTX 295 with a centrally positioned fan which pushes air onto copper GPU blocks on both sides. This overall fan design looks pretty mean and chunky and is said to be quieter than AMD's reference HD 5970 cooler as well while no doubt being more effective.
A graph shared out over at Plaza.fi also gives a 3DMark Vantage result with the Ares, comparing it to a stock HD 5970. According to this result it is almost 30% quicker.

There are two main downsides to a card like this. The first is power draw; the card requires two 8-pin PCI-E power connectors as well as a 6-pin and will inevitably chew through the power a good rate more than a stock HD 5970 which is already a very hungry card. Next of course is the price; being a limited edition run and a member of ASUS' ROG series, you'll be digging deep to pay out for one of these once they reach the market, that is if you can find one.
Related Tags