GALAXY's digital PWM GTX 285 breaks single GPU Vantage record
30/2800/2000MHz clocks do the trick.
Published Wed, Feb 3 2010 3:00 AM CST
|
Updated Tue, Jun 16 2020 4:29 PM CDT
GALAXY have today let us know about a member of world recognised overclocking group Team HK_Centralfield who has gotten hold of GALAXY's GTX-285 with digital PWM and succeeded in breaking a new world record of P17322 under Vantage for a single GPU setup.
The system specs used for this accomplishment include a Core i7 920 processor on eVGA's X58 Classified motherboard along with some A-DATA 2200MHz memory (running at CL7-7-7-19) and a 30GB SSD from OCZ.
Thanks to the use of LN2 cooling, The CPU was running at 4.818GHz whilst the GTX 285 was pushed up to a very impressive 930/2800/2000MHz.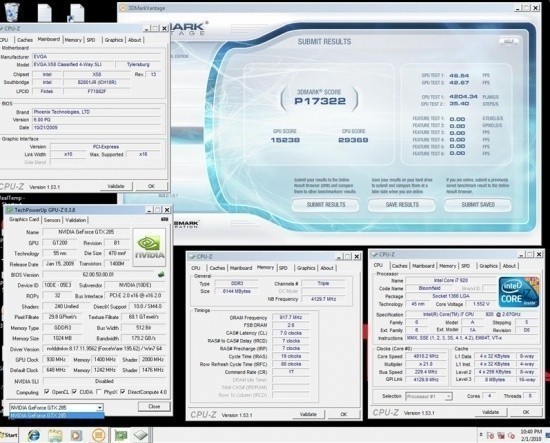 You can find more information about the result
at HWBot
.
Related Tags