Cooler Master shows off new products and some of what it to come
Including some awesome mods.
Published Mon, Jan 11 2010 2:44 PM CST
|
Updated Tue, Nov 3 2020 12:35 PM CST
CES 2010 - During our time at CES we got the chance to stop by the Cooler Master Suite. This was an interesting time and offered us a look at what Cooler Master currently has as well as some new items that are to come.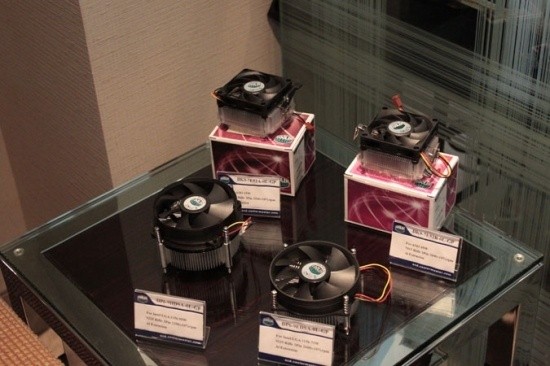 When we first walked in we were greeted by a display of OEM coolers for both AMD and Intel. It was after this short stop that the fun started. We were taken into a separate room that contained some products that are coming later in 2010. Unfortunately we were not allowed to Photograph any of them but we can tell you that we saw the next evolution in the CM Storm case and mouse line. The case looks to be a continuation of the sniper with some minor aesthetic adjustments. Air flow and cooling should be just as good as you have come to expect from CM. The second future product we saw was a mockup of future gaming mouse. This one adds ambidextrous use to the list of features it has. The feel of the mouse is good in your hand and the look is nothing short of fantastic.
After we left the "no-photos" room we saw some less secret items that we were able to show you. One of the ones that will be of interest to gamers and other enthusiasts is Cooler Master's new line of high-performance PSUs. These will sell under the GX brand and are all single rail high current PSUs with silver 80+ ratings.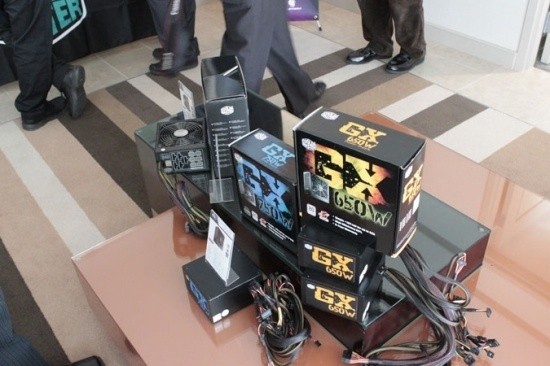 Although not really part of any new product offering Cooler Master had some custom modded cases on display. One that really caught my eye was based on the District 9 Movie. The mod was based on the ATSC 840 case and was quite eye-catching.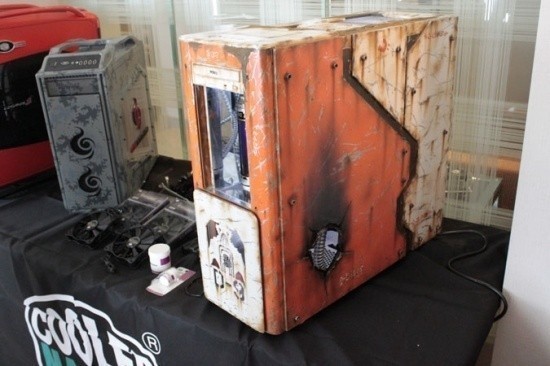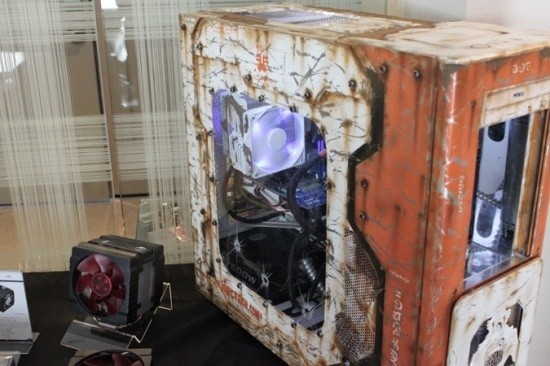 Sandwiched between the District 9 case and another mod was a cluster of fans and new CPU cooler that CM is going to be pushing out soon. The fans are high CFM and have a non-standard design. Instead of the normal solid side walls CM has opted for ventilated ones that help maintain airflow even at low RPMS. They have also changed the design of the blades to improve air flow while limiting noise.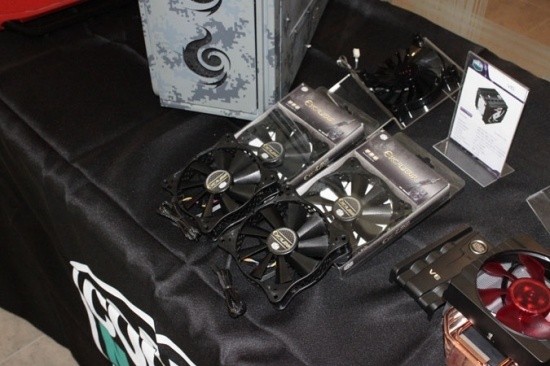 CM showed us the next in their "automotive" line of CPU coolers. This is the V6; when we first looked at it we wondered if it was nothing more than a Hyper-212 with an extra fan and a shroud. We were quickly told that this was not the case. The V6 is a ground up new design; yes it shares some features of other coolers but CM has opted to allow direct cooling of the heat pipes by building them in a V configuration. They have also tilted the fins to allow for more efficient air pass through from the fans.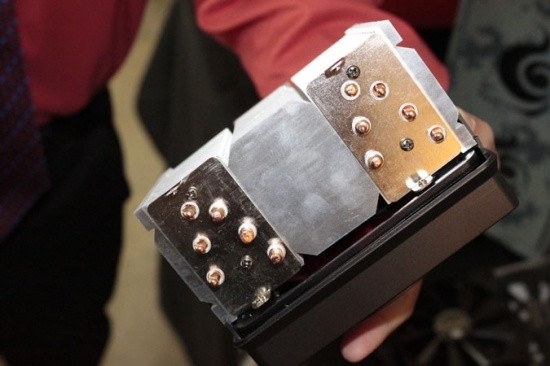 After our time with the new products we went back into the Choiix room. Choiix is a relatively new line that offers a more stylish option for products and accessories. One example if a portable amplified speaker that gets its power from a single USB port on your notebook or netbook. The audio quality and volume was quite good considering its compact design.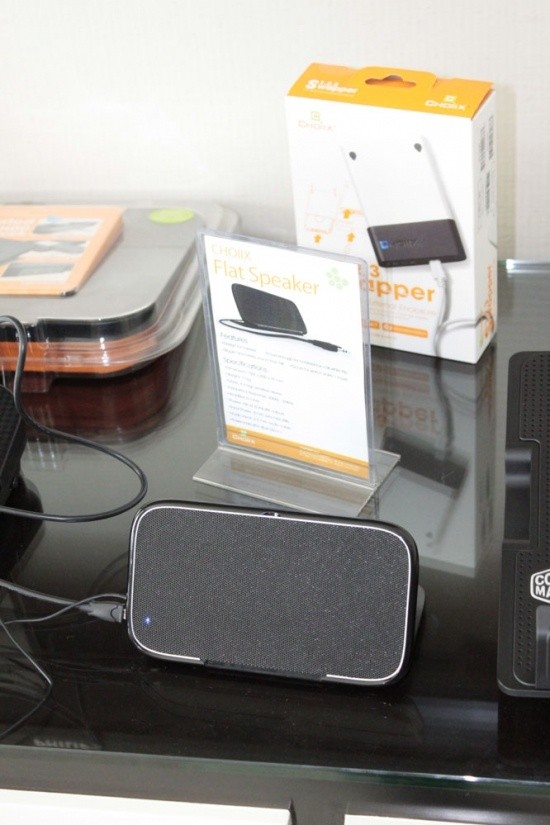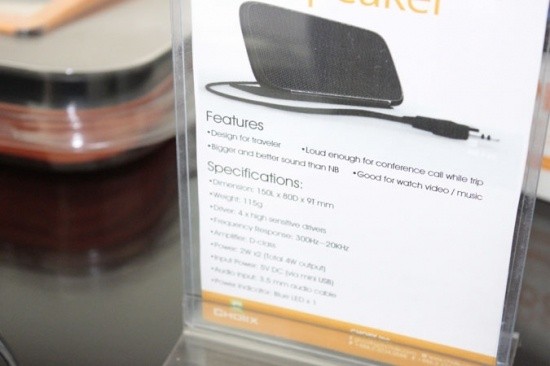 They also had another item that caught our eye. This was one of the easiest external drive bays I have ever seen. Called the Swap 1,2,3 it was really that simple to open it up and swap out the drive. As you can see in the image below, you only need to remove two plastic pins and the back plate to pull out the 2.5-inch drive inside. CM says the target market for this is college students and others looking for an easy and portable drive bay.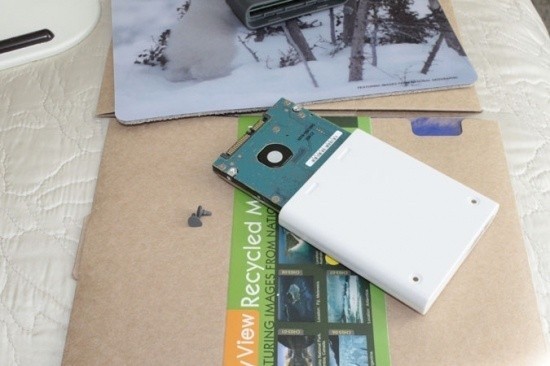 Last up was a notebook cooler that is aimed at high-performance gaming notebooks. As we were taking pictures of it we were stopped and told we were not allowed, but then after a few minutes discussion we were allowed to snap a shot of it with the notebook on top but no close-ups or detailed shots. This cooler looks to be capable of keeping up to a 19-inch book cool under gaming loads and has more than a few lights and USB ports to keep everyone happy.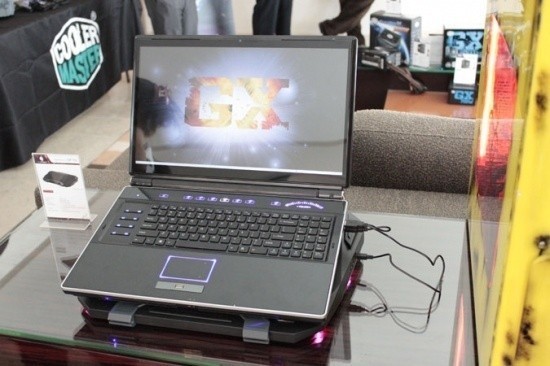 Related Tags