eVGA throws all its tricks (and then some) into dual-socket LGA-1366 board
with seven PCI x16 slots + two nF200 bridge chips.
Published Mon, Jan 4 2010 8:21 AM CST
|
Updated Tue, Nov 3 2020 12:35 PM CST
A pretty outrageous motherboard has been spotted online from eVGA which they will quite likely show off during CES which kicks off in a few days.
This thing is an absolute monster; a dual socket LGA-1366 offering which looks to be Intel 5500 "Tylersberg" or X58 powered with ICH10-class Southbridge. It is neither XL-ATX or EATX in exact dimensions with a said length of 13.58 inches (344.93mm) and possibly a little wider than EATX as well.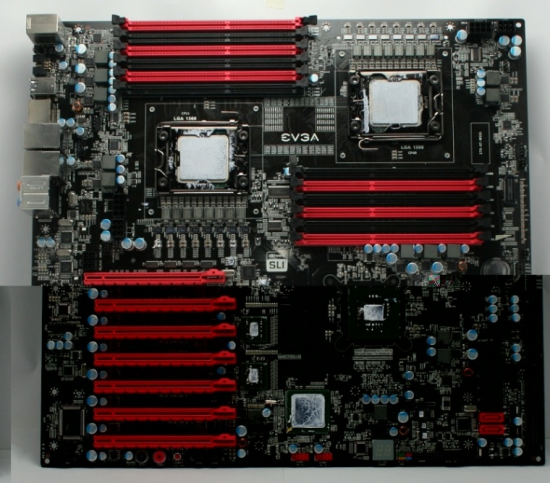 Each LGA-1366 socket gets six DDR3 DIMM slots with independant 3-phase digital PWM circuit, whilst the CPU sockets themselves get 8-phases each. The CPU VRM requires input from an 8-pin ATX and also what looks to be an additional 6-pin +12V (PCI-E) connector. Further to that is a spot for additional 6-pin PCI-E power along with the usual 24-pin ATX connector to feed the beast, albeit some of these extra power inputs may only be needed for extreme overclocking.
There's no less than seven PCI-E x16 slots which have four x16 links to play with via the use of two NVIDIA nForce 200 bridge chips. Other features include a Marvell 6Gbps SATA controller along with the usual SATA 3Gbps ports made available via the ICH10 Southbridge, two Gigabit ethernet controllers, 8-channel audio, eSATA, USB 3.0 and EV-Bot support.
All in all, eVGA has thrown absolutely everything they could think of into this mother of motherboards. Whether or not it becomes a mass produced reality remains to be seen; we'll no doubt hear more during CES.
Related Tags