Just yesterday we told you that we felt the news of NVIDIA grabbing up ex-Transmeta employees was all about Tegra and not about an x86 CPU. Well today we hear some more interesting news about Tegra, well more to the point its successor Tegra 2.
With news flying around that NV has a major design win by getting the Tegra into the next Nintendo DS we now hear more about what will be under the hood of the Tegra 2. Of course we have been told a little about the new Tegra 2 and have talked about it before. So the news that there will be at least one ARM Cortex 9 under stuffed inside is nothing new. Where things get interesting is the information we have on the GPU side of things.
As NV pushes Cuda and PhysX we are hearing that Tegra 2 will have Dual GPUs (GeForce 9 based). This will either be for "SLI-Like" performance or as PPU to allow for a mobile PhysX library to be utilized. We feel that latter is more likely. Remember the GF9 series was the first to support Cuda and PhysX on the GPU. In fact at the last press briefing in back in August we were told that Tegra 2 would be capable of 4x the processing power at the same power draw! At the same time the Tegra 2 was listed as launching in 2010 so it looks like things are right on track there.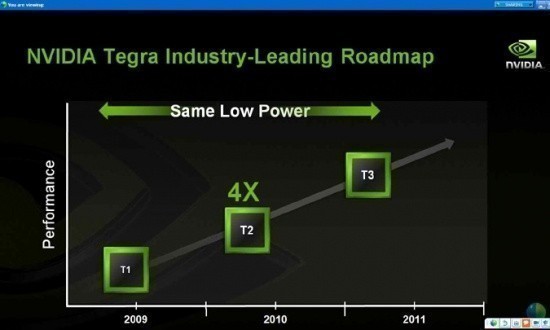 I think Jen-Hsun Huang was right in saying that Tegra will be as much as 50% of NVIDIA revenue soon. With the leaps they are making with Tegra and their SoC program we expect to see some pretty amazing things from this tiny little product in the near future. Including
Augmented reality games...