OutSmart's Plug 'n Talk Device transforms PC into mobile phone
works in tandem with Global IP Solutions.
Published Mon, Nov 2 2009 6:37 AM CST
|
Updated Tue, Nov 3 2020 12:36 PM CST
Global IP Solutions (or GIPS for short) has today announced an agreement made with a global plug-n-talk mobile solutions provider which allows mobile operators in developing countries to expand their reach beyond their home country.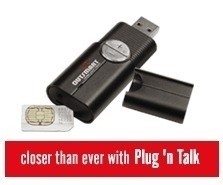 The device itself comes from Israel's Outsmart company and is a preloaded USB memory stick, which together with SIM card transforms any PC into a mobile phone. One such provider to take this technology aboard is SMART, the Philippines' largest wireless operator at this time.
"Global IP Solutions has set the standard for voice and video quality over the last decade and Outsmart is confident to offer telecom operators worldwide the best communication platform with GIPS technology as the basis of our voice quality," said Jacob Bros, CEO of Outsmart. "Outsmart offers telecom operators additional revenue streams with the Plug 'n Talk solution allowing their users to enjoy all the advantages of a mobile phone on a computer with services such as voice, video, SMS, MMS and access to voicemail."
Whilst in Tagalog, both 30 second and 8 minute videos have been made that help visually explain the new service and what it's capable of doing. You can stream them both below.
30 Second Clip
:-
8 minute demonstration
:-
More details can be found within the official announcement at the below source link.
Related Tags