Larrabee in action and 7-SSD Intel PCI-E card spotted
bring on the IDF goodies.
Published Wed, Sep 23 2009 1:51 AM CDT
|
Updated Tue, Nov 3 2020 12:36 PM CST
With another round of IDF now underway, Larrabee is in the forefront of most minds and thankfully it was shown off publicly for the first time today, running on a six cored Gulftown based PC.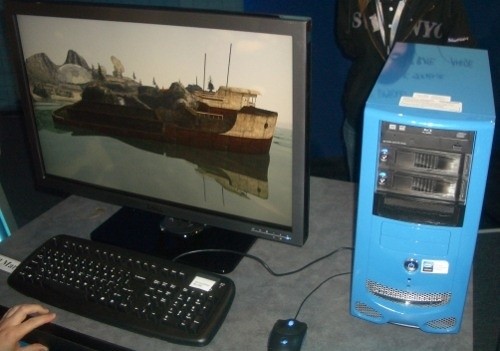 It was running the traditional game Quake Wars, ported to do raytracing.

Waves moved, geometry was not static, and in general it worked. Instead of multiple four core chips, the new demo was running on the 'GPU', although Intel would not call it that. The only thing on the CPU was the game engine itself, exactly what you would expect from a CPU/GPU machine. As we said earlier, B0 silicon, the bug fixed Larrabee, taped out a month ago, and would possibly be shown at IDF.

Sadly, it has not come back from the fabs yet, so the demo was running on Ax silicon, most likely A6. It worked, but didn't seem to be a huge step forward from four quad core Xeons. Oh wait, one GPU running at sub-10% of hoped for performance beating 16 Xeon cores is a huge step forward.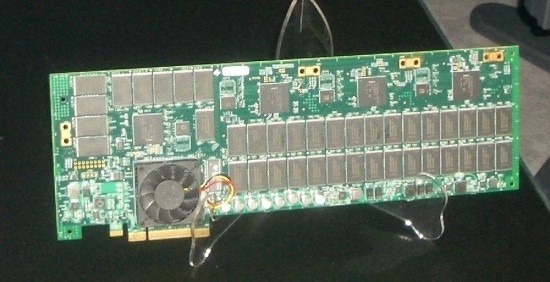 Also spotted was this monster PCI-E card comprising multiple SSDs; no less than seven. It was tested with a whopping 1.076 million IOPS; fwoooaaar! Intel claims in order to get similar performance from mechanical drives, you'd need in excess of 5,000. They're probably not far off either.
Related Tags