Intel Shows Announces 22nm by 2011 and 32nm Gulftown production in Q4
Shows off 32nm Sandy Bridge.
Published Tue, Sep 22 2009 1:29 PM CDT
|
Updated Tue, Nov 3 2020 12:36 PM CST
Ah the game of leapfrog is so much fun, your ahead, I'm ahead. It never stops. This game is even more fun for the IT industry. The four major players (well three actually) fight for position in the market place. Each wants to be "first" at something. For example AMD was able to say they have the "First" Native Dual and Quad Core CPUs. Intel can say they were "First" to 32nm. ATi (AMD) can say they were "First" to use Physics on the GPU and the First to leverage the GPU as a processor. NVDIA...First with PhysX and Full scale GPGPU support...
Well you get the picture. So, why do I bring this all up? Simply because Intel is announcing that they will have a 22nm process for 2011. This means that by the time that AMD (Global Foundries) is hitting bulk production of 32nm CPUs, Intel will be cranking out a full node smaller.
They are getting to this size with a reduction in leakage thanks to a new version of their Hi-K Metal Gate (HKGM) material. This reduction in size (and leakage) means more energy and heat efficient CPUs. A reduction in process also means being able to pack more transistors into the same space, which of course means more functionality.
Of course all of this comes as we see Intel gearing up for a Q4 production of the new 32nm Gulftown Hexa-Core CPU. Intel is also showing off its new Sandy Bridge 32nm architecture. All in all it looks like a pretty good future for Intel.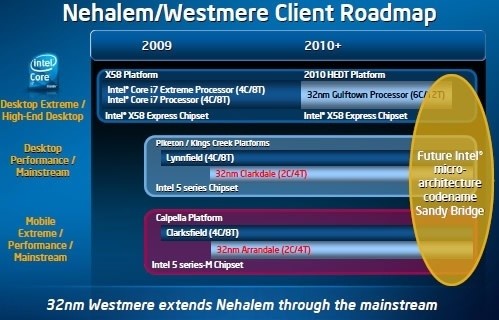 Related Tags