AMD Six-Core CPU could show up in 2010
But at 45nm and in Q3-4 will it matter?
Published Thu, Sep 17 2009 2:56 PM CDT
|
Updated Tue, Nov 3 2020 12:36 PM CST
AMD is working on a six core desktop CPU. This is supposed to be an answer to Intel's Gulftown and, if current CPU marketing is any indication, should also be for future mid-range and low end CPUs.
There is a problem with this new hope for AMD; while the idea of a six core desktop based off of the Istanbul core is nice, AMD is not ready to compete with Intel's just yet.
The first is issue process. Intel will offer Gulftown at 32nm while the new AMD Desktop will be 45nm. As both companies want to stay inside a 130-140 Watt TDP, Intel will have an easier time and be able to clock higher within the same envelope. The advantage here will go to Intel unless AMD can make their CPU more efficient like they did in the Athlon 64 days.
Of course AMD's biggest success in the CPU world was when they setup their Opteron line up to run on the desktop as the Athlon 64. Maybe by AMD doing this with Istanbul will yield a similar result. I hope it does turn out this way and AMD can compete with the current generation Intel CPUs instead of always fighting the last generation like they are now.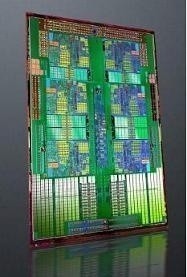 Related Tags