HDMI over IP is here with the Projector Connector HDMI/IP Transmitter
HDMI 1.3 Lossless over Cat 5.
Published Mon, Sep 14 2009 11:07 PM CDT
|
Updated Tue, Nov 3 2020 12:36 PM CST
I have worked with PoE (Power over Ethernet) and even wrote up both sides of this handy little feature that uses you network to provide power to remote devices. This is a great feature, but has absolutely nothing on what I saw today.
This is HDMI over Ethernet using a standard IP network. The device that makes this possible is called the Projector Connector and can send up to HDMI 1.3 Lossless over any standard IP/Ethernet network. As long as you are running Cat 5/6/7 cable you are set.
The Projector Connector can also handle up to three switches between the source and the display. This gives you up to 1,000 Feet to play with between points.
For any home theater buff this is a dream come true as the Projector Connector can also send an IR control signal right back down to the source. You can have multiple transmitters as long as you are using a managed switch with VLAN/IGMP support (like the TRENDNet TEG-160WS).
The Projector Connector with an IR Emitter will set you bad about $310 ao HDMI over IP will not come cheap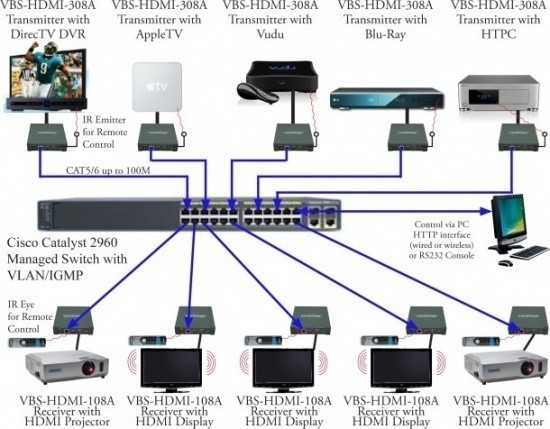 Related Tags