Asus Eee PC line up shows up on the Internet
The ION, the Muti-touch, the Windows 7 oh my...
Published Mon, Aug 31 2009 9:28 PM CDT
|
Updated Tue, Nov 3 2020 12:36 PM CST
Asus' Eee (EEE??) PC line up has been aired. Someone has gotten a hold of a few slides from what looks like an inside product/roadmap briefing and they have put them up on the internet. This means that as of right now just about everyone has read them.
So what is new in the Eee line up? Well the first thing that jumps out is the switch from XP Home to Windows 7. This does not mean that the Eee PC is now a power house. It just means that MS is pushing the new OS and it is slimed down enough to work on the new netbooks (I have it installed on an MSI Wind U100).
Next up is the inclusion of nVidia ION chipsets. This comes as a surprise; there was much talk at Computex from Asus that they would not be moving to ION. However it is interesting to note that ASRock (still controlled partially by Asus) has a couple of ION offerings. This may have been a case of Asus using ASRock to test the waters and once they saw they were ok, jumping in themselves.
Last on the list is the inclusion of a few touch/multi-touch models. This is a very cool option and one I cannot wait to get put into play.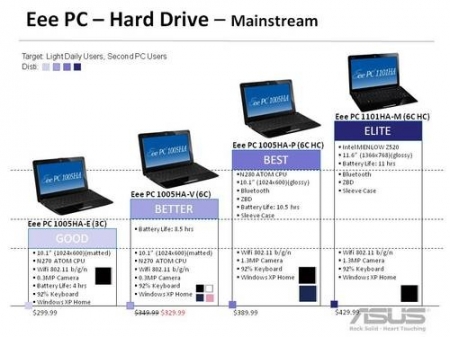 Related Tags