Apple and AT&T sued for lack of MMS support
But still advertising MMS for iPhone.
Published Thu, Aug 13 2009 1:59 PM CDT
|
Updated Tue, Nov 3 2020 12:36 PM CST
Wow this will be of interest to anyone that has an iPhone in the US. Apple and AT&T might have a price to pay for their heavy advertising of features that they will not support.
In the state of Louisiana there is a class action law suit that is being filed against Apple and AT&T for the continued lack of MMS (multimedia messaging system) despite ads by both companies showing this as a major feature.
The suit claims that AT&T has not upgraded its towers to support MMS properly on their network but continue to advertise this service for other phones and even have a package plan for it.
So I am not sure what they are trying to say here, there is a simple fact that AT&T does have MMS support for other phones but not the iPhone. Apple did state that was a major feature of the new iPhone OS 3.0 and the 3G S. But for some reason there is still no support for this option from AT&T.
This law suit could get interesting if more states pick up the torch and march on Cupertino.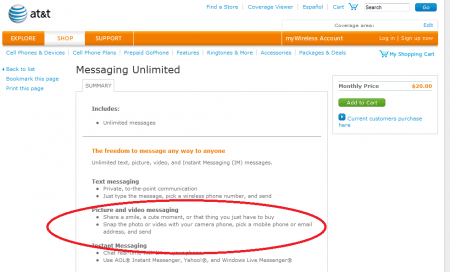 Related Tags