nVidia Cuda used to restore Apollo 11 Footage
Cleaned up a little but lost detail.
Published Wed, Aug 5 2009 12:44 PM CDT
|
Updated Tue, Nov 3 2020 12:36 PM CST
On July 20th 1969 the first humans walked on the surface of the moon. This was a technological and scientific achievement of unprecedented scope.
On July 20th 2009 we celebrated the 40th anniversary of this historic event. It was a time for people to think on the concerted effort involved, movies and specials to be replayed and the return to the moon effort to be pushed. But it was an occasion that was marred by an unfortunate event.
You see when the video from the moon was broadcast to the earth it was recorded in high definition but sent to everyone's Television sets by rebroadcast. Not in the traditional sense but in that a camera was pointed at a monitor and that broadcast to the world. These are the images we think of about the first moon landing. And this is all we will ever have as NASA cannot find the original footage and some even claim it was destroyed accidentally.
In an effort to bring a new generation a better view of the existing footage Lowry Digital used nVidia technology to reconstruct the vide frame by frame to a cleaner state. This should allow for a clearer picture of this historical event.
Personally I think the new footage looks like someone went a little crazy with a dust and scratches filter. Gone are the sharp outlines and textures. They are replaced by blurred lines and shadows.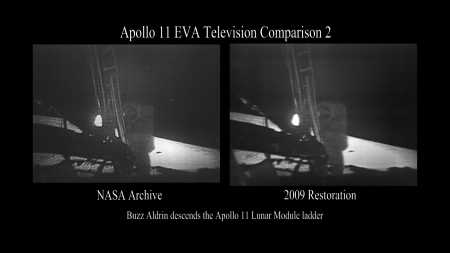 Related Tags