Ghost Cloud OS hits beta stage
Web Based OS runs from anywhere.
Published Tue, Jul 14 2009 10:23 AM CDT
|
Updated Tue, Nov 3 2020 12:36 PM CST
Ghost has finally moved out of the Alpha stage and into Beta. The cloud based virtual desktop is free to use and features a few nice tools for productivity and for fun.
We took a quick look at G.ho.st and found it useable but unfortunately a little slow for our tastes. The OS looks like a linux distro and has a "Go" button and the usual desktop icons. You can upload documents and files to your Virtual G.ho.st drive.
This allows you to work on them from any Web Connected computer. It was opening uploaded files that we found to have the biggest issue. The default system has Zoho for document editing. It tool over 5 seconds to open and display a short rtf (rich text font) document and was unable to display a pdf we used.
Images were not a big problem but the larger the image file, the slower it loaded.
We did not play with the mail or IM client yet but imagine the issues inherent with relying in your internet speed could potentially limit the usefulness of this new Cloud OS.
G.ho.st stands for Global Hosted Operating System, it was founded in 2006 and is made up of a team of Palestinians and Israelis. This team has had to do much of their work through phone and video conversations as travel between the two states is very controlled. Still the team has proven that Palestinians and Israelis can work together to accomplish something global.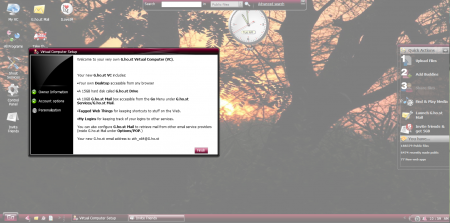 Give it a try
here
.
Related Tags