And Robots will rule the earth
Humans are doomed!
Published Jul 10, 2009 9:59 AM CDT
|
Updated Tue, Nov 3 2020 12:36 PM CST
1 minute & 10 seconds read time
Since it is Friday for me I thought I would post up something I found funny.
It seems that in an effort to "Go Green" some thoughtful techs and RTI (Robotic Technology, Inc.) might be working on exactly what the Matrix and Terminator series have been warning us about all along!
The DARPA (Defense Advanced Research Projects Agency) in conjuntion with RTI are working on new robots that can run on a diverse range of fuels. Now I know that sounds great, after all something that can run on a range of fuels and not be tied to gas or diesel? But how about running on Bio Matter?
DARPA and RTI are of course suggesting that by Bio Matter they meant rotten vegetables, grasses, etc. But Bio Matter could also mean people. What is to stop "the machines" from getting smart? I mean they could start off small; road kill, cats, dogs squirels but like a crack addict they may come to realize that humans are rich in "biomatter" and come after us. Since these are millitary robots they will have all the advantge. It is like Morpheus said the machines are working to turn us into batteries!
So how does the new robot called Energetically Autonomous Tactical Robot, EATR for short (someone has a sense of humor), work? Well is a steam driven (Wow we took a step back) machine that can generate its own internal power from the combustion of the fuels it ingests. It can operate on fossil fuels, biomass and according to some reports solar power.
I can see Sarah Connor, Morpheus, and Charlton Heston all lining up to tell us they were right all along. The machines will take over, quick where is my tin foil hat?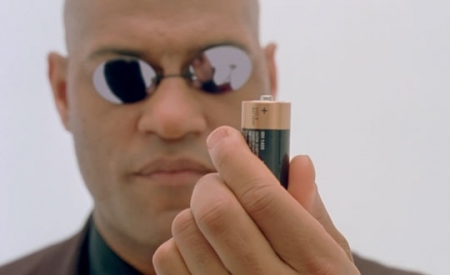 Related Tags