Apple MacBook Pros cannot show Millions of Colors
At least not without using tricks.
Published Thu, Jul 9 2009 10:40 AM CDT
|
Updated Tue, Nov 3 2020 12:36 PM CST
It has been about a month since Apple announced its new line of Mac Book Pros. This new line was supposed to dove-tail in nicely with the release of Snow Leopard and usher in a new era of Mac Book dominance.
Well there is trouble in Mac land. It seems that some of the trouble that existed with the last line of Macbooks is following the new ones too.
This trouble is all about the colors man. You see Apple says that its new MacBooks have support for "Millions of Colors" this is great right? Well you see it is not all good. Apple uses 6-bit panels as such they are really only capable of supporting 262 thousand colors.
The way they can get away with saying support for Millions of Colors is through the use of a couple of tricks. One is dithering; this is where you combine adjacent pixels to create a different shade. This usually has the effect of reducing the sharpness of the image. You can also use Frame Rate Control or FRC this rapidly cycles through the color pallet to simulate the same range from an 8-bit display.
Now neither of these is true million color support, yes it is a trick to allow for a wider gamut but this comes at a cost in detail and sharpness. It is often seen as an indistinct "fuzziness" or even as a faded look to the image. There are many techniques to correct for this like putting a glass like coating over the screen, speeding up the response time of the display and over saturating the image to prevent the faded look.
But in the end you simply cannot say it has support for millions of colors.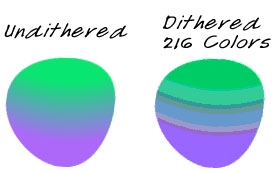 Photo courtesy of
support.bee.net
Related Tags