IBM builds water cooled supercomputer
Aquasar supremely cool.
Published Wed, Jul 1 2009 6:02 PM CDT
|
Updated Tue, Nov 3 2020 12:36 PM CST
IBM has teamed up with the Swiss Federal Institute of Technology (ETH) to build a super efficient water cooled supercomputer which could lower the system's carbon footprint by a whopping 85 per cent.
The Aquasar system, which boasts two IBM BladeCenter servers in one rack and peak performance of 10 Teraflops, will use chip-level water-cooling as well as reusing any excess heat to warm the university's buildings.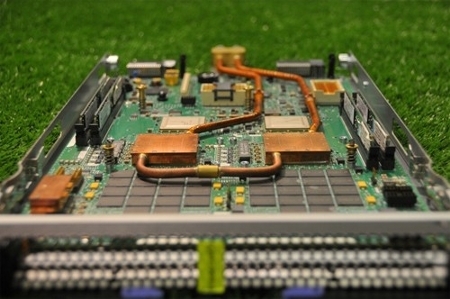 Each of the supercomputer's blades will be cooled by a separate liquid cooler on each processor and will also be connected to the whole system via a series of input and output pipelines, or a "fine network of capillaries". This will mean the water can come extremely close to the processors without damaging anything. It will need just 10 liters of water for cooling pumped at a flow rate of about30 liters per minute.
Water temperature will be at 60 degrees C - a fair bit under the chip's maximum 85 degrees C - and the cooling system itself will be a closed circuit. As water is heated by the chips, it will be pushed through a heat exchanger which will transfer the heat into the university heating system. The system is power efficient too, guzzling just 10KW of energy, compared with the average 257KW used by supercomputers in the top 500 list.
Dr. Bruno Michel, a top boffin at IBM's Zurich Research lab noted
"If we capture and transport the waste heat from the active components in a computer system as efficiently as possible, we can reuse it as a resource, thus saving energy and lowering carbon emissions."
The supercomputer, which should be completed by 2010, will apparently be used for research in nanotechnology and fluid dynamics.
Related Tags