Wolfenstein PC Specs hit the Internet
Does not need a brand new GPU to run.
Published Wed, Jul 1 2009 1:02 PM CDT
|
Updated Tue, Nov 3 2020 12:36 PM CST
Man I remember the days of playing the original Wolfenstein 3D. It was a blast. Then I eagerly tore into my copy of Return to Castle Wolfenstein.
Again another great game and one that has some pretty impressive enemies as well as great AI and an immersive environment and story.
Well all of that is coming back to me now as I see the system specifications for the new Wolfenstein out on the internet.
The game is surprisingly light in terms of GPU requirements only needing a 6800GT or X800 Radeon. The game will eat up a whopping 8GB of your HDD space.
There is not much more known at this time but if this release is anything like the others I can foresee some long nights up at the computer in store for me
SOFTWARE REQUIREMENTS:
Microsoft(R) Windows(R) XP or Windows Vista(R) (Windows 95/98/ME/2000 are unsupported)
Microsoft DirectX(R) 9.0c (included & required for Windows XP & Vista)
HARDWARE REQUIREMENTS:
CPU: Intel(R) Pentium(R) 4 3.2 GHz or AMD Athlon(TM) 64 3400+ processor
RAM: 1GB RAM
Video Card: 256MB NVIDIA(R) Geforce(R) 6800 GT or ATI Radeon(TM) X800
Sound Card: 100% DirectX 9.0c compatible sound card
HDD Space: 8GB (Plus an additional 800MB for Windows swap file)
Media: 100% Microsoft Windows compatible DVD-ROM drive
Internet: Broadband connection and service required for multiplayer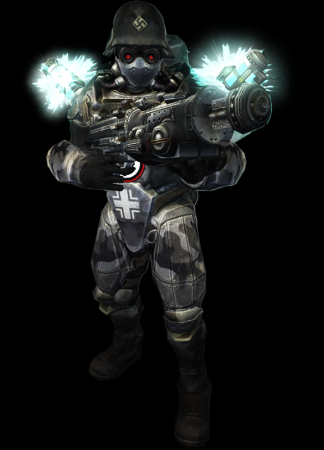 Related Tags