Engadget tries out the new HTC Hero
Non-Google based Android...
Published Wed, Jun 24 2009 12:45 PM CDT
|
Updated Tue, Nov 3 2020 12:36 PM CST
The gang over at Engadget got to play around with the new HTC Hero and so far they are loving it.
The new Hero does feaure Android but it is not a Google branded product. This means you are not going to get loaded down with the Google logo, but it also means that you won't be getting over the air updates also.
There are going to be a host of new features but one of the ones they liked the best was the Teflon outer coating.
Flash was also shown off with mixed results, they were able to get YouTube to work but not Yahoo, but this is in line with what Adobe showed off as well.
Is it just me or does that keyboard look familiar?
Read more
here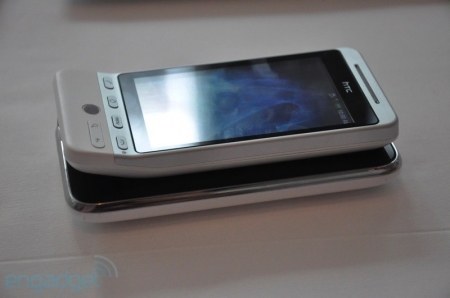 TThere are four videos for you after the break. The first shows Flash running at full screen on the HTC Hero courtesy of YouTube. The second, however, shows it failing when running a trailer from Yahoo Movies, just like Adobe did -- in fact, it crashed all four times that we tried it on what we were told was a Hero running the final build of the OS. Third one is a quickie showing the on-screen keyboard rotating from portrait to landscape and back. Lastly, we demonstrate the hardware a little bit and show off our lightning speed at typing. For the real completists, there's also a new gallery of hands-on shots from the NY launch event right below.
Related Tags