Best Buy says 7 more than Vista that Works
Windows 7 with new Improved Productivity.
Published Fri, Jun 5 2009 12:19 PM CDT
|
Updated Tue, Nov 3 2020 12:36 PM CST
You know I sometimes think that corporate bosses need people to check their correspondence to make sure they do not say anything foolish, in indeed really stupid. Sadly for them but fortunate for us (in terms of pure comedy) that does not happen enough.
The gang at Engadget managed to get a hold of a memo from a Best Buy Executive that says "This new operating system isn't just a "Vista that works" program". In terms of sheer foot in mouth comedy that is way up there.
But then the he goes on to detail the plans explaining that systems (PCs) bought after June 26th are eligible for a free upgrade to Windows 7.
Well now that he has a good case of athletes' tongue he can also look forward to a slump in PC sales for the next few weeks. We wish him well at his new job.
Read more
here
.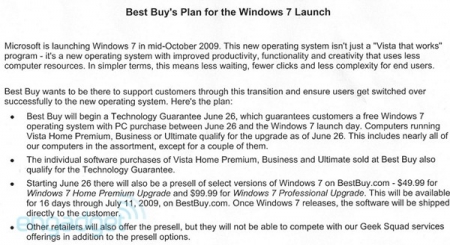 Never mind the fact that we never knew an OS could posses "improved productivity" -- how about admitting that Vista, in effect, doesn't "work." Moving on, the note also makes clear that any PC sold with Vista Home Premium, Business or Ultimate between June 26th and the Windows 7 launch day (October 22nd) will be eligible for a free upgrade to Win7. Better still, the individual OSes also qualify for the update, and starting on June 26th, Best Buy will begin "pre-selling" the Windows 7 Home Premium Upgrade ($49.99) and the Windows 7 Professional Upgrade ($99.99).
Related Tags