Eee PC spotted running Android + Qualcomm 1GHz CPU
During Day 0 press conference in Taipei.

Published Mon, Jun 1 2009 4:21 AM CDT
|
Updated Tue, Nov 3 2020 12:36 PM CST
Computex Taipei 2009:
During the Qualcomm Technologies press conference in Taipei earlier today, we spotted an upcoming prototype Eee PC which was quite a bit if difference from the norm.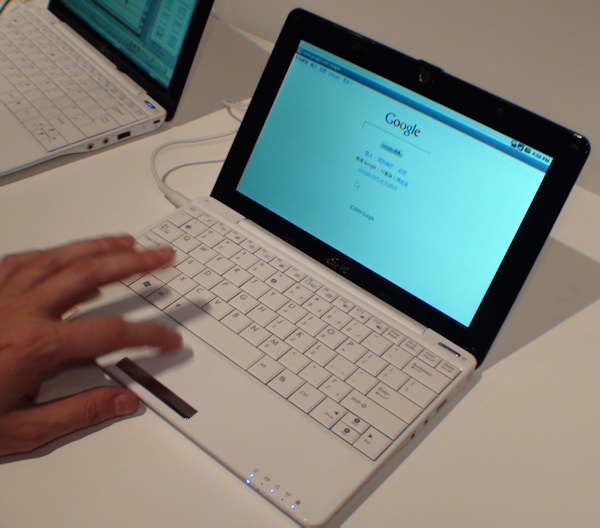 The machine was installed with Google's upcoming Android operating system and we have to admit, it felt a bit strange on a "Smartbook" (as Qualcomm calls them) of this kind. The operating system is clearly suited for smaller devices and smart phones, but it was nice to get a look at it anyway. Operation was rather smooth and everything worked, albeit just a bit plain.
We asked one of the product managers from Qualcomm to give us a demo of the system. It is based on Qualcomm's Snapdragon platform which consists of a 1GHz CPU. Because of the platforms "extremely low power consumption", no cooling is required which allows for ultra thin netbooks. It is capable of playing back 720p video with the current gen chips, and in the future 1080p will be supported with the faster clock processors. Watch the video we recorded:
These products are not quite in mass production yet, but the chip company who is looking to give Intel, AMD and NVIDIA a run for its money said that it is working with some 15 Taiwanese companies who are working on designs using their processor and chipset technology.
Related Tags