NEC Intros World's First USB 3.0 Host Controller
Expects rapid adoption of chip and standard.
Published
1 minute & 10 seconds read time
NEC
has introduced
the world's first USB 3.0 host controller, the µPD720200.
The new host controller supports the finalized SuperSpeed USB standard, allowing for transfer speeds up to 5Gbps and is fully backwards compatible with all previous USB standards.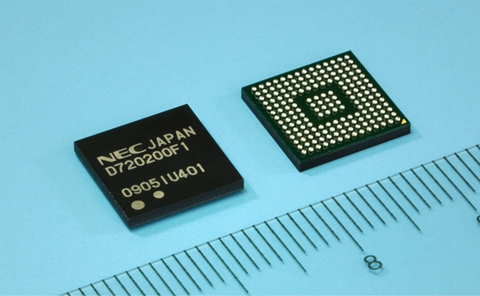 NEC says that they will agressively market the host controller and expects a very rapid expansion in 2010. NEC also plans to offer a range of related products by incorporating USB 3.0 communications in various applications specific ICs.
The µPD720200 host controller is expected to be available sometime in June and will cost US$15. In September, NEC expects to ramp up production to 1,000,000 units a month.
With its high-speed transfer capability, the µPD720200 host controller makes it possible to expand the boundaries of digital appliances such as PCs, digital TVs, and DVD recorders. The new SuperSpeed USB 3.0 chip from NEC Electronics requires only 70 seconds to transfer 25 Gb of video content on a blu-ray disc, compared to 14 minutes to transfer the same content when using the high-speed USB 2.0 with 480 Mbps transfer capability. This enormous increase in transfer speed will enable system designers to transfer large-volume data quickly and without stress and develop a new generation of high-performance consumer electronic products.

USB is the next-generation interface standard used in a wide range of electronic devices including PCs and PC peripherals. Originally designed as an interface for relatively low-speed computer peripherals, USB made it possible to connect keyboards, mice, and other devices with the same USB standard cables. Later, version 2.0 of the standard defined a high-speed transfer mode that made USB a practical and popular interface for devices such as digital televisions, digital cameras, and DVD recorders. USB version 3.0 builds on this success by offering a ten-fold increase in speed, for stress-free transfers of large volumes of data.
Related Tags