MSI wants you to hear the Syren Call of the X-Fi
New Syren Series aims at all audiophiles.
Published
0 minutes & 50 seconds read time
MSI is getting into the X-Fi sound card market. They have announced the release of a PCI-e 1x card complete with the Creative Labs X-Fi sound chip.
The card which will sell under the name SyrenSound X-Fi will be part of MSI's new Syren series and will include a USB headphone (Syren Phone Gaming) and a set of Mini-Q USB speakers that should fit in with Netbook users.
The new series is in direct competition with Asus' Xonar series but will be using the X-Fi sound chip as the name indicates. The question now will be if MSI will be like Azuntec and make the X-Fi work properly in Vista.
Read more
here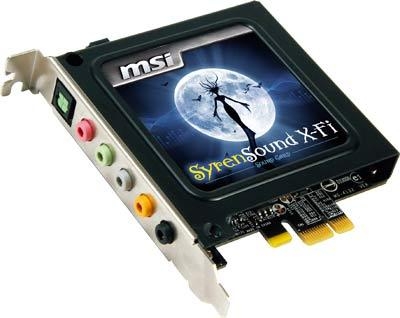 MSI, the worldwide high-end graphics card and professional motherboard brand-manufacturer, today proudly announced a new series of audio products - Syren series. As the name, the dreaming sound of Syren can hypnotize every person that she wants to. The person who is hypnotized can't help falling in the dreaming sound, feeling comfortable and satisfied. This is the most important feature of Syren series: "dreaming sound." The latest Syren series products include "SyrenSound X-Fi" high-end sound card, "SyrenPhone Gaming" professional gaming Headphone, and "SyrenSpeaker mini" Mini-Q speaker, targeting the user who seeks for pure and clear sound!
Related Tags