iPhone OS 3.0 enters Beta 4 stage
But not much new there to see.
Published Wed, Apr 29 2009 8:27 AM CDT
|
Updated Tue, Nov 3 2020 12:37 PM CST
The iPhone OS 3.0 has entered the BETA 4 stage. But according to people that have the new OS there is not much new to see.
One thing they do talk about is that the formerly empty store settings pane now has some information in it. The problem is there is nothing exciting there and only seems to link you to a bland web page that allows you to edit your account information.
To get OS 3.0 working you will also need to upgrade to the new iTunes, 8.2 (which is not out just yet.)
Read more
here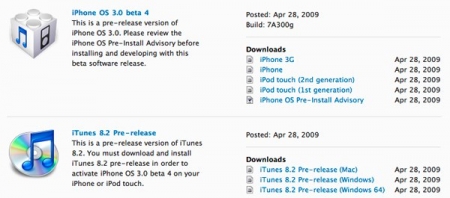 We've toyed with beta 4 for just a few quick moments now, and naturally, the first thing we had to check out was that previously-empty "Store" settings pane. It's now populated, and it's mega-boring; all it does is allow you to sign in and out of your iTunes account, and while signed in, there's an Account Info button that lets you get booted out to an unstyled web page where you can view and edit your credit card information and the like. On the iTunes 8.2 side of things, we noticed that we were explicitly warned that the app would verify that our phone was activated for use with the beta firmware.
Related Tags