Asus launches OC'd HD 4770 with Voltage Tweak
970MHz core 4.6 Ghz memory clocks.
Published Apr 28, 2009 12:50 PM CDT
|
Updated Tue, Nov 3 2020 12:37 PM CST
Asus, looking to be first off of the plate has made a move that is not making ATi/AMD happy at all.
What Asus has done is this, they have pushed out an overclocked 4770 on the day of launch. The new card called the EAH4770 TOP features the usual 40nm and the stock cooler with reference design but the CPU is pushed up to 800MHz and 3.4GHz for the memory. This is up from the stock speeds of 750MHa and 3.2GHz.
But to add a little extra Asus has thown in a voltage tweak that pushes the voltage up from .95v to 1.2v this allows for a further boost to 950MHz+ for the GPU and an impressive 4600MHz for the memory.
Read more
here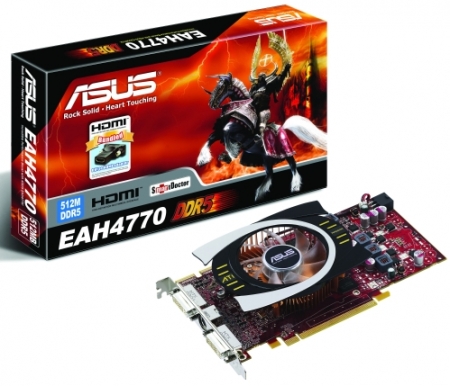 In addition to the reference clocked card which works at 750MHz for the core and 3.2GHz for 512MB of GDDR5 memory, Asus has launched a TOP edition which is overclocked to 800MHz for the GPU and 3.4GHz for the same memory.

This is a 50MHz overclock for both the GPU and memory, and Asus is currently the only partner that has an overclocked card, at least as far as we know. Another interesting thing is that Asus included its Voltage Tweak Technology with the Asus EAH4770 TOP card which raises the GPU voltage from 0.95V to 1.2V. This voltage boost is enough to raise GPU and memory frequencies from 800MHz to 971MHz and from 3400MHz to 4600MHz.
Related Tags