PowerColor
has announced
that they will be bringing their water cooled Radeon HD4890 to the market late next week.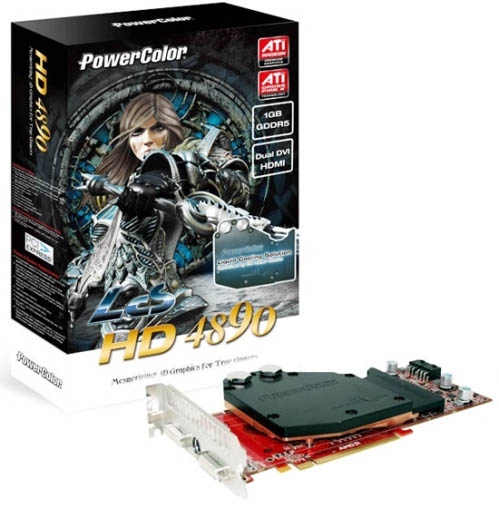 PowerColor's Liquid Cooling Solution (LCS) covers the GPU, memory, and power regulator chip and is capable of reducing temperatures by up to 20°C over the stock design. The waterblock will come with both 3/8" and 1/2" hi-flow fittings to maximize flow and fit existing water-cooling applications.
PowerColor is shipping the card with a 900MHz clock on the core and 1000MHz click for the memory. The LCS HD4890 will retail at US$339 and will be available on April 16th.
Taipei, Taiwan - April 7th, 2009-TUL Corporation, a leading manufacturer of AMD graphics cards, announces a new custom liquid cooled solution for the HD4890 series. The PowerColor Liquid Cooling Solution or LCS, will be available on the most powerful single GPU graphics card from ATI. With EK Water Blocks cooling solution, PowerColor's LCS HD4890 provides an exceptional thermal performance in a single slot design, enhancing gaming performance in a cool and stable operating environment.

"PowerColor created the LCS line to meet the needs of the most extreme gamers. The most demanding gamers need a cooling solution that can keep up with their demands," said Ted Chen, CEO of TUL Corporation. "We know not all enthusiast gamers are created the same. That's why our LCS line is the most flexible VGA liquid cooling solution on the market."