Skype for iPhone is finally here
VoIP over WiFi and chat over 3G.
Published Mon, Mar 30 2009 10:37 AM CDT
|
Updated Tue, Nov 3 2020 12:37 PM CST
Skype will finally be coming to the iPhone. According to a news release the new App will be available from the App Store on the 31st of March.
This will add to the other Instant Messaging applications but will also bring VoIP to the iPhone as well.
According to CNET the new app will not have the same look as the desktop versions but will still maintain the Skype feel. Unfortunately the main point of Skype, VoIP calls, will only work over WiFi and not the cellular network. Chatting will still function over the Edge or 3G network though.
Be on the lookout for this to hit tomorrow, and watch for a jailbroken app to allow for Skype to call over the Edge or 3G network shortly after.
Read more
here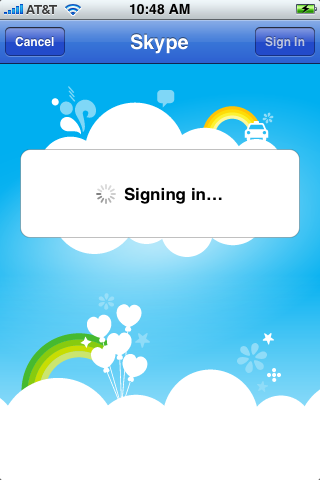 Skype's screens are well organized and use the iPhone's ability to add filters, for instance, to sort your contacts alphabetically, or by who's online. There's chatting as well, though Skype's flagship feature is its VoIP calling that's free to other Skype users and an inexpensive per-minute fee to landlines. Calls on Skype for iPhone work only if you're in range of a Wi-Fi network, so your call quality will in part be at the mercy and strength of wireless networks nearby--calls will not work over the cell phone network on the iPhone (but chatting will.) Assuming your connection is solid, you can dial a number or quickly call a contacts stored in your address book. iPod Touch users will need earphones with an embedded mic to talk. During a call, you can mute the line, go on hold, or put the call on speakerphone. In the My Info window, you can follow a link to buy more SkypeOut credit online
Related Tags