Lenovo ThinkPads stand up to extreme torture
But not billed as rugged.
Published Tue, Feb 24 2009 6:41 AM CST
|
Updated Tue, Nov 3 2020 12:37 PM CST
Now this is just plain cool, Lenovo allowed its ThinkPad series of laptops to but put through the US Army's tough test to get certified for Semi-Rugged computing.
When I first read Semi-Rugged I laughed, then I read what they went through to get that and I was pretty impressed. The ThinkPads were run through the torture tests even though the model is not advertised as a ruggedized notebook.
Military Spec Tested Against the Elements
Baked, battered, blistered and blown with sand, Lenovo put the lineup of eight ThinkPad laptops through the gauntlet to pass a significant number of specifications for military-grade computing.
The ThinkPad laptops met tests for:
Low Pressure - Tests operation at 15,000 feet
Humidity - Cycles 95 percent humidity through the environment
Vibration (operational and non-operational) - Jostles and jolts the laptops to make sure they can withstand shocks
High Temperature - Simulates high heat conditions by baking the laptop up to 140 degrees
Low Temperature - Tests operation at minus 4 degrees
Temperature Shock - Fluctuates between minus 4 and up to 140 degrees to test operation
Dust - Blows dust for an extended amount of time
The tests confirm the durability and reliability that many customers already rely on to battle the elements
Read more
here
at Engadget.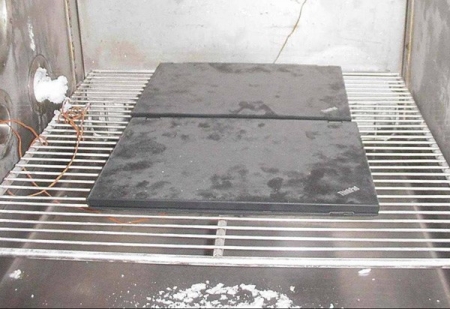 Lenovo today announced that it is designating eight ThinkPad laptops for use in field and vehicle semi-ruggedized computing environments such as in public safety, utilities, construction and the military. The ThinkPad X200, X301, X200s, X200 Tablet, T400, T500, R400 and SL300 laptops meet a barrage of military specifications tests and are enhanced with specially-designed durability features such as an air-bag like protection system and a roll cage in select models. Because field computing requires excellent screen viewability, Lenovo is also adding a new optional 680-nit high brightness panel to its most popular laptop, the ThinkPad T400 laptop.

"ThinkPad is well known for quality, reliability and innovative security technologies for business computing," said Tom Ribble, executive director, Worldwide ThinkPad Product Marketing, Lenovo. "The truth is we've always built tough laptops that can weather extreme conditions from hiking the rainforests of the Amazon to flying in space. You don't need a PC that looks like a tank to excel in harsh environments, and unlike many of our competitors, we don't put an extra charge on toughness."

Optimized for Outdoors

As the adoption of laptops increases and connectivity options continue to expand, users are spending more and more computing time outdoors. That makes screen visibility extremely important. For a crisp and easily readable experience, Lenovo is equipping the ThinkPad T400 laptop with an optional high brightness, wide angle screen, making it nearly four times brighter than previous ThinkPad laptop screens. The high contrast screen eliminates reflections with its anti-glare finish. And by using energy-efficient LED technology, the laptop maintains long battery life.
Related Tags