Intel goes after nVidia's Ion
New Document explains why ION is bad.
Published Tue, Feb 24 2009 6:42 AM CST
|
Updated Tue, Nov 3 2020 12:37 PM CST
You knew it was going to happen sooner or later; Intel is now bad mouthing the ION platform and going after nVidia pretty hard.
I am sure nVidia will spin this again in response but here are the details of what I am sure is Intel's response to nVidia CEO Jen-Hsun Huang's comments over Intel filing suit to invalidate the four-year old licensing agreement.
"At the heart of this issue is that the CPU has run its course and the soul of the PC is shifting quickly to the GPU. This is clearly an attempt to stifle innovation to protect a decaying CPU business."
Intel replied with a document titled "Nvidia Ion Competitive Position Guide". In this new document Intel comments on the fact that ION is not a newly designed chipset but is derived from the MCP79M/NCP7A family. They also state that nVidia sent different SKUs to reviewers.
The next Intel claim is that ION will actually cost more and use more power than current ATOM setups. This was followed by the fact that Intel will be releasing the Pineview Atom that has the CPU and GPU on the same package, making the Ion's window very small indeed.
Stay tuned for the next round of mud.
Read more
here
at Fudzilla.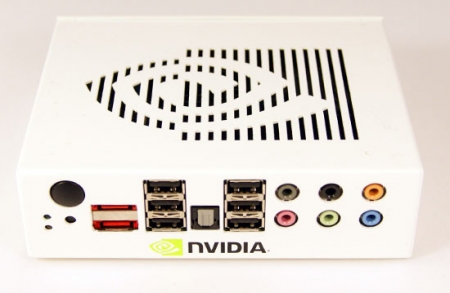 Some of Intel's key arguments against Ion is that Ion is not a newly designed chipset, but rather derived from Nvidia's MCP79M/NCP7A chipset family. The document also claims that some reviewers got different SKUs and some got MCP7A-U desktop versions, while some got the mobile version, MCP79MX SKU. The fact that Ion is derived from existing chipset is completely true, but Intel's 945GSE chipset is almost 4 years old.

Furthermore, Intel says that Nvidia's Ion is expected to consume more power and add unnecessary cost to system Bill of Material (BOM) and we believe Intel ought to be right about that. What Intel fails to mention, however, is that Ion can do 1080P HD and it can also take care of some basic gaming, and you can forget that with the 945GSE and the new GN40 chipset. On the other hand, we heard that GN40 should be able to cope with 720p HD but not 1080p.

The last argument against Ion was that new netbook and nettop platforms with CPU and graphics on the same die are expected in Q4 2009, so the window of opportunity for Ion is very short. Intel's new Atom with IGP on die, codenamed Pineview, will still have inferior graphics, at least compared to Ion.
Related Tags