Seagate issues new firmware updates for bad HDDs
Grand total of 25 models affected by bad firmware.

Published Fri, Jan 23 2009 11:01 PM CST
|
Updated Tue, Nov 3 2020 12:37 PM CST
It seems the list of affected Seagate hard disk drives with bad firmware's might be growing.
NimrodAUS from our forums was kind enough to forward us along an email from Seagate Tech Support discussing the issue at hand and providing a link to the latest firmware updates.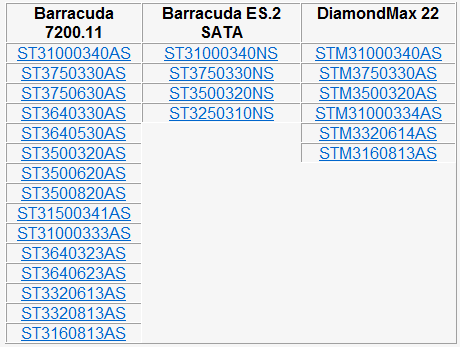 Thank you for contacting Seagate Support.

A firmware issue has been identified that affects a small number of Seagate Barracuda 7200.11 hard drive models which may result in data becoming inaccessible after a power-off/on operation. The affected products are Barracuda 7200.11, Barracuda ES.2 SATA, and DiamondMax 22.

Based on the low risk as determined by an analysis of actual field return data, Seagate believes that the affected drives can be used as is.

However, as part of our commitment to customer satisfaction, Seagate is offering a free firmware upgrade.

Please follow this link

(https://seagate.custkb.com/seagate/crm/selfservice/search.jsp?DocId=207931) to enter the Knowledge Base article(s) detailing the steps to update your drive.

In the unlikely event your drive is affected and you cannot access your data, the data still resides on the drive and there is no data loss associated with this issue. If your drive is no longer accessible, contact us directly for further assistance at https://www.seagate.com/www/en-us/about/contact_us/.
Visit
this page
for the step by step instructions to get your Seagate drive back in a healthy condition. There is also a handy Drive Detect program
here
which easily displays Seagate drives in your system and which firmware they use.
Related Tags