NVIDIA's ForceWare 181.22 gets WHQL certified
not surprising, some big improvements here.
Published Thu, Jan 22 2009 10:38 PM CST
|
Updated Tue, Nov 3 2020 12:37 PM CST
This mostly a heads up for those of you not comfortable installing NVIDIA ForceWare drivers that haven't reached official WHQL status yet. NVIDIA has decided to make last week's beta release of the 181.22 drivers official today.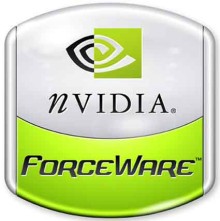 The drivers along with official release notes can be obtained over at
this section
of NVIDIA's website.
Exciting New Features:

- Added support for GeForce GTX 295 and GeForce GTX 285.
- Enables NVIDIA SLI technology on SLI-certified Intel X58-based motherboards with all SLI-certified GPUs.
- Enables NVIDIA SLI Multi-monitor support, giving you the ability to use two monitors with your GeForce graphics cards in SLI mode. Now you can easily switch between multi-monitor desktop mode and full screen 3D gaming mode. Learn more here.
- Enables NVIDIA PhysX acceleration on a dedicated GeForce graphics card. Use one card for graphics and dedicate a different card for PhysX processing for game-changing physical effects. Learn more here. (Note: GPU PhysX is supported on all GeForce 8-series, 9-series and 200-series GPUs with a minimum of 256MB dedicated graphics memory).
- Supports GeForce Plus Power Pack #2. Download these free PhysX and CUDA applications now!
- Added support for the new NVIDIA CUDA Video Encoder with H.264 optimization.

Blazing Fast Performance:

Boosts performance in numerous 3D applications. The following are some examples of improvements measured with Release 181 drivers vs. Release 178 drivers (results will vary depending on your GPU, system configuration, and game settings):
Up to 10% performance increase in 3DMark Vantage (performance preset)
Up to 13% performance increase in Assassin's Creed
Up to 13% performance increase in BioShock
Up to 15% performance increase in Company of Heroes: Opposing Fronts
Up to 10% performance increase in Crysis Warhead
Up to 25% performance increase in Devil May Cry 4
Up to 38% performance increase in Far Cry 2
Up to 18% performance increase in Race Driver: GRID
Up to 80% performance increase in Lost Planet: Colonies
Up to 18% performance increase in World of Conflict
Related Tags