Obama still won't give up the BlackBerry
Despite Laws, Security and Saftey.
Published Mon, Jan 19 2009 10:03 AM CST
|
Updated Tue, Nov 3 2020 12:37 PM CST
President-Elect and CrackBerry addict Barack Obama is at it again.
Despite being informed that keeping his BlackBerry will be a violation of the Presidential Records Act of 1978 (since there is no real way to make those phone conversations and emails available) and the dozens of security issues surrounding him keeping it he still is going to try.
His stated reason for this is that he wants to keep in touch with the world outside the Presidential Staff. However I personally do not buy it. I think that he just can't get along without it. If he really wants to keep in touch then get out amongst the people and talk to them. How many regular people are going to have this e-mail address or phone number.
I am not sure about the abilities of a President that can't function without a smart phone. Perhaps when it is hacked, or used in an attempt on his life that will put other's lives at risk he will get the picture and put the thing down.
Read more
here
.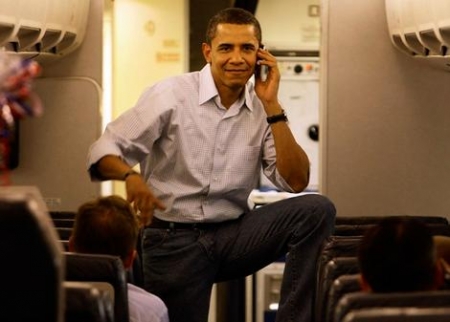 "I think we're going to be able to hang on to one of these. My working assumption, and this is not new, is that anything I write on an email could end up being on CNN," he said.

"So I make sure to think before I press 'send'," he said of his Blackberry, which was an ever-present fixture on his belt or in his hand on the campaign trail.

Obama did not divulge just how he will overcome legal constraints, given the requirement of the post-Watergate Presidential Records Act of 1978 to keep a record of every White House communication.

Nor did he say how he would persuade his Secret Service protectors that the Blackberry does not pose a security risk, for instance if it is hacked over the air.
Related Tags