K|ngp|n and Shamino Break 40k in 3DMark Vantage
LN2 SuperCooled Overclocking at its best.
Published Tue, Jan 13 2009 10:27 AM CST
|
Updated Tue, Nov 3 2020 12:37 PM CST
Two of the top Overclockers have broken the World Record for FutureMark's 3D Mark Vantage.
Together Vince "k|ngp|n" Lucido and Peter Tan "Shamino" have pushed an Intel i7 CPU and a pair of nVidia GTX 295s in Quad SLI to an amazing 40,398 Marks in Performance Mode.
The CPU and the 295s were super cooled by LN2 for this amazing feat.
Read more
here
.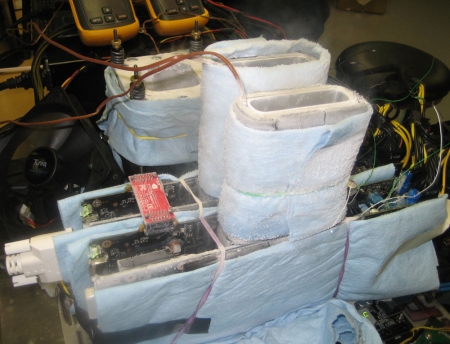 On January 8, a new 3DMark Vantage world record was set for the Performance segment with a properly calculated score of P40398 marks. The motherboard used was a standard EVGA X58 SLI running BIOS SZ1C combined with an LN2 cooled Core i7 965 at 5110MHz. For maximum bandwidth, Shamino used his Kingston 3GB HyperX DDR3 2000MHz CL9 kit which the duo managed to adjust to a remarkable 2160MHz with timings of 8-7-7-21. Finally, the GPUs of choice were two volt-modded EVGA GTX 295+ in Quad-SLI, cooled by LN2 with K|ngp|n's own Tek9 v4.0 slims.

Just recently, K|ngp|n has found himself a brand new sub-zero overclocking lab in which he intends to design and test more of his world famous liquid nitrogen GPU pots among other things. More importantly, however, it serves as a base station for 3DMark record breaking hardware and cooling configurations.
Related Tags