HP uses VoodooDNA for Firebird 803 tower
resembles an unknown gaming console.
Published Tue, Dec 23 2008 11:46 PM CST
|
Updated Tue, Nov 3 2020 12:37 PM CST
Engadget has caught a glimpse of HP's Voodoo-designed Firebird 803 tower PC and it's quite the interesting looking unit indeed. Unlike the monster-ish
Blackbird 002
, this system is a much more streamlined, compact arrangement whilst still being marketed as a "gaming tower".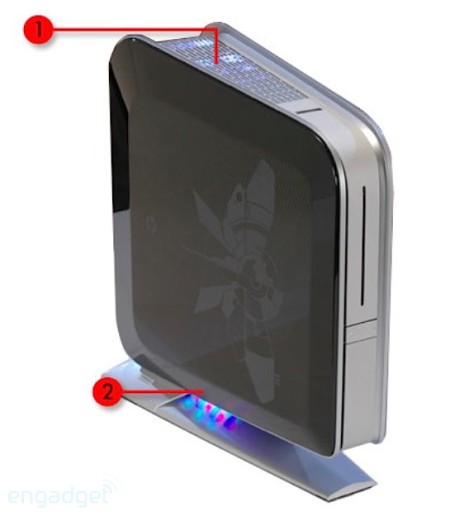 The weird yet sleek design of the chassis flips the disc drive and other internal components sideways to keep its width to an absolute minimum. The power supply is also external to the main box to assist in further space saving (and deals with potential heat problems this way as well). The downside is its expansion possibilities are minimized by running this design and pretty much what you get out of the box is what you're limited to.
But with that said, it does run an impressive set of specs and should be plenty of grunt for the majority of modern games out there. The specs include :-
NVIDIA nForce 760i SLI chipset
Core 2 Quad Q9550 2.83GHz processor
4GB of RAM
Dual NVIDIA GeForce 9800S cards
Two 320GB SATA drives
Blu-ray
5-in-1 card reader
6 USB, 1 FireWire, 2 eSATA, 1 S/PDIF and 1 DVI dual-link
Bluetooth
802.11n WiFi
You can find a stack more pics and details on the Firebird 803
here
. No word on availability or pricing yet.
We always loved us that Voodoo-designed HP Blackbird 002, but it was certainly a behemoth. Now it looks like the duo are going for a more realistic size -- and hopefully pricepoint -- with the all-new HP Firebird PC 803 that just fell in our lap, a gaming tower which flips the disc drive and most other components on their sides to save on space. The resulting kit seems to have more in common with gaming consoles than desktop PCs in terms of design, with very little configurability or expansion available, but the leaked specs are still quite palatable to the modern PC gamer.
Related Tags