AMD/ATi RV775 to stick it to nVidia
New information on the upcoming GPU.
Published Fri, Dec 12 2008 9:03 AM CST
|
Updated Tue, Nov 3 2020 12:37 PM CST
AMD/ATi appears to have sprung a leak. This leak has dribbled some information over to Expreview in the form of information about the upcoming RV775.
Normally AMD/ATi are extremely tight lipped about new products (sometimes to their own detriment) but now we have some data to pour over in anticipation of the next ATi GPU the RV775.
The information is yet to be confirmed but is it is accurate ATi looks like it is set to put another hurtin (sic) on nVidia.
Read more
here
.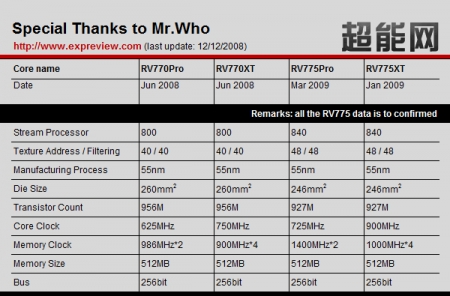 According to our source, the stream processors of RV775 will be increased to 840, and TMU increased to 48. It can be concluded that RV775 will feature 168 Stream Processing Units, and every 14 of Stream Processing Units forms a SIMD, so there would be 12 SIMD in total. Every SIMD contains 70 stream processors, which sounds more logical.

But how can this be done? It's very likely that they have utilized the spare units of RV770, and reform the Stream Processing Units in some special way. AMD RV770 is designed based on repair structures technology. If you have a unit with 10 shader processors, actually build 11. In this way, the spare unit can work should there be a defect. (You could visit Anandtech for more details) During the time when RV770 is sold well, AMD has enough time to improve the rate of good product. But we have no idea about the decrease of transistors.
Related Tags