AMDs HD 4830 looks to be a 9800GT killer
AMD slide hints at solid performer.
Published
0 minutes & 30 seconds read time
We
briefly mentioned
recently that AMD are planning to take NVIDIA's 96/9800GT series of cards head-on with another upcoming 4000 series Radeon card; the HD 4830.
Giving us a bit more to go by as far as the performance characteristics go, we've obtained a slide which reveals the cards performance up against a GeForce 9800 GT in game titles including Call of Duty 4, Devil May Cry 4, ET: Quake Wars, Hellgate London, Half-Life 2: Episode 2 and Supreme Commander.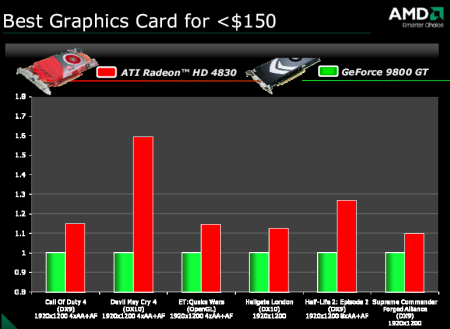 Looking over the results, it would appear the little RV770LE based 4830 is quite the performer and leaves the 9800 GT constantly trailing behind. It could prove to be another fantastic bang for buck card from AMD, typical of their 4000 series on a whole.
We are told these cards will get released sometime next month.
Related Tags