Nexus increase case fan airflow for just €4.35
Nexus BeamAir makes your fans betterer.
Published
0 minutes & 33 seconds read time
Nexus has just released one of the cheapest tech products you could get your hands on and if its claims are to be believed, it would be money well spent.
BeamAir is a small black adapter which you place over your case fans (they have adapters for 80/92mm as well as 120mm) and according to Dennis van Driel from Nexus, is magically able to provide
much
better, stronger and further airflow.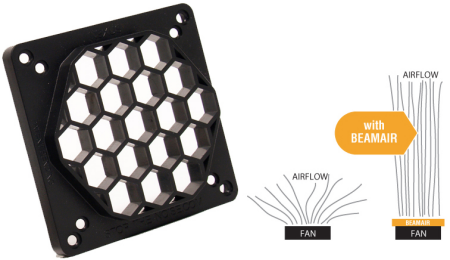 It seems as if the strategically placed holes in the piece of plastic is able to direct airflow in a more forward motion than without which flows everywhere like spaghetti, if the included picture here is anything to go by.
Nexus is shipping this product around Europe now and you can pick up the 80/92mm adapter for €4.35 (about $6.40 USD) and the larger 120mm version for €4.91 (about $7.20 USD).
Related Tags