Curtsey of the folks over at Akihabaranews, we now know that Shuttle will being selling its D10 XPC in Japan this week.
It's not your normal run-of-the-mill XPC, though. The D10 from the side looks like your normal XPC but on the front panel is where everything changes, for the better.
It gets a 7-inch LCD panel with touch ability and it has a resolution of 800 x 480. It's not a HD resolution but it fits standard def DVD resolution perfectly.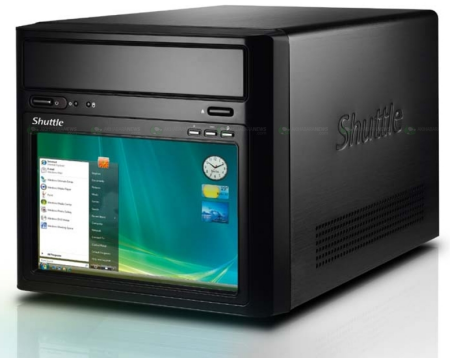 According to the news story, depending on the configuration you buy, the D10 will come fitted with either a Core 2 Duo E4000 Series, Dual Core E2000 Series or a Celeron 400 Series. Besides that you get 2GB of DDR2 (up to 4GB if needed), a Realtek AL C662 with 5.1 channel audio and four USB ports.
Apparently it will set you back around €330 which works out to be a little under $470 USD at the current exchange rate. There are some more pictures and information,
over here
.