Usually when in a plane, all electronic devices such as smartphones, tablets and the like, are required to be turned off. Including the cockpit and its pilots. Not for American Airlines pilots in the cockpit, who have now been approved by the Federal Aviation Administration (FAA) to use electronics, and more specifically, iPads in the cockpit.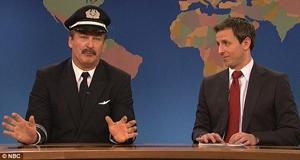 The FAA announced on Tuesday that American Airlines pilots in the cockpit will no longer require the use of paper-based flight manuals during those times, and could now use Apple iPads instead.The FAA came to this decision after they conducting a test of the use of electronics in the cockpit, in an effort to potentially replace the use of paper manuals and charts.
Some are left wondering why the FAA didn't run the same tests for passengers, which would see passengers having the ability to use their electronic devices before and after takeoff, instead of having to wait until the plane reaches an altitude of 10,000 feet before the use of electronics is allowed. The New York Times called the rule that passengers needed to wait until the plane reached 10,000 feet "outdated," and even bought up the idea that the rule may just be used to keep passengers' attention during takeoff and landing announcements.
Continue reading: American Airlines Pilots can now use iPads in cockpits, will play Flight Control like a pro (full post)