CES 2012 - Last month we visited the Thermaltake HQ in Taipei where we stumbled upon a few products where we got the chance to film them on video in this pre-CES 2012 preview of a couple new cases from the Taiwanese company.
First up we have the Level 10 GTS which is a new case coming onto the market by the end of Q1 2012 and should end up retailing for around $100 USD. It gets its design from its bigger full tower brother, the original Level 10 GT. Of course the GTS is much cheaper and has a similar feel as the GT and the same extended case width which users like. It will also get bundled with a quick access drive bay that allows you to move around hard drives from one Level 10 GT/GTS to another Level 10 GT/GTS or other computers thanks to the addition of the SATA (data and power) to USB 3.0 adapter that comes included.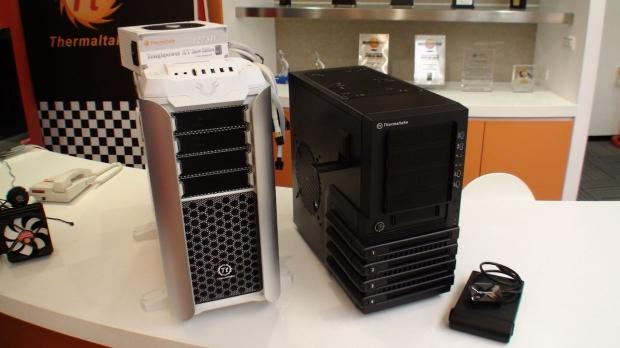 Next up we have the Armor Revo which takes some of the design theory from previous Thermaltake Armor series cases but at the same time mixes it up quite a bit. The front is rather busy with a rather unique, funky and stylish design with a mesh flow down the center of the case. You can always rely on Thermaltake to come out with something that stands out from the crowd. This is definitely the sort of case that you are either going to love right away or turn your nose up to. On the top front of the case you have your standard audio ports, eSATA, two USB 3.0 and USB 2.0...
Continue reading: Pre-CES 2012 preview of Thermaltake cases Level 10 GTS and Armor Revo (full post)