When it comes to self-contained and no maintenance liquid cooling system Asetek is one of the biggest names out there. Anyone that has installed or messed with a custom liquid cooling system know that it can be a pain to get all the hoses into the chassis to the point that they are not crimped and you have to keep an eye on the system for leaks and to keep coolant inside the reservoir. You don't have to do any of that with the Asetek line of coolers. The trade off is they don't cool as well as the larger and more complex custom systems.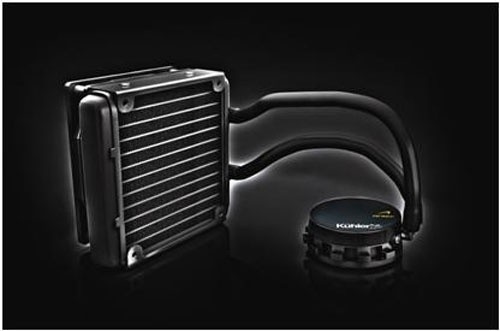 Asetek and Antec have teamed up to bring a new no maintenance liquid cooling system for the CPU to market. The system is called the Kuhler H2O 620, uses a low profile pump, and preserves airflow inside your chassis. The system is pre-connected with tubes that bend easily to prevent kinks.
The cooling plate is made from copper and the fans the system use have Antec Quiet Computing technology and come on depending on the temperature of the liquid inside the cooler. The goal is to keep the CPU up to 20% cooler than an air-cooled machine and still keep the noise under control. The 620 will ship at the end of the month and will sell for $69.95.
Continue reading: Asetek and Antec team for Kuhler H2O 620 CPU cooler (full post)