For a bit there we were scratching our heads a bit on what Barnes & Noble had up their sleeve for us come its scheduled November 7th event, but it's all out in the open now thanks to the crew over at Engadget working their magic and getting all the hot details for us.
It does indeed look like Amazon's Kindle Fire will be getting some company with B&N planning to reveal its new "Nook Tablet" in a few days time, and beginning shipments from November 16th.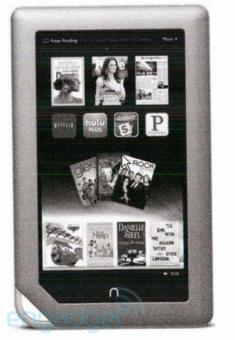 The said tablet will come in at $249 and promises 'the best in HD entertainment'. It looks much like the Nook Color and measures 8.1 x 5 x 0.48-inches, weighing in at 400 grams. It features a 7-inch (1024 x 600) VividView IPS touchscreen display and is powered by a 1.2GHz OMAP4 dual-core processor and 1GB of RAM.
Continue reading: Barnes & Noble go up against the Kindle Fire w/ Nook Tablet (full post)