Walter Isaacson's authorized biography of Steve Jobs is set to hit next week, and within, we find out more details of how Steve Jobs was absolutely furious about Android "ripping off" the iPhone. Of course, multiple smartphone makers and OS builders have "copied" the iPhone, but its not to say that Apple did it first.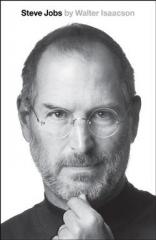 Apple bought something to the market that had been attempted before, but just did it better. Google were hot on the heels and have innovated multiple times within their Android OS, where Apple's iOS has not really grown outside of its initial iPhone launch. Yes it has been upgraded with more features, etc, but an actual change in the way it works, no. It still features the same tile-based icon layout, and has only seen "Notifications" in the last iOS 5 upgrade - something from Android.
But Steve Jobs hated, hated, hated Android. With a passion. To the point where he wanted a "thermonuclear war" with the company because they "ripped the iPhone off". Isaacson has written that Jobs was livid in January 2010 when HTC introduced an Android phone that boasted many of the popular features found on the iPhone. Apple sued, and Jobs told Isaacson in an expletive-filled rant that Google's actions amounted to "grand theft".
Continue reading: Steve Jobs wanted a "thermonuclear war" with Google (full post)