We first heard about 1TB topping broadband internet plans from iiNet and TPG last week, with iPrimus pushing the barrier a bit further and opting for 1.1+ TB of monthly usage; allowances that most people would find very difficult to comprehend as being possible to use up in a single month.
Another (smaller) player has announced plans to compete this week and is really going all out. Spin is soon rolling out a whopping 2TB a month plan, but what's possibly of more interest to many folks is the 'free' ADSL2+ plan they're offering up.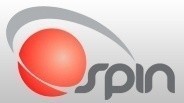 Inverted commas were used there because as you would be quick to assume, there is indeed a catch. Naturally an ISP isn't going to hand out any of its services for free, unless said services are bundled with something that's not free; and that's exactly what the deal is here.
Continue reading: ISP "Spin" spins up more aggressive plan structure - 2TB and 'free' ADSL2+ plans (full post)