Our Mission and Part Selection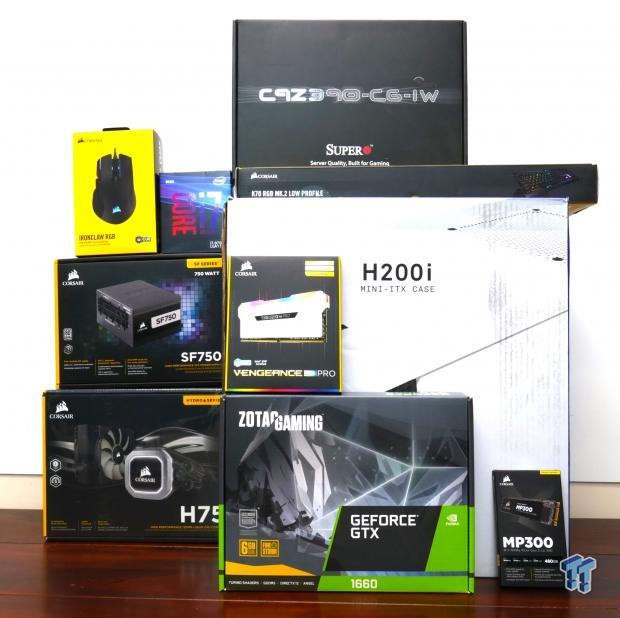 Every few months we do a build guide with a different theme involved and then give away the system to a lucky winner. For this build guide and giveaway, we decided to tackle a high-end smaller PC that can be used at LAN parties and is easier to move around than a full-fledged ATX desktop. Supermicro supplied a C9Z390-CG-IW for this build, so we focused on picking parts around the motherboard. Intel was nice enough to send over an i7-9700K, Zotac sent over a GTX 1660, and Corsair provided everything else.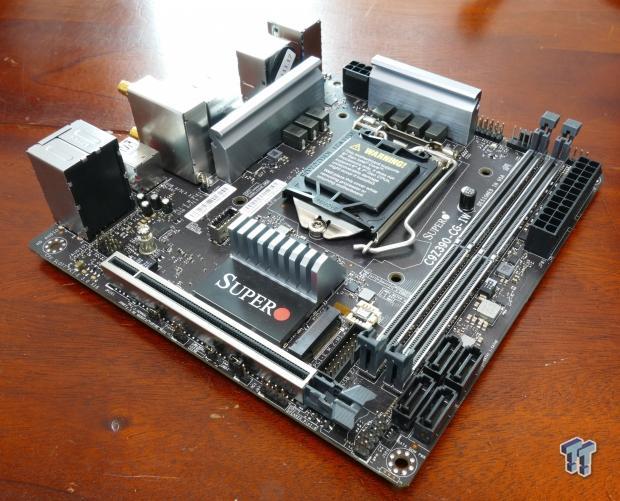 The backbone of our build is the motherboard, as it needs to support all the features of the platform. We have a really nice x4 PCI-E M.2 port on this motherboard, so we decided to go with an M.2 module. We have two RAM slots, so we went with two sticks of RAM. We also see the motherboard has four SATA6Gb/s ports, but we won't be using them in this build, although our case supports a few 2.5" drives so that we could use those ports later.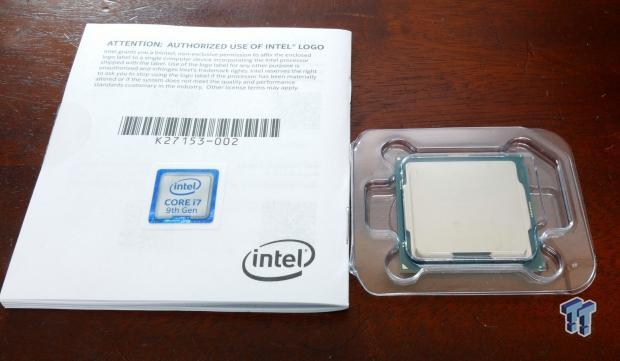 The CPU is the 9th Generation Core i7 9700K, with a solid motherboard the CPU can boost up to whatever it desires.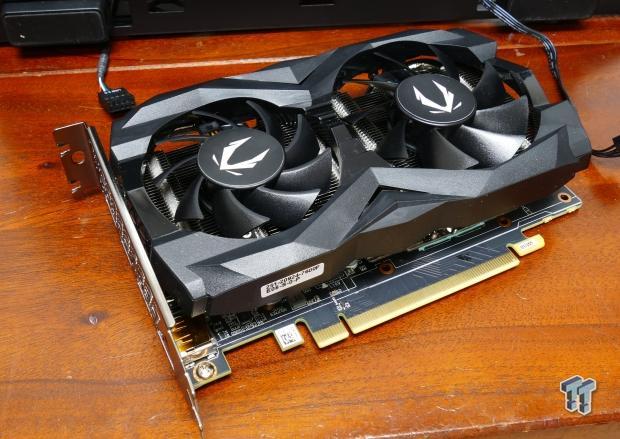 Here we have a mini-ITX sized Zotac GTX 1660 6GB, which recently launched.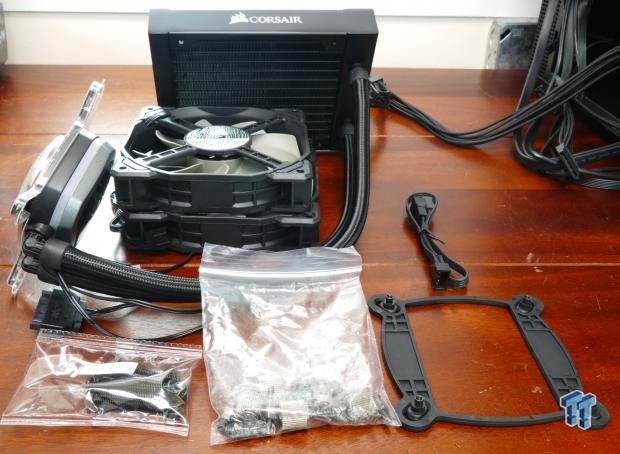 Next up is the CPU cooler. The 9700K and other high-end Intel CPUs can generate a decent amount of heat, especially if you overclock them. In this case, we used a Corsair H75 all-in-one water cooling unit. Pay attention to the mini-ITX case you purchase, as it might not have room for watercooling, and if it does, make sure that it supports the coolers' size.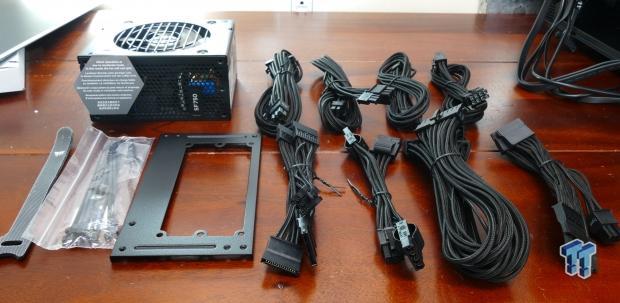 The PSU we used is Corsair SF750 SFFPC PSU, it supports up to 750W, which is more than we need, but it also gives us the ability to upgrade the GPU down the line if we so choose.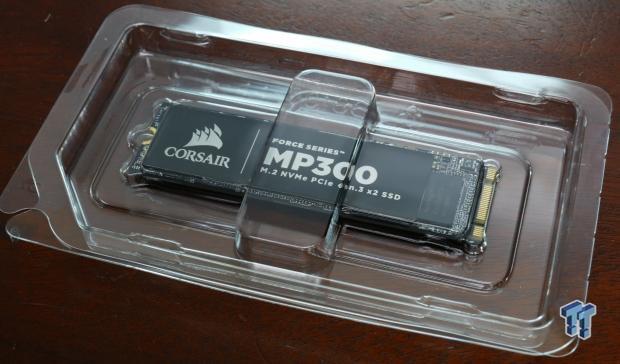 Finally, we have our M.2 SSD, new from Corsair the MP300, which is an M.2 NVMe PCI-E Gen3 x2 SSD.
CPU: Intel Core i7-9700K valued at $410
Motherboard: Supermicro C9Z390-CG-IW valued at $199
RAM: CORSAIR Vengeance RGB PRO 16GB (2x8GB) DDR4 2666MHz C16 valued at $95
GPU: ZOTAC Gaming GeForce GTX 1660 6GB valued at $220
SSD: CORSAIR FORCE Series MP300 480GB valued at $65
PSU: CORSAIR SF750 valued at $180
Case: NZXT H200i valued at $125
Cooler: CORSAIR Hydro Series H75 valued at $83
Keyboard: CORSAIR K70 RGB MK.2 RAPIDFIRE valued at $140
Mouse: CORSAIR IRONCLAW RGB valued at $50
Total: Around $1,567
Putting it all together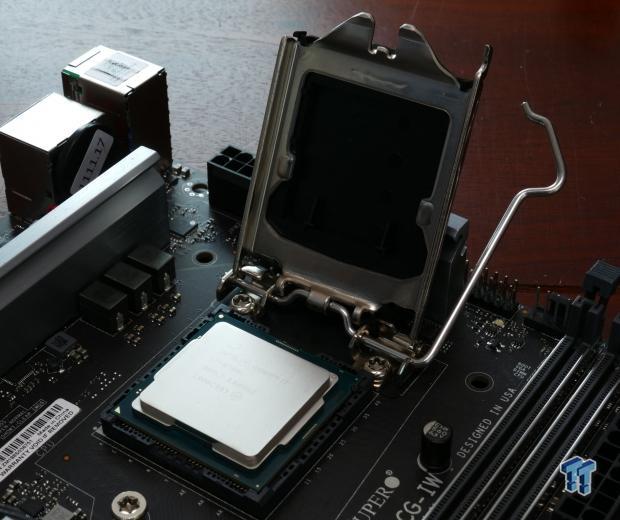 The first thing I like to do is install the CPU and other components on the motherboard outside of the case. You do not need to remove the black cover over the CPU socket, just put in the CPU gently, and close the socket. When you close the socket the black cap will pop off.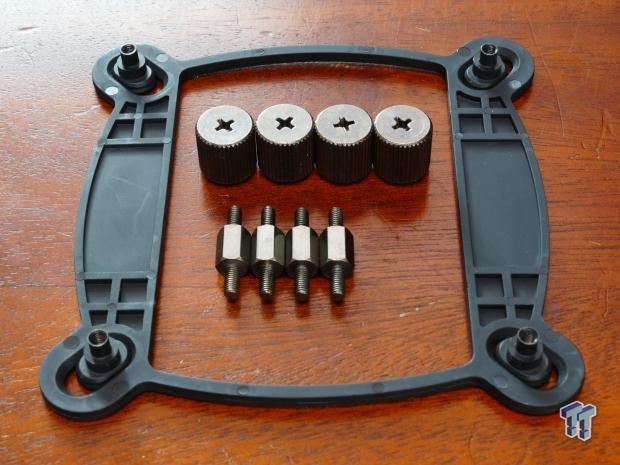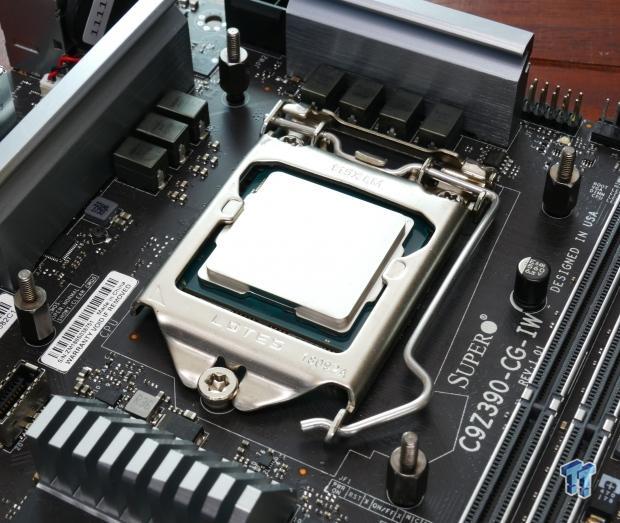 We need the mounting components from the cooler installed before we install the motherboard into the case. Many people forget to do this and then need to remove the motherboard. Keep the thumb screws aside, just install the backplate and the mounting screws.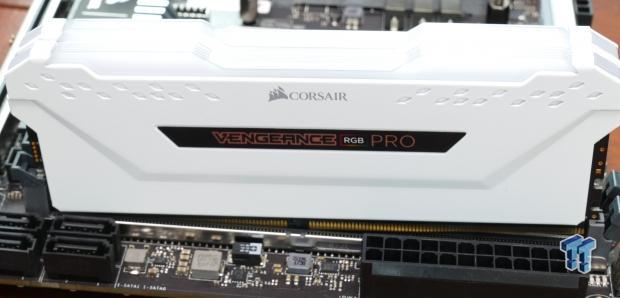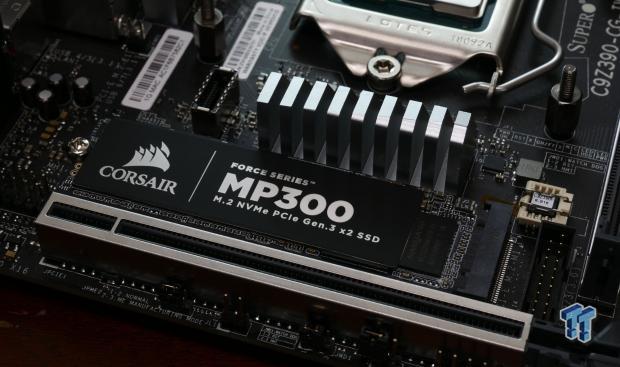 The memory should be installed by pressing down the left side first, as there is no manual latch, so you need to hear it click in. The M.2 drive is very easy to install, it just takes one screw.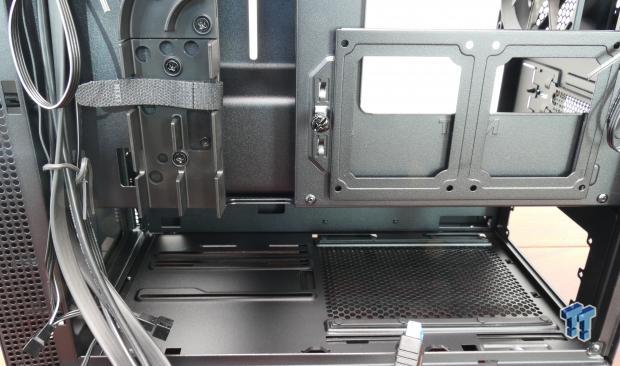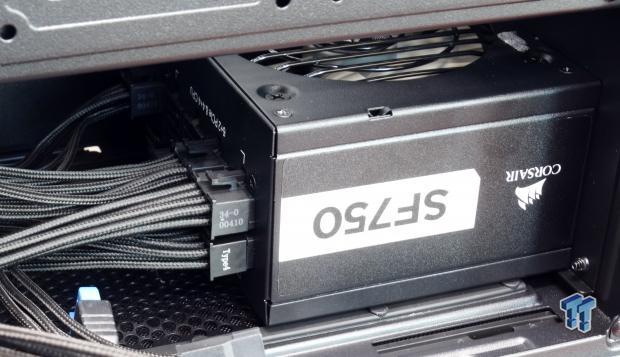 At the rear of the case, we find that the PSU goes under a cover and that we have a lot of options for routing cables through their cable management system. We install the PSU and then choose exactly how many power connections we need. It's easier to install the modular cables when the PSU is outside the case. You might want to install module cables further back so that down the line if you need to insert more, there is open room around the PSU.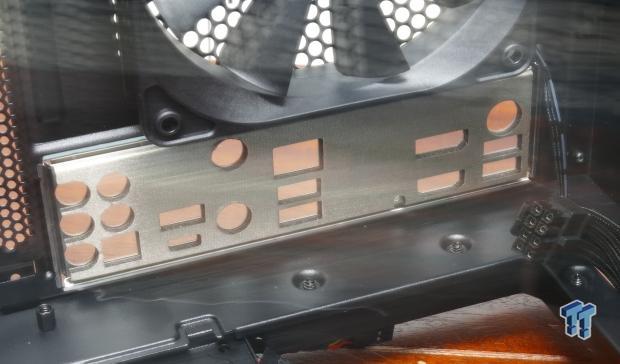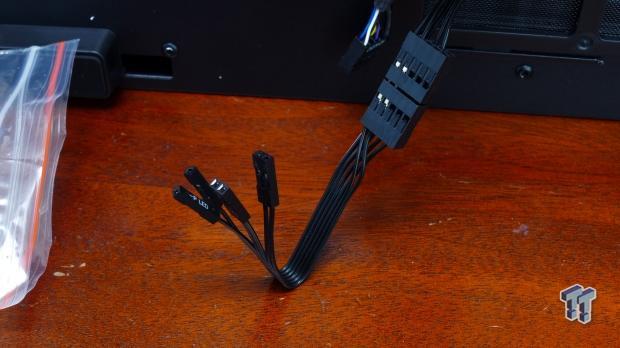 Always remember to install the rear IO shield first before installing the motherboard! It's one of the biggest mistakes since it's not always at the forefront of the builder's mind. We also will need to install the front panel headers, the good news with this case is that we can install these on the motherboard when it is outside the case because of the modular design of the header cable.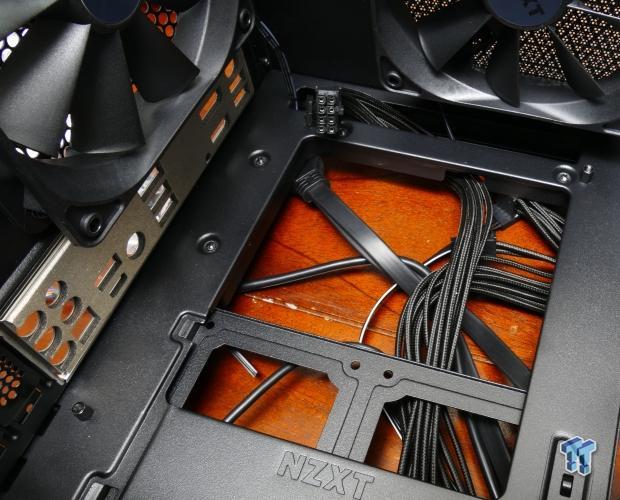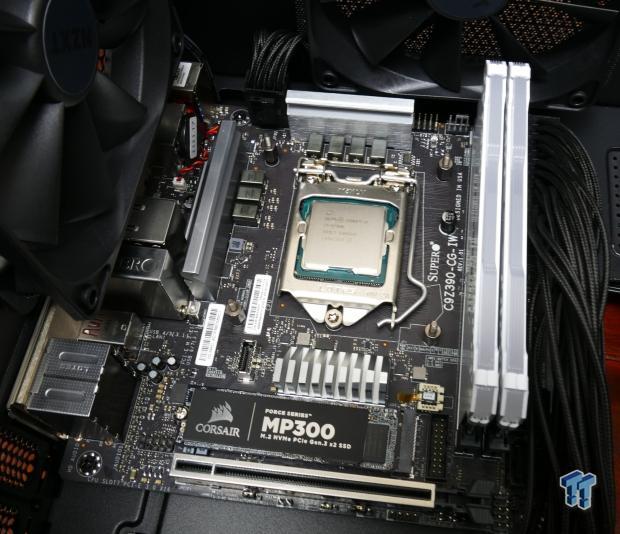 Before we install the motherboard, we also route cables out of tight spots, such as the 8-pin CPU power connector at the top of the motherboard. We then install the motherboard using four screws and plug in power and front panel connectors.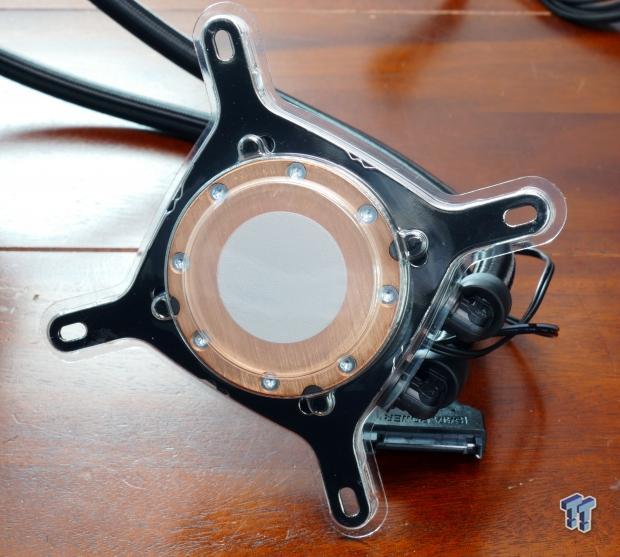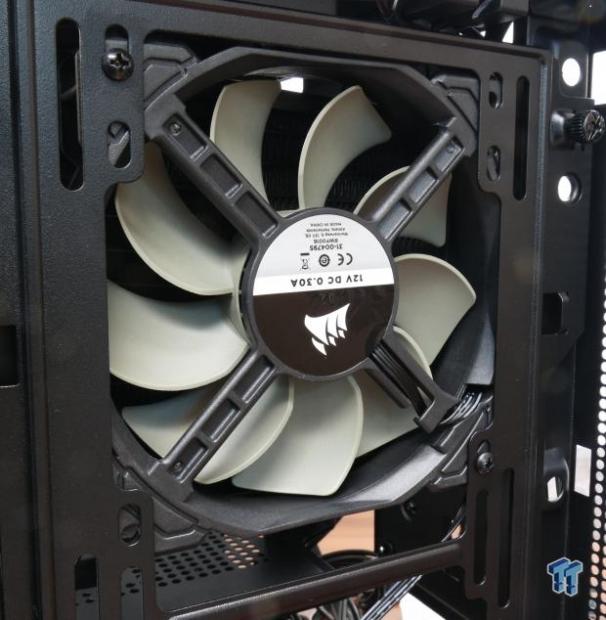 The next step is to install the CPU cooler. In this case, the cooler already has thermal paste applied, so there is zero need to add more paste. We then install the cooler in the case by strapping on its fans and then screwing one of its fans into the case.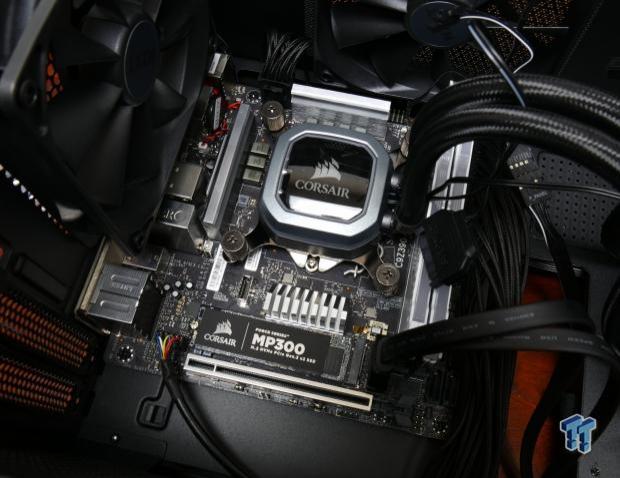 Then we install the cooler block and plug in the fans. We also plugged in the HD audio connector and USB 3.0 front panel header before we install the GPU.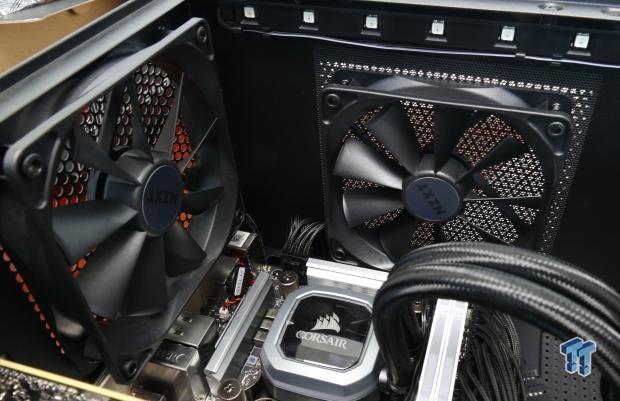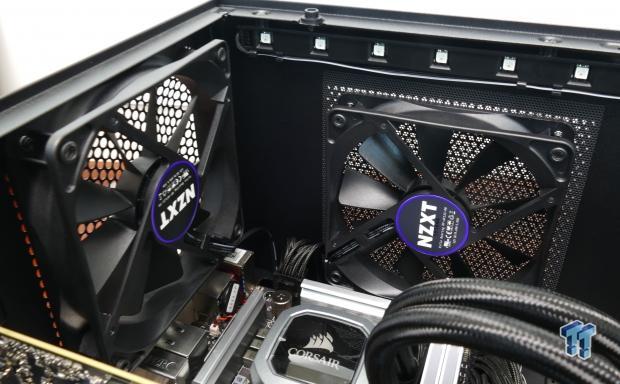 In this case, the AIO watercooling unit blows out the front of the case, but our included case fans also blow out of the top and the rear of the motherboard. The configuration by default would have created negative pressure, which is not good for the system and is just asking for dust build up. So we reverse the top and rear fans to become intake fans. These fans will blow directly on the motherboard, and that's a good thing since the VRMs will need to be cooled.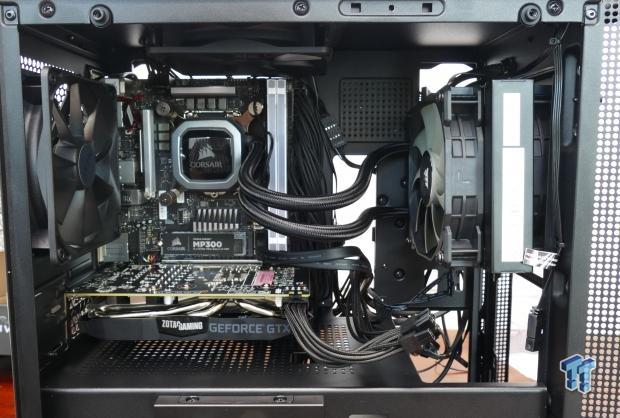 We finally install the GPU and route our cabling to meet our needs.
Putting It Together Using Best Practices
Tip #1: If you build on carpet, wear shoes if you have socks on. Once the PSU is plugged into the wall it will become a ground, even if it is off, and if you screw it into your case, your case will act as a ground. So you can touch ground often this way, and that way discharge any static electricity, and for bonus points don't move your feet after grounding. Also, don't wear things such as cashmere sweaters or other clothing that creates a lot of static. If you are really scared of ESD, you can just buy a real anti-static wrist band and tether yourself to a ground, they also sell anti-static gloves.
Tip #2: Install your CPU, cooler bracket hardware, RAM, and any M.2 drive when the motherboard is outside of the case. Working inside a case can be difficult.
Tip #3:If possible, test the CPU, motherboard, RAM, and GPU outside of the case using the box of your motherboard as a stand. Do not put the motherboard on anti-static material when it is on, as anti-static material is conductive (it's designed to create a faraday cage around the components inside). You will obviously need your PSU and your cooler to run the device outside of the system. The reason we recommend testing outside the case is because sometimes people short out on the case, and they can't figure out why their system isn't working; it happened the first time I built a computer.
Tip #4: AIO water coolers either come with thermal paste pre-applied or no thermal paste. If they don't have thermal paste pre-applied they typically come with some in a tube, but be sure to remove whatever is protecting the bare copper on the block, sometimes it's a thin layer of clear plastic that is hard to spot.
Tip #5:It's best never to over apply thermal paste, the traditional wisdom is to use a small pea-sized blob in the center of the CPU. On some CPU's it's better to use a small line over where the die is located underneath the CPU, and in other cases like huge CPUs, it's better to use multiple lines or blobs. We like the single pea-sized blob on this CPU. Beware; some pastes like IC7 Diamond will corrode the internal heat spreader surface of your CPU since they have diamond particles inside, which might make RMA of the CPU difficult.
Tip #6:If you have a modular PSU count out the number of connections you need as use as few wires as possible to optimize chances of good cable management. Heat is the ultimate pre-mature killer of computer hardware, and wires can block airflow and can effect temperatures.
Tip #7:Install your motherboard's IO shield before the motherboard, many people forget this step. I recommend installing it as soon as you open the case or motherboard box, just so you don't forget.
Tip #8:If you don't have a monitor or you aren't getting video, look to see if you can toggle the Number-Lock light on your keyboard. If you can toggle it, then you should have video output as the motherboard has finished the POST process (power on self-test) and your CPU, motherboard, and RAM are all working properly.
You might be plugged into the wrong video output, so if you have a dedicated graphics card you need to be plugged into it and not into the motherboard. If you have a dedicated graphics card and you are plugged into it but have no video, make sure you plugged in power for the GPU and double check the monitor input selection, then turn on and off the monitor (some monitors won't pick up BIOS splash screen as a wake-up signal). If none of that works, take out the GPU and plug into the motherboard's graphics output, and test your GPU in another system.
Setting Up BIOS and OS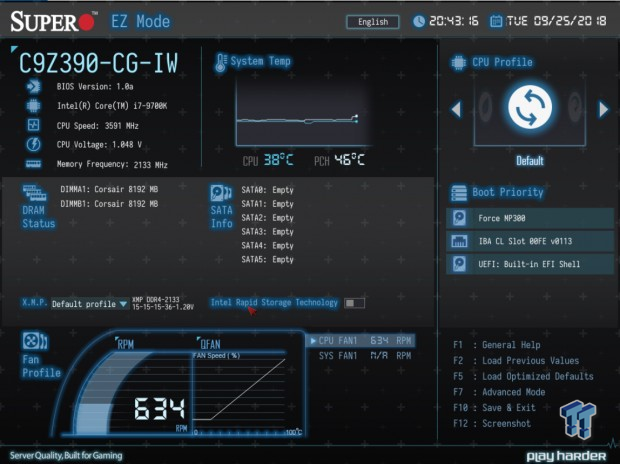 Entering the BIOS isn't something I recommend for everyone, but in this case, we find that the UEFI is easy enough to use. Supermicro has a new EZ mode of operation where you can drag drives to change their boot order and check fan speeds or setup RAID. We prefer to use the more advanced UEFI firmware, so we hit "F7" to switch over.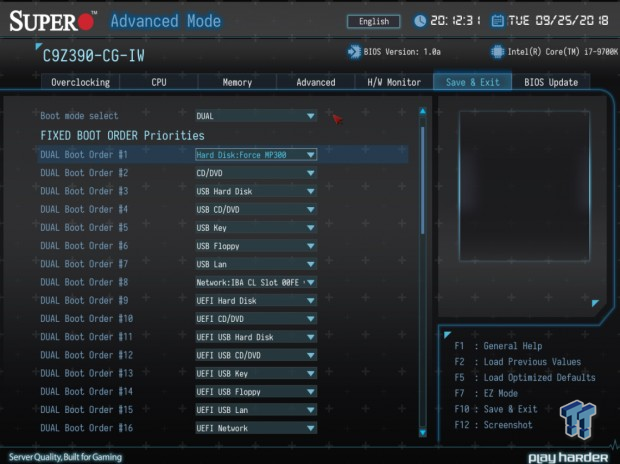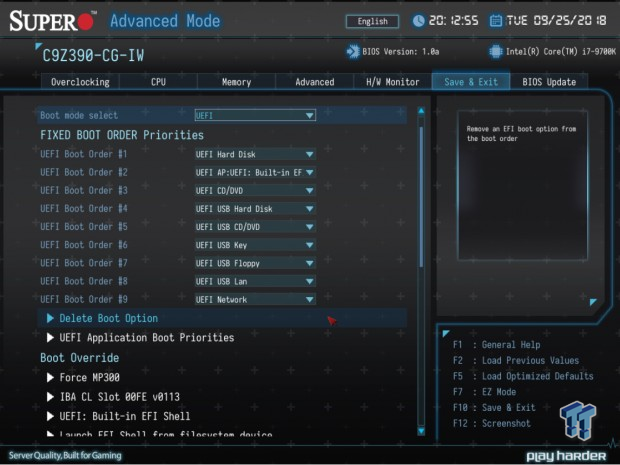 The first thing you might want to do is to change your boot order, and to do this you just need to go over to the "Save & Exit" menu. You will be greeted with a huge list of boot options, we prefer to use UEFI mode instead of Dual mode (supports both legacy and UEFI devices for booting). If you have multiple drives you might need to go into the Hard Drive BBS Priority list, where you can choose which drive will show up in the boot menu.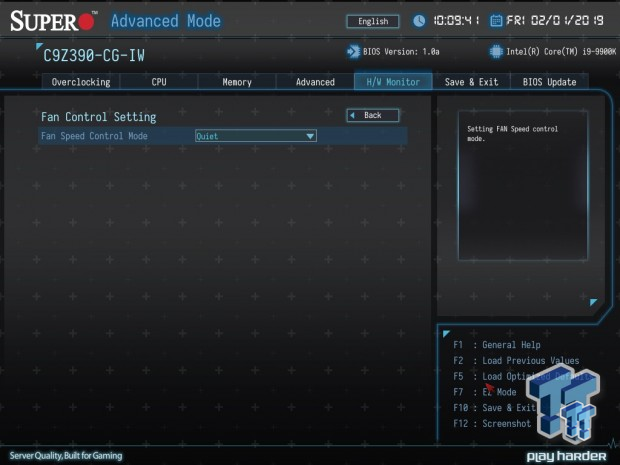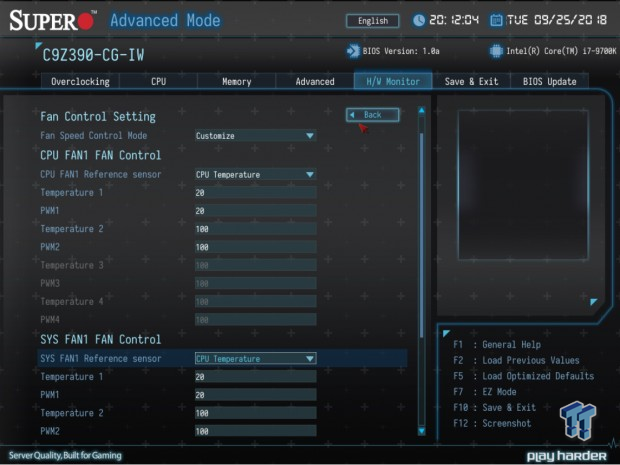 Fan control can be found at the bottom of the "H/W Monitor" tab, where the default option is "Quiet". However, while our Corsair fans for the cooler did run in Quiet mode, our case fans did not, so we needed to use another mode.
"Customize" mode allows for users to set their own temperature and PWM rate levels, up to four for each header. The headers are high current headers on this motherboard, supporting up to 2A, so we had two fans on each header. If you want to set Temperature 3 and 4, you will need to change PWM2 to something lower than 100%.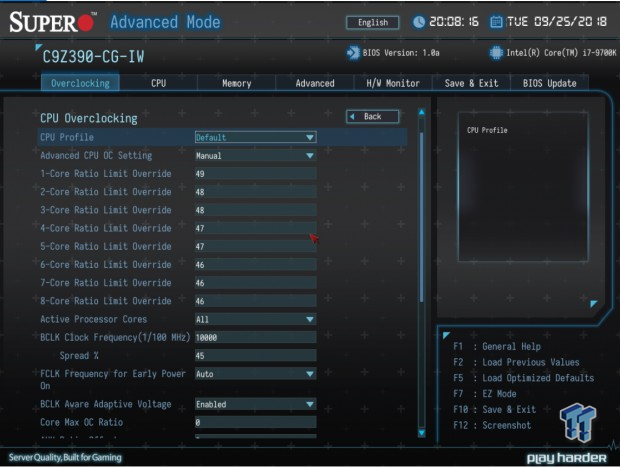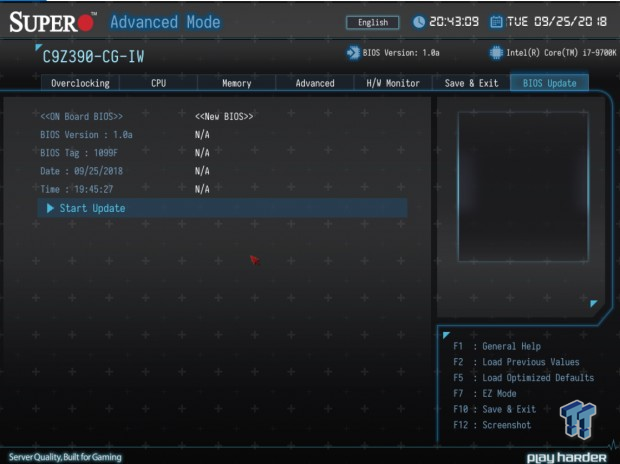 You might also want to overclock your "K-series" CPU, and there is a whole overclocking tab dedicated to just that. You are able to manually set your overclock settings, and you can find our Supermicro OC guide for their Z390 series motherboards here.
You can also choose from CPU Profiles, which are kind of like presets, but we recommend reducing VCore and other voltages if you go that route. Setting XMP is also advised if your kit is supported. BIOS updates can bring some fixes every now and then, and Supermicro offers a way to update the UEFI firmware in the UEFI or through Windows. Once you set everything, hit F10 and save and exit the BIOS.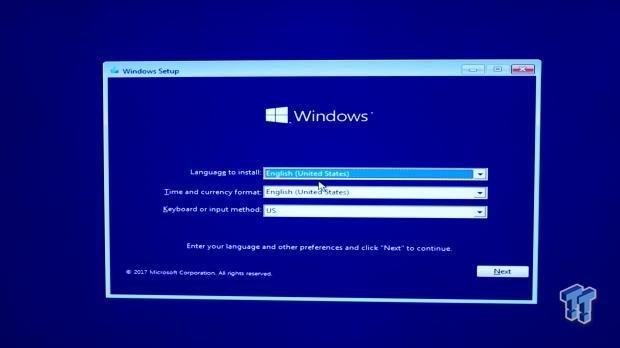 Once you set the correct boot order and plug in your USB drive with Windows 10 on it, this screen will load after the contents of the USB drive are loaded into RAM upon bootup. Follow the prompts, and Windows 10 will install painlessly.
SuperO Booster + Giveaway Link
SuperO Booster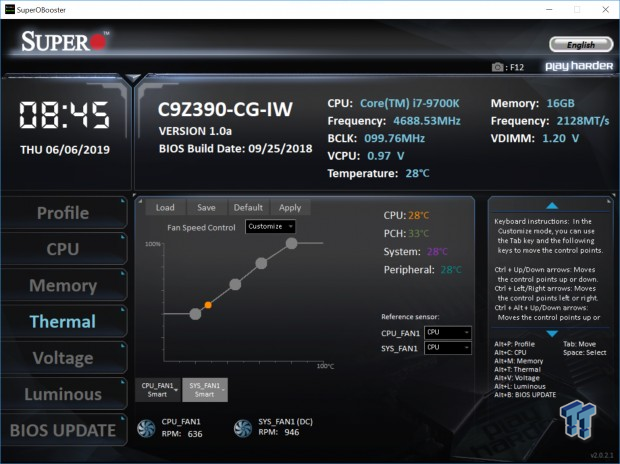 SuperO Booster is their Windows-based motherboard control software. You can overclock, set up fans, update your UEFI firmware, and it's the only place where you will find the ability to change the motherboard RGB LED effect. The fan control menu is a nice touch, as it provides a GUI, which the UEFI doesn't. You have all the same options as in the UEFI.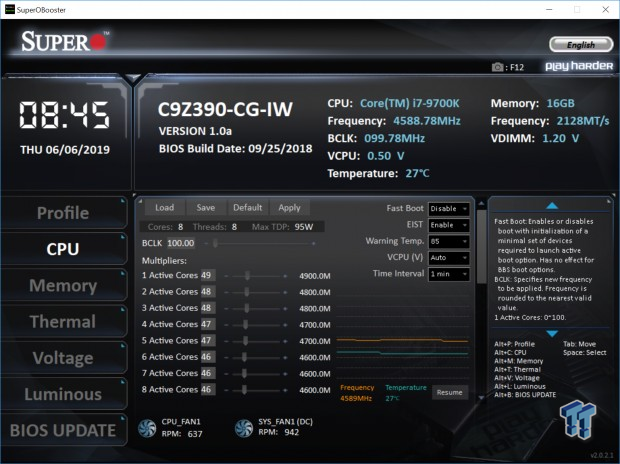 Under the CPU tab, you will find basic overclocking settings for the CPU. If you want to change the value for all cores at once, change it for the bottommost core (core 8 here), and it will shift the rest. You can also change the VCore in the CPU menu.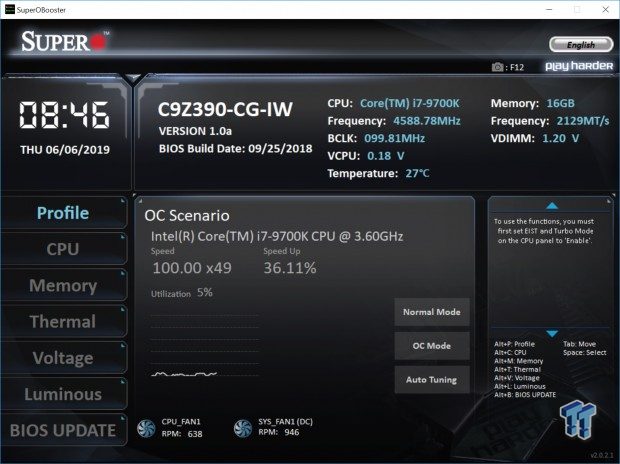 The first tab you will be greeted with when you enter the software is the "Profile" tab, and there you can set what general mode you want the CPU to be in, and there is even an "Auto Tuning" mode.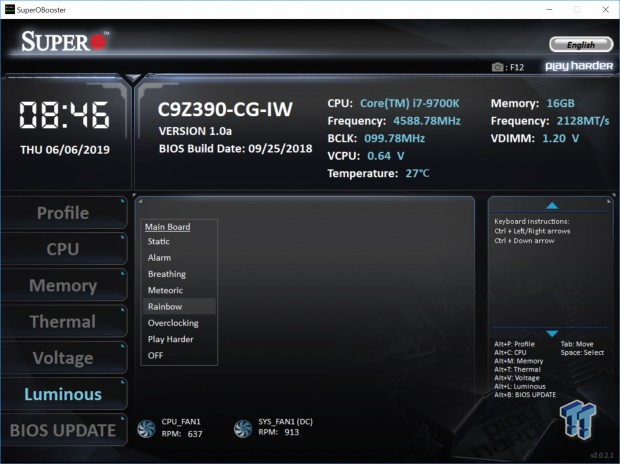 The "Luminous" tab offers the ability to change the RGB LED mode of the RGBs on the rear of the motherboard and those that might be connected to the RGB header on the motherboard.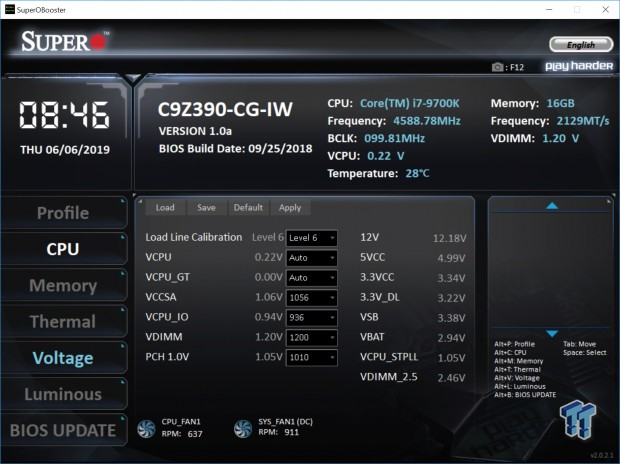 Under the "Voltage" tab we find all the major voltages one might need to alter to overclock the CPU and memory. We can also find real-time readings of the current settings. Load Line Calibration can also be found here, and you get up to six levels.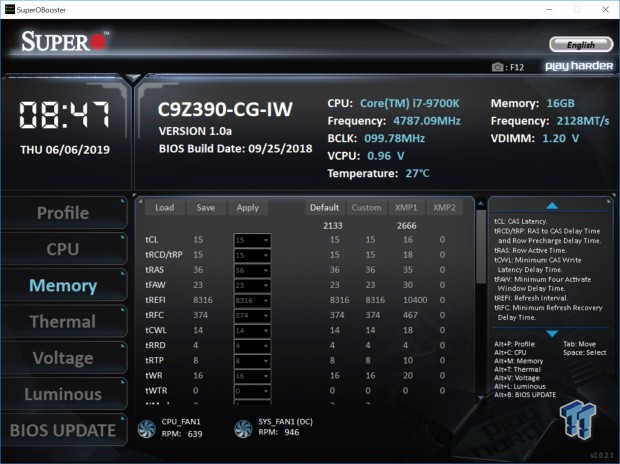 Under the "Memory" tab we find our timings as well as the ability to set our memory profiles or manually tune the frequency. The nice part here is that we can see exactly what certain timings under XMP are, so you can choose XMP and then switch to custom to tighten timings.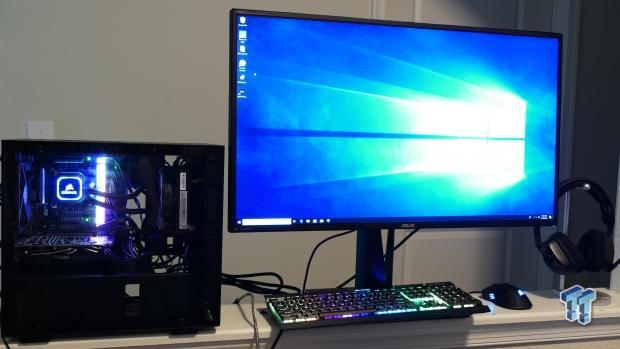 That pretty much wraps up everything on how to build a mini-ITX Supermicro-based system and configure it.
Please enter our Facebook giveaway of the system, one lucky winner will receive the entire build plus a Corsair keyboard and Mouse!