MSI Z370 Gaming Pro Carbon AC System Build Guide
We take MSI's impressive Z370 Gaming Pro Carbon AC motherboard, build a system around it, and show you exactly how it's done.
Published Nov 14, 2017 11:11 AM CST
|
Updated Tue, Nov 3 2020 6:58 PM CST
21 minute read time
MSI Gaming Build Part Selection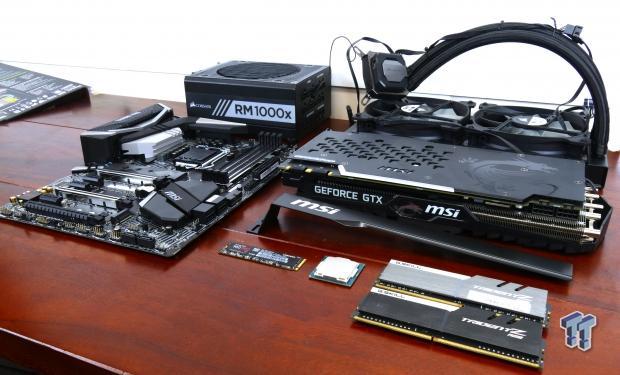 MSI has teamed up with us to provide you guys with a Z370 system build guide, and today we have it ready for you! If you are unfamiliar with building a PC, MSI's manual for the Z370 Gaming Pro Carbon/AC details the steps required to do so. It's quite easy, and this guide is an enhanced version of that, with component selection, special installation requirements, optimization of hardware, overclocking, and finally, an overview of the software provided. There are also videos included for many different operating tasks, so if you prefer a video, then you have that option as well for fan control, manual overclocking, automatic overclocking, and software.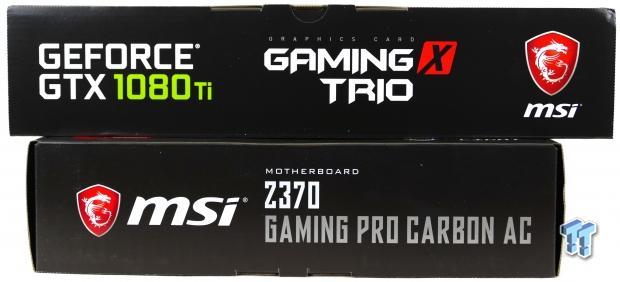 The guide will focus on two of MSI's top products; the GTX 1080 Ti Gaming X Trio and the MSI Z370 Gaming Pro Carbon/AC. The MSI Z370 Gaming Pro Carbon/AC is one of the most popular Z370 motherboards, which means the support community is huge and MSI will be more inclined to prove better UEFI support over time. The motherboard is also priced very competitively, allowing you to pour more money into the GPU for your gaming rig, or storage for your production rig. The GPU we used is the MSI GTX 1080 Ti Gaming X Trio, which has a huge radiator, triple fans, and even RGB LEDs and an overclock.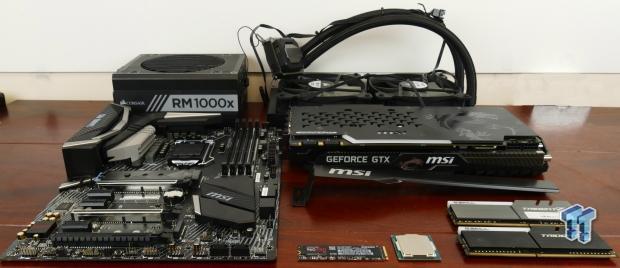 The rest of this build was done with components I chose to reduce bottlenecks and optimize compatibility; you can change the part selection depending on your needs. I will discuss each part, why I chose it, and what you might want to change.
Test Setup
CPU: Intel Core i7 8700K - The 6-core 12-thread 8700K is one of the best gaming CPUs on the market. However, if you want to save a few dollars, going with an 8600K or even something like an i5-8400 are decent alternatives
Motherboard: MSI Z370 Gaming Pro Carbon - The MSI Z370 Gaming Pro Carbon/AC offers an excellent balance of features at a very reasonable price, it also supports a wide variety of LED technologies
Cooler: Corsair H100i GT - I used this cooler because I had an extra, but I wanted to make sure to use a double radiator AIO. While a custom watercooling setup is typically the way to go, more users are turning to all in ones for their ease of use.
Memory: G.Skill TridentZ 3600MHz 8GBx2 3600MHz - It's best to make sure the kit you choose is on the qualified vendor list of the motherboard, but you are pretty safe with two sticks of memory rated at 3600Mhz and below. Memory QVL.
Video Card: MSI GTX 1080 Ti Gaming X Trio 11GB - Based on NVIDIA's famous Pascal architecture, this GTX 1080 Ti features a beastly triple fan radiator, RGB LEDs, and comes overclocked out of the box!
Storage - Boot Drive: Samsung 960 Pro 512GB - Samsung makes some of the fastest NVMe based M.2 SSDs, and the 960 Pro is one of them, and MSI's motherboard can take two of these drives. If you want something a lot cheaper, Intel's 600P series of SSDs offer decent performance at a very affordable price.
Storage - Game and Movie Storage: Hard Drive - We didn't use a secondary drive as our 500GB 960 Pro was enough, but you can always use 1TB+ HDD to store games and other data if you need.
Case: Corsair Obsidian 900D - The Corsair 900D is huge, maybe even overkill for this motherboard, but you should look at cases where a GPU can extend beyond the motherboard, as some GPUs, like the one used here can be longer than the motherboard.
Power Supply: Corsair RM1000x - The RM1000x offers fully modular cabling, 80+ Gold certification, a 10 year warranty, and a zero RPM fan mode. Power supplies are one of the first things to go on high-performance PSUs, so look for something with a decent warranty. The RM1000x is overkill for this build unless you plan on adding a second GTX 1080 Ti Gaming X Trio in the future for SLI, which is why I chose it. If you are not planning to upgrade down the line, stick with a 600-800W PSU with solid efficiency and a good warranty.
OS: Microsoft Windows 10 - Do we really have an option these days? In my opinion, it's a decent OS, and the learning curve is short if you have never used it.
Monitor: ASUS PA328 ProArt 32" 4K - It's the monitor I use daily, and this build will replace my daily rig. The machine we are building will be able to play games at 4K (3840x2160), so a 4K monitor isn't a bad idea.
Keyboard: Corsair K70 LUX - Also part of my daily machine. It has RGB LEDs too, and they are tastefully done.
Mouse: Corsair M65 PRO RGB - Also part of my daily machine.
Pricing
The cost of our configuration is roughly $2,500. However, our case, PSU, CPU, GPU, and even RAM could be considered overkill, but they offer a level of performance above most of what else is out there. The Corsair Obsidian 900D is one of the largest and well-built cases on the market and offers superior customization, size, capacity, and airflow options.
MSI's GTX 1080 Ti Gaming X Trio is overclocked out of the box and features a hefty radiator with triple fans. Our PSU is one of the best 1000W PSUs on the market, and our CPU and GPU configurations could get away with a solid 850W power supply. While the 8700K is excellent, looking at an i5-8400 or even an i5-8600K to save some dollars isn't a bad idea.
MSI Z370 Gaming Pro Carbon/AC Walkthrough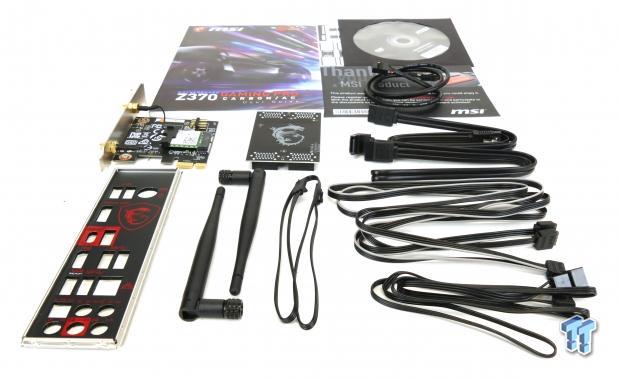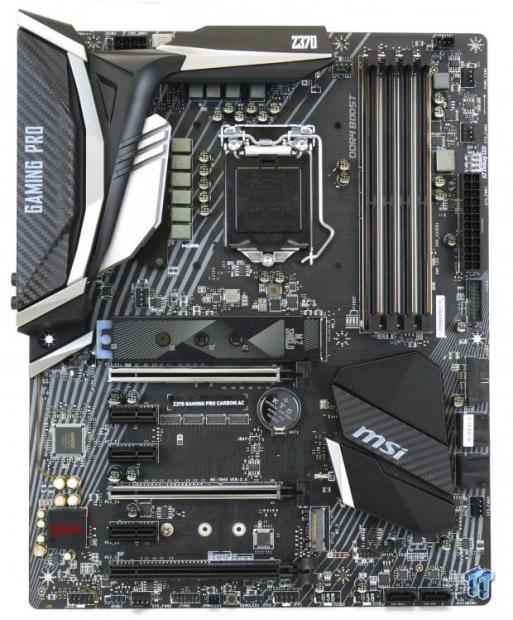 The accessory package offers a lot regarding getting your system setup. You get manuals, driver DVD, and even cable stickers, SLI HB bridge, wireless AC card, wireless AC card USB internal cable, four SATA6Gb/s cables, Corsair LED cable, Rainbow LED cable, LED Y splitter extender, Wi-Fi antenna, and IO shield. The motherboard itself has an 8+2 phase VRM, four DDR4 DIMMs, two internal USB headers, six SATA ports, two M.2 slots, and three full-sized x16 slots. The PCI-E slots operate at x16/x0 or x8/x8 for the top two reinforced slots, while the last slot always runs at x4 PCI-E 3.0. It has a sleek black and silver aesthetic as well.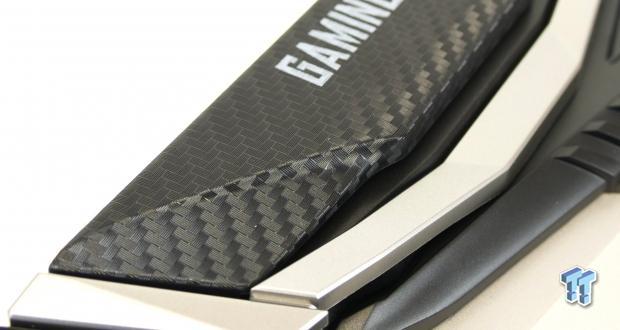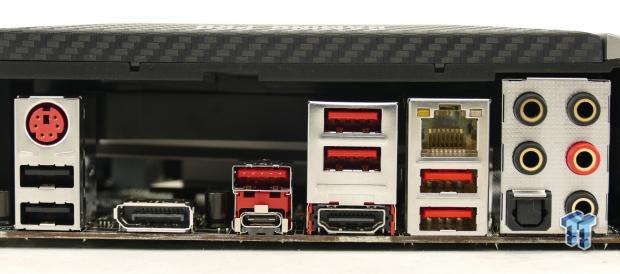 The carbon fiber areas you see are textured. You can feel the carbon fiber criss-cross pattern, and it looks sleek as well. The IO panel offers two USB 2.0 ports, four USB 3.0 ports, DisplayPort, HDMI, USB 3.1 type-A, USB 3.1 type-C, 1Gbit LAN, 7.1 gold plated audio outputs, and S/PDIF out.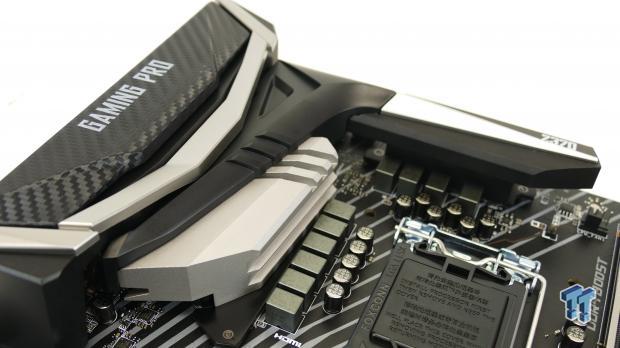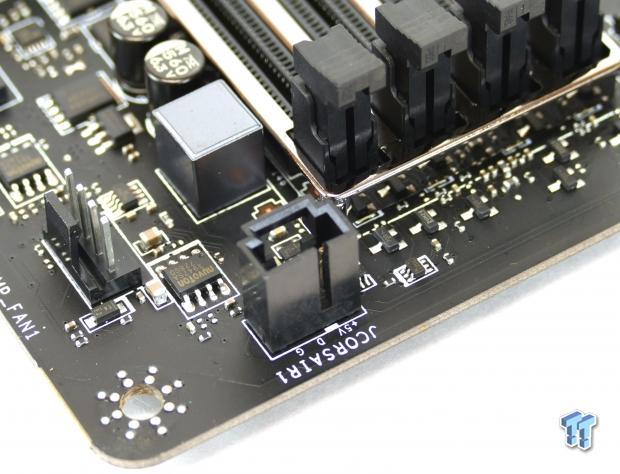 The CPU VRM is in an 8+2 phase configuration for the CPU VCore and the iGPU power rails. They use On Semiconductor MOSFETs in a SOP8 package and a UPI Semiconductor PWM controller. The VRM has a two-piece heat sink, and all MOSFETs make contact with the VRM heat sink. While there are many RGB LED headers on the motherboard, we also found a "JCORSAIR1" header, which has three pins and is supposed to be connected to support Corsair RGB LED products. It is a digital header, so it offers +5v, digital output, and ground.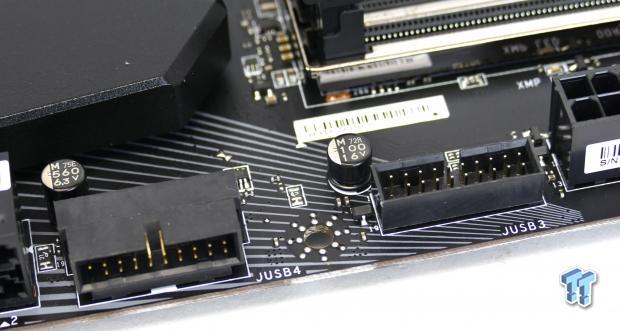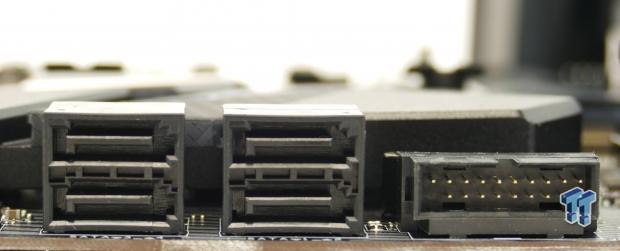 The motherboard features two USB 3.0 internal headers, the one below the 24-pin connector is angled straight, while the one under where the GPU would come out is angled right. The motherboard also features four right-angled SATA6Gb/s connectors.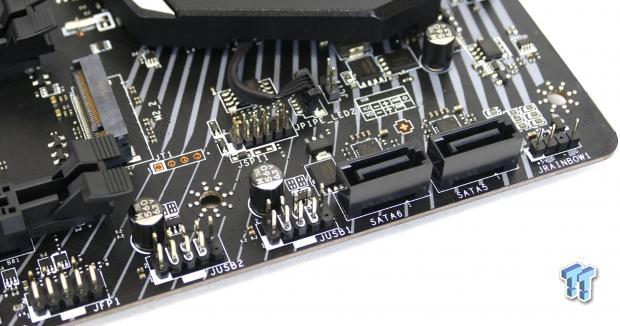 We also find MSI's JRAINBOW header in the bottom right corner of the motherboard; it offers digital RGB LED support. We then get two more SATA6Gb/s ports, two USB 2.0 internal headers, and from front panel headers.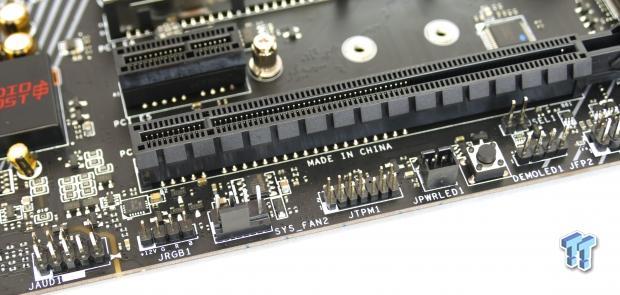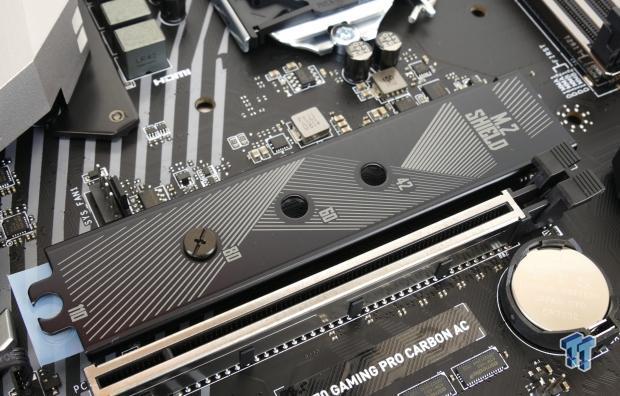 The Z370 Gaming Pro Carbon/AC has built-in headers to provide the RGB LEDs with power then the board is off (5v), a button to change between colors and effects, and a jumper to change what the button does (between color and effects). We also find a TPM header, a normal RGB LED header, and our HD audio header. The main M.2 slot has MSI's M.2 Shield, which is designed to help cool down hot M.2 drives.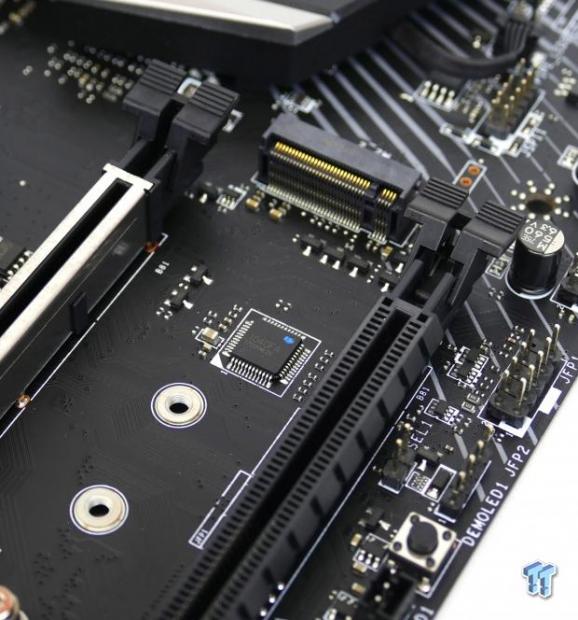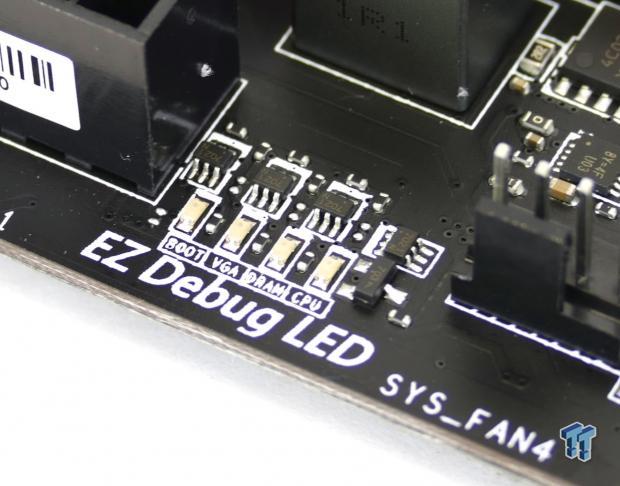 Another M.2 slot is located at the bottom of the motherboard, and both M.2 slots offer 32Gb/s of bandwidth as well as support for SATA6Gb/s based M.2 drives. The motherboard doesn't have a POST code display, but it does have an EZ Debug LED system, which will light up if either the CPU, DRAM< VGA, or boot devices fails.
MSI GTX 1080 Ti Gaming X Trio Walkthrough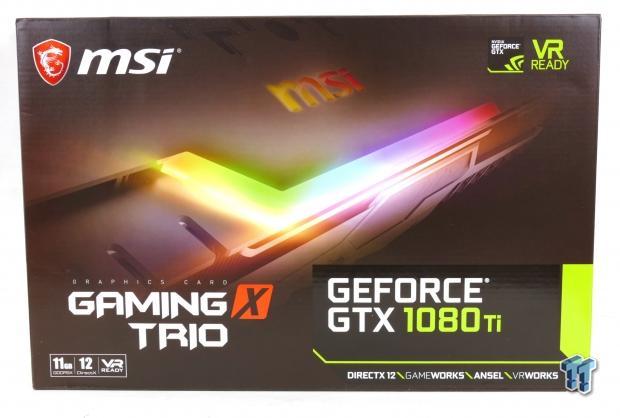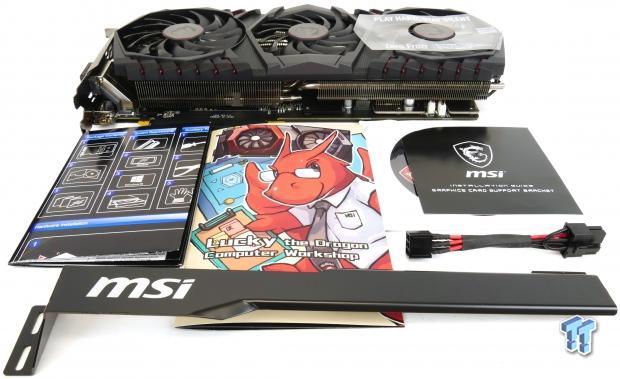 The box design highlights the RGB LED integration built into the GPU. The accessory package is nice and contains many extras. You get a comic book that describes how to build the system, a 6-pin to 8-pin GPU power connector, manual, GPU support bracket, and of course, the GPU.


That heat sink is huge, and I would give the GPU three slots to itself. Three dual ball bearing fans cool down a huge radiator. I would ensure that the fans get enough room below them so that airflow isn't restricted.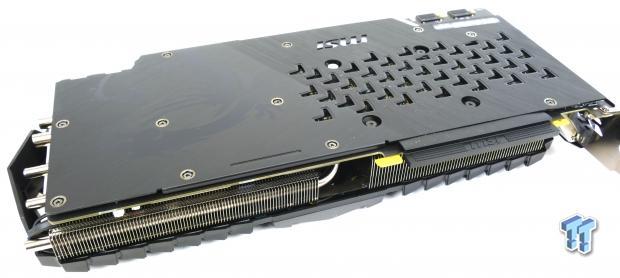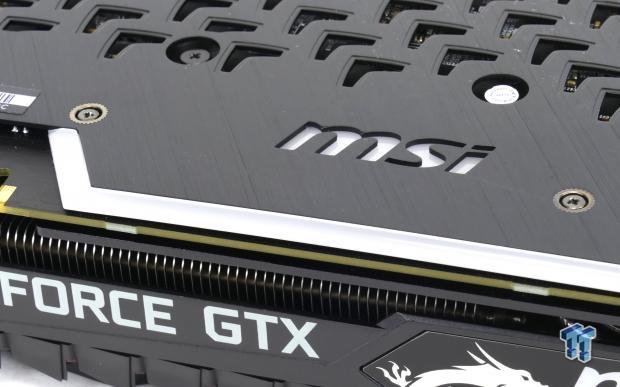 The backside, or should I say top, of the GPU, has a custom-designed backplate with MSI's cool dragon logo. The MSI logo and digital RGB light bar light up through MSI's Mystic software, and they can sync up with the motherboard's RGB LEDs.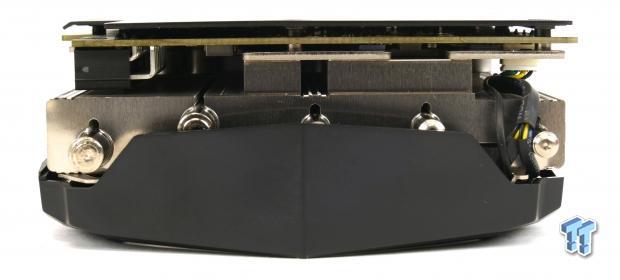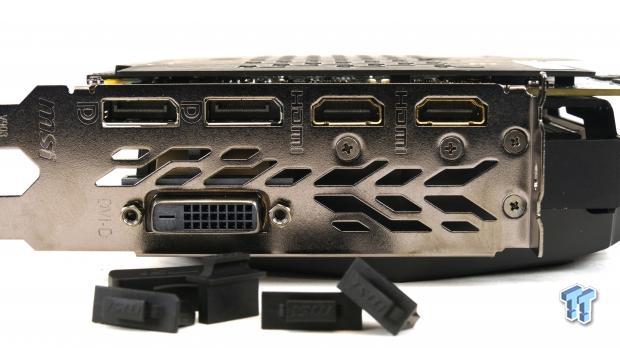 The rear of the card doesn't offer much to look at, but I will say that the GPU is longer than your standard ATX motherboard. You get two HDMI ports, two DisplayPorts, and one DVI connector. Each one has its own dust cover, as do the SLI connectors and PCI-E slot connector.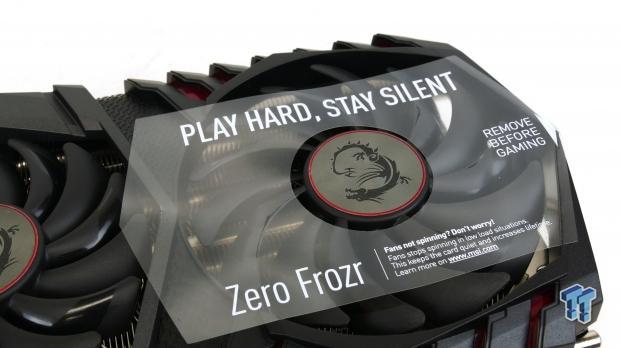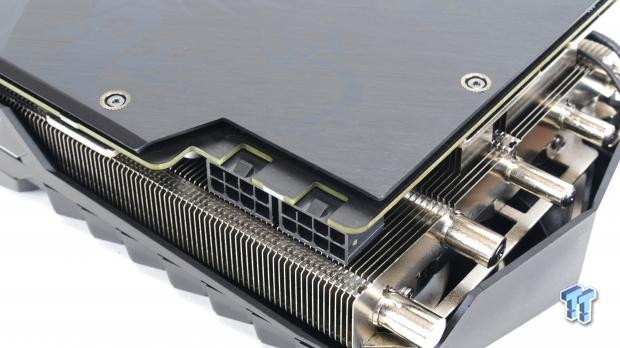 You should make sure to remove the plastic sheet over the fans; it's there to inform you of MSI's Zero Frozr feature, which turns off the fans when they aren't needed. The GPU offers two 8-pin power connectors, and you should use two real 8-pin connectors from your PSU.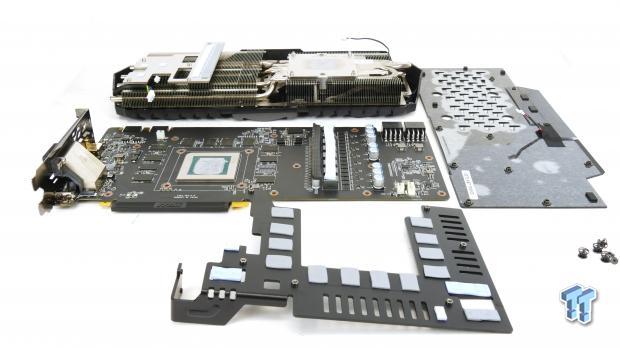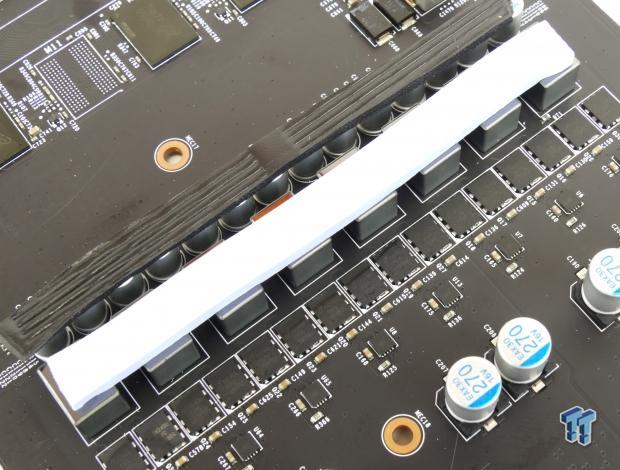 The main VRM for the GPU is cooled down by the mean GPU cooler, while the GPU's memory and minor VRMs are cooled by a separate cold plate. The VRM consists of 8 phases; each one gets two Fairchild Semiconductor FDPC5018SG dual N-channel MOSFETs rated for 32A. That means each phase has up to 64A out MOSFET limitation, and double the number of MOSFETs a typical VRM power stage would have.
Build Tips for the Beast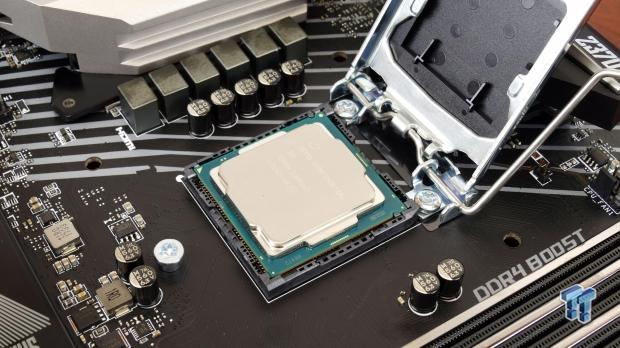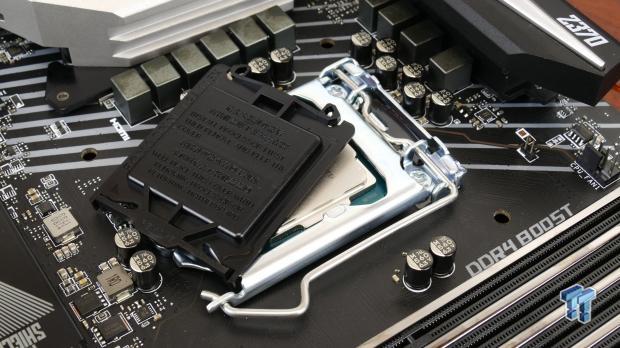 We always end up installing the CPU, so I will let you know how I do it hundreds of times a year and have yet to drop one and bend pins in the socket or short the CPU. If we look at the LGA1151 socket, we see that at the top/bottom and left/right center edges we find that the plastic has been recessed a bit. That recess is what allows two fingers to gently place the CPU into the socket. I prefer holding the left and right edges of the CPU with my thumb and index finger at the center of the left and right edges. I then place the CPU into the socket, but I leave the socket cover in place. I then proceed to close the CPU socket, and the socket cover pops off when the CPU is secured all the way.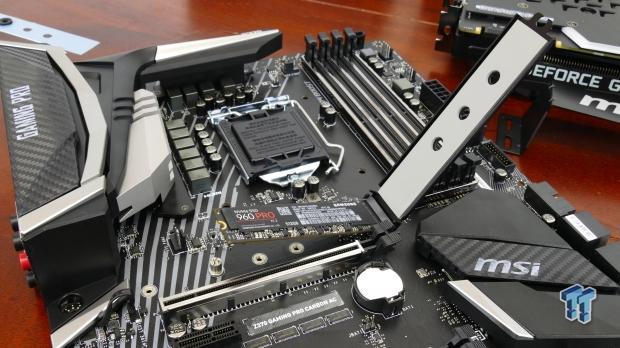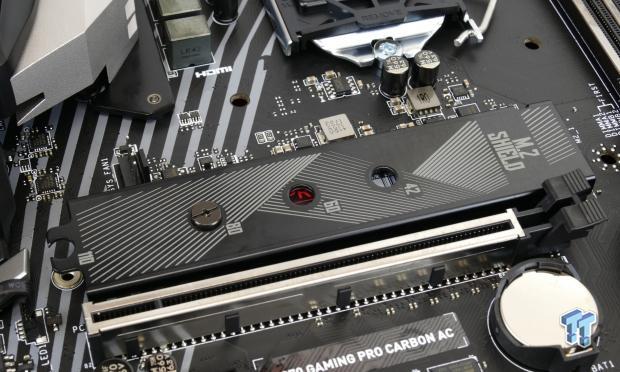 The motherboard supports the M.2 Shield as well, which means you have a heat sink to help cool down the M.2 drive during bursts of activity. You just remove the blue plastic cover on the thermal pad, install the M.2 drive, and then screw everything down with a single screw.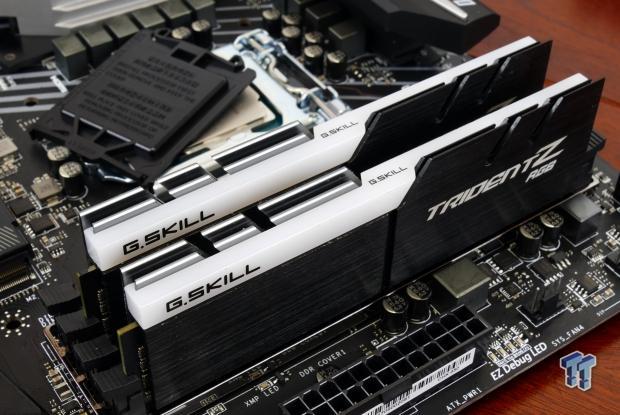 You want to always install your first two memory DIMMs in the slot furthest from the CPU and then the slot second closest to the CPU. These slots are the priority slots for each of the channels.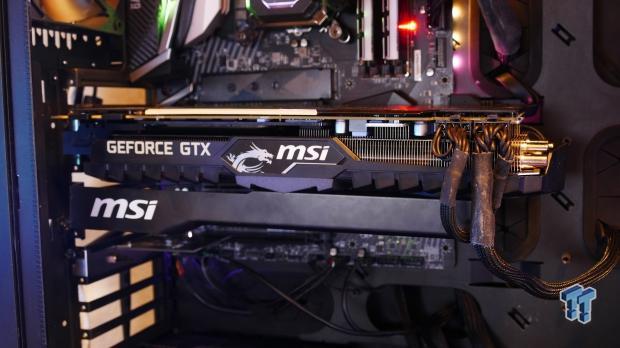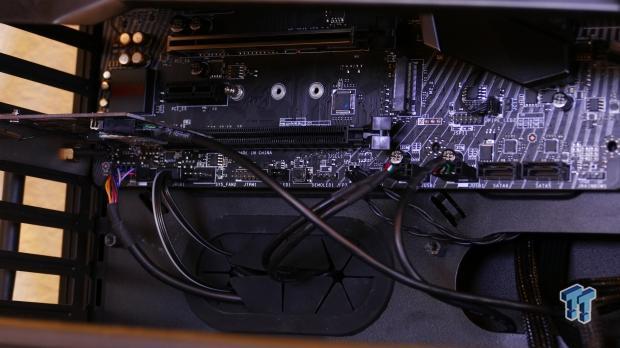 The MSI GTX 1080 Ti Gaming X Trio is a very heavy GPU, and it's huge, so the fact that MSI provides a support bracket means that you should try and use it. The support reaches out to the rightmost area of the GPU and supports it. It helped keep my GPU from drooping down and perhaps even hurting the motherboard's reinforced slot over long periods of time or if the case is moved. You will also see the right-angled USB 3.0 internal header is used since the GPU goes over that area. We also installed the WIFI/BT card that uses an Intel, WIFI controller. Since Bluetooth cannot be transferred over PCI-E, we need to plug in the included USB 2.0 internal cable. We also installed the RGB LED Y-cable, HD audio header, power and reset button headers, and also a USB 2.0 internal header for the front panel.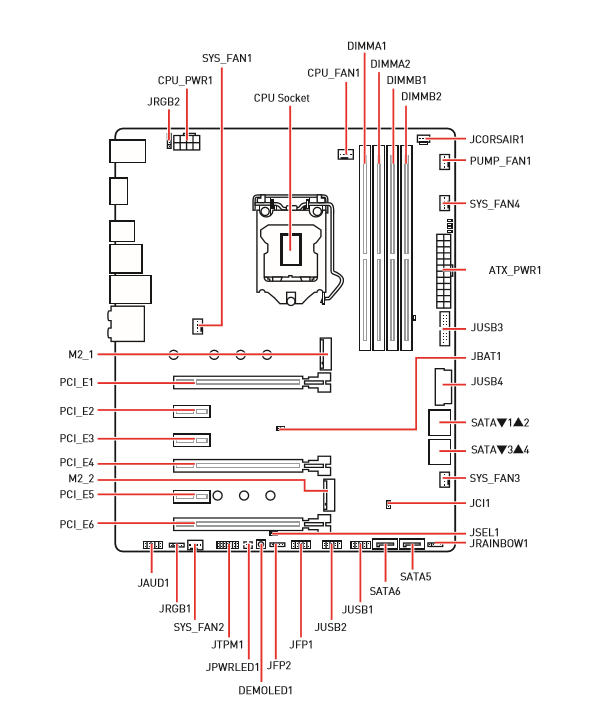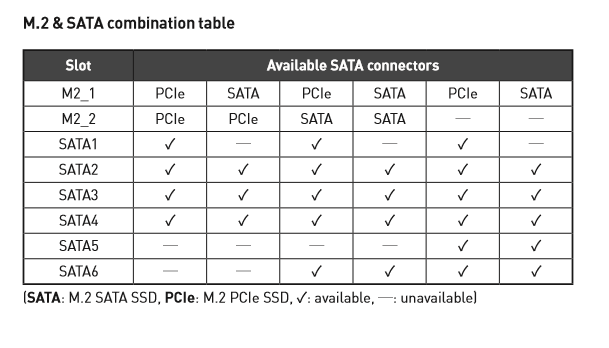 The motherboard's manual is a great resource. Some of the SATA ports and the two M.2 slots share a bit of bandwidth. SATA ports 2, 3, and 4 will always be enabled. If you put a PCI-E/NVMe based M.2 drive in both ports, SATA5 and 6 will be disabled. If you put a SATA card in M2_2 and a PCI-E in M2_1 then SATA 5 will be disabled. You can see all the other combinations in the image on the right, as well as where the M.2 and SATA6Gb/s ports are on the motherboard in the image on the left.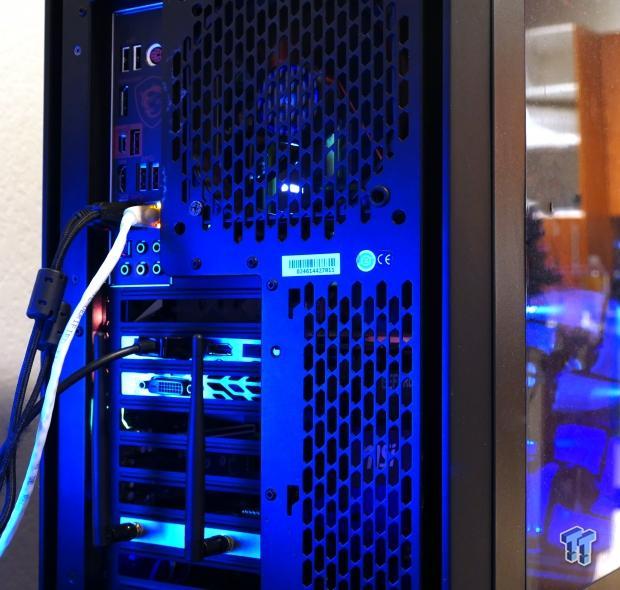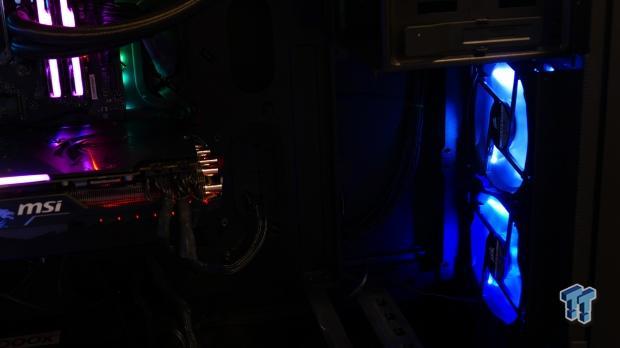 Make sure to install your WIFI/BT antenna. Also, it's important to plug into the GPU outputs of the graphics card and not those of the motherboard. If you plug into the motherboard's graphics outputs, you will only get the performance of the integrated GPU inside the CPU, so make sure you plug into your new discrete GPU instead. Don't forget your fans either. I have the exhaust fans at the top of the system, blowing air out of the case through the radiator. I then have two front intake fans and a rear intake fan. For the most part, it's better to have more intake fans than output fans because positive pressure enables better component cooling and less dust.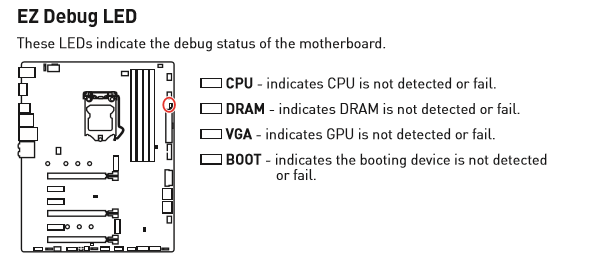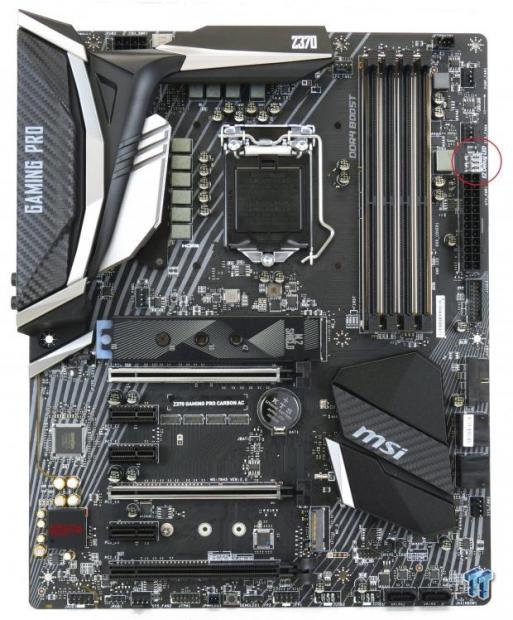 So, upon first boot, you might get a few reboots, as that is typical behavior after the CMOS memory is reset, as it should when new CPU or DRAM modules are installed. If you aren't getting any output, you can look at the debug LEDs to see if it's the CPU, memory, GPU, or boot drive keeping things from working.
MSI's CLICK BIOS 5 and BIOS Update
UEFI Overview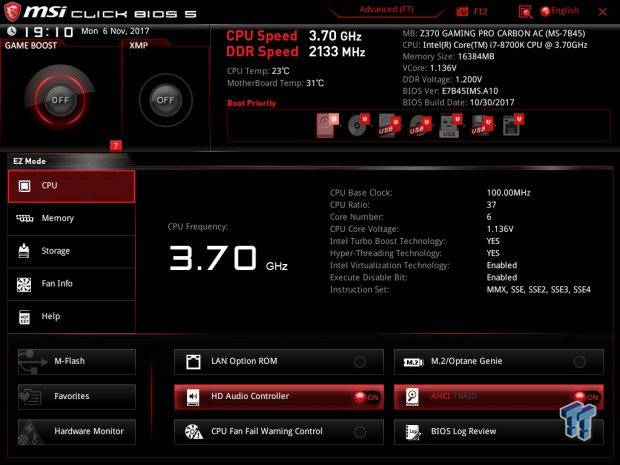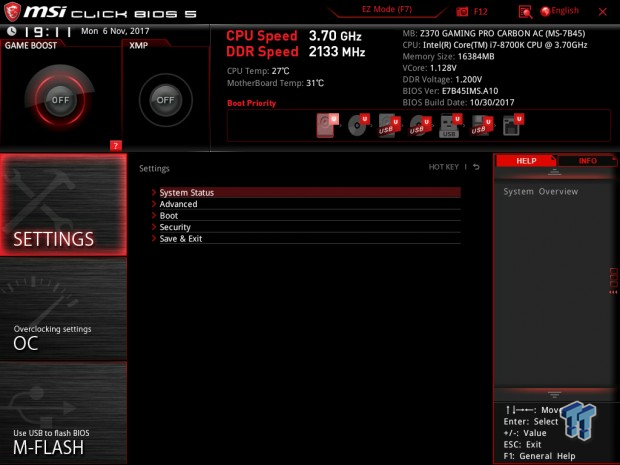 The UEFI BIOS offers two modes of operation. The Click BIOS 5 landing page is a simple window with a few of the main settings you might need to configure in the BIOS; it's called EZ Mode. Boot order can be changed by dragging around the icons for the detected devices located under BIOS build version and build date. You can also access main settings such as fan control as well through tabs such as "Hardware Monitoring." The Advanced mode can be accessed by pressing F7. Advanced mode is where all the main settings are located, as well as overclocking settings. In both modes, the GAME BOOST button, XMP button, as well as Boot Priority are in the same position.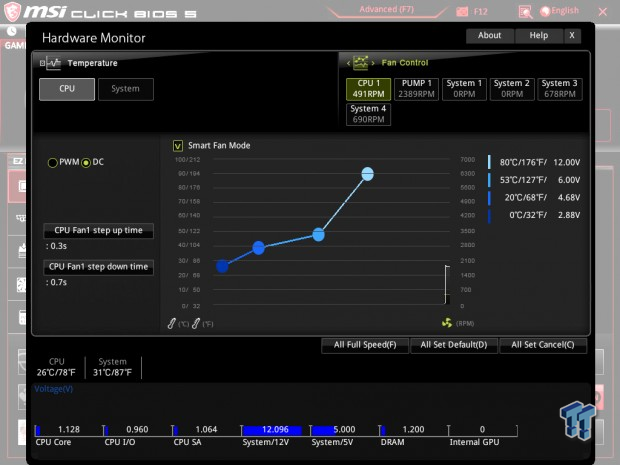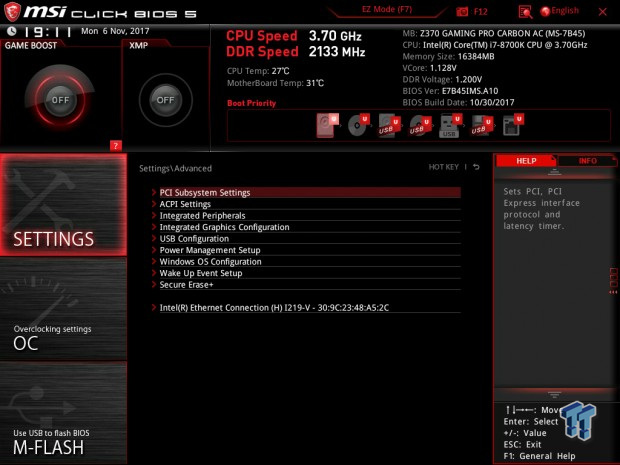 The hardware monitor is where you will find fan control for all six fan headers on the motherboard. You have total control over each header, and we will cover how to tune the fans later in the guide. The settings tab is where you will find settings to disable devices, set up boot order manually, and even accomplish tasks such as Secure Erase+.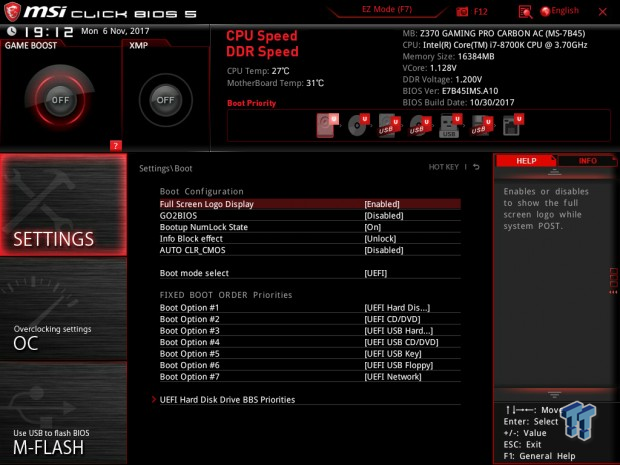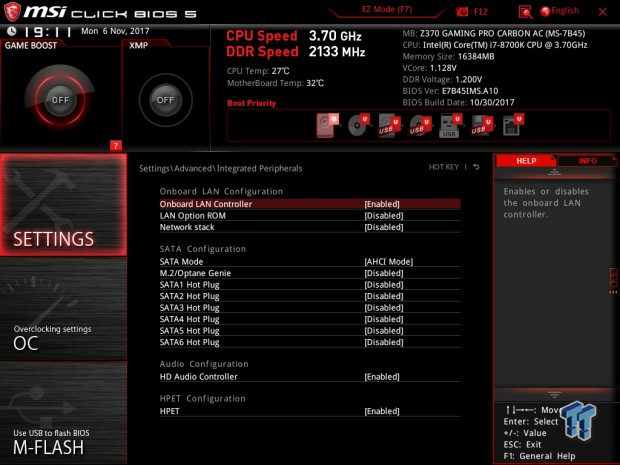 The boot tab might be the only tab you need to reach, and you get many options apart from just settings boot order. If you don't see your drive on the list, please go to "UEFI Hard Disk Drive BBS Priorities" and change the order of the drives. If you don't see your drive under the BBS menu, you might need to go to the Integrated Peripherals menu and see if your drive is detected.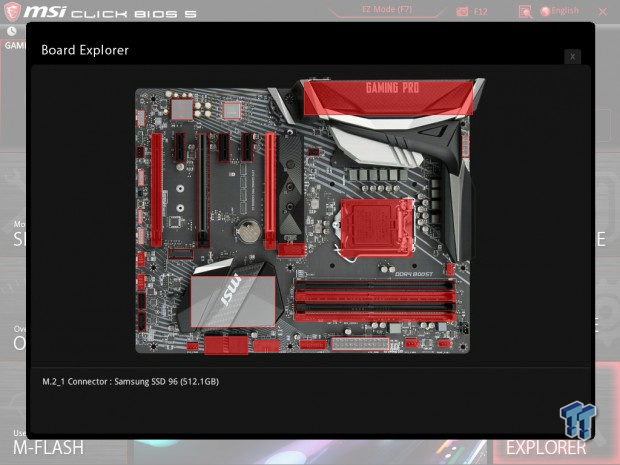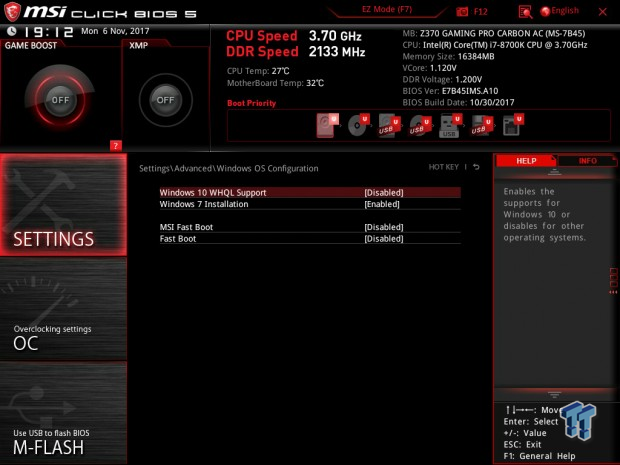 The motherboard also features a 2D model that is interactive and can show what devices are plugged into what ports and slots. Windows operating system configuration can also be found, and you can use these settings to install Windows 7 or 10 and control Fast Boot.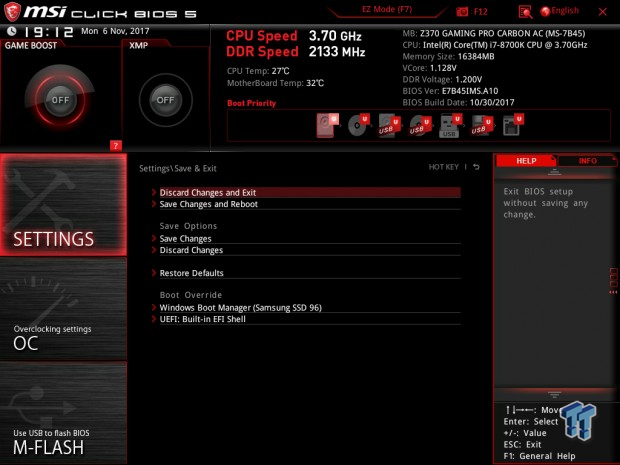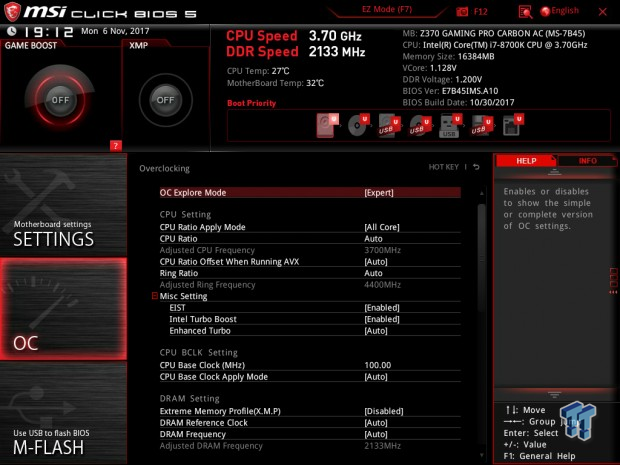 You must save and exit the UEFI to save the settings, and you can also do a one-time boot override. Overclocking will be covered a bit later in the guide, as there are just so many settings available.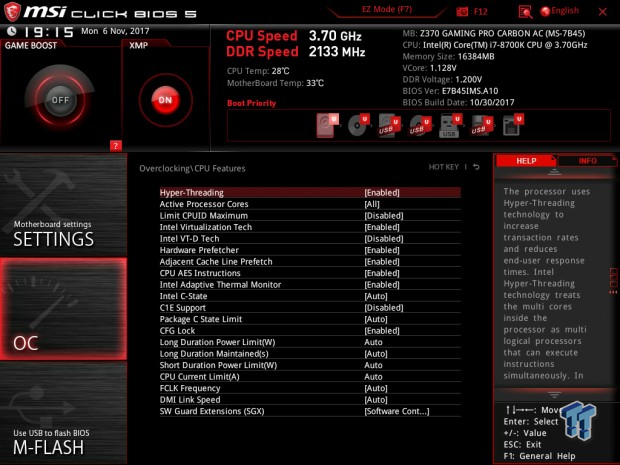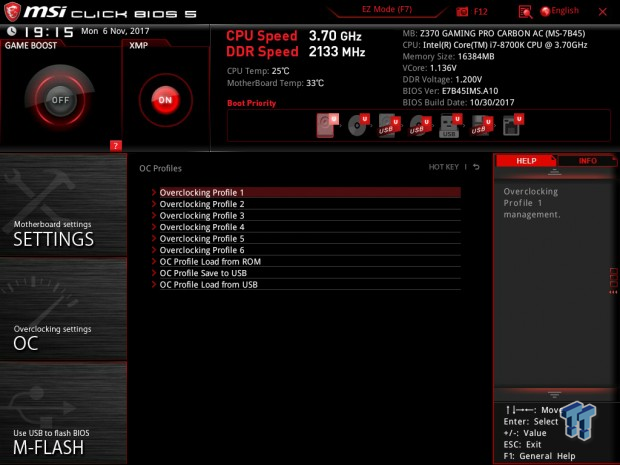 If you want to access CPU settings such as Hyper-Threading and C-state support, you will find those settings under the Overclocking menu's CPU Features page. You can also save BIOS settings under the Overclocking Profile menu.
Manually Updating the BIOS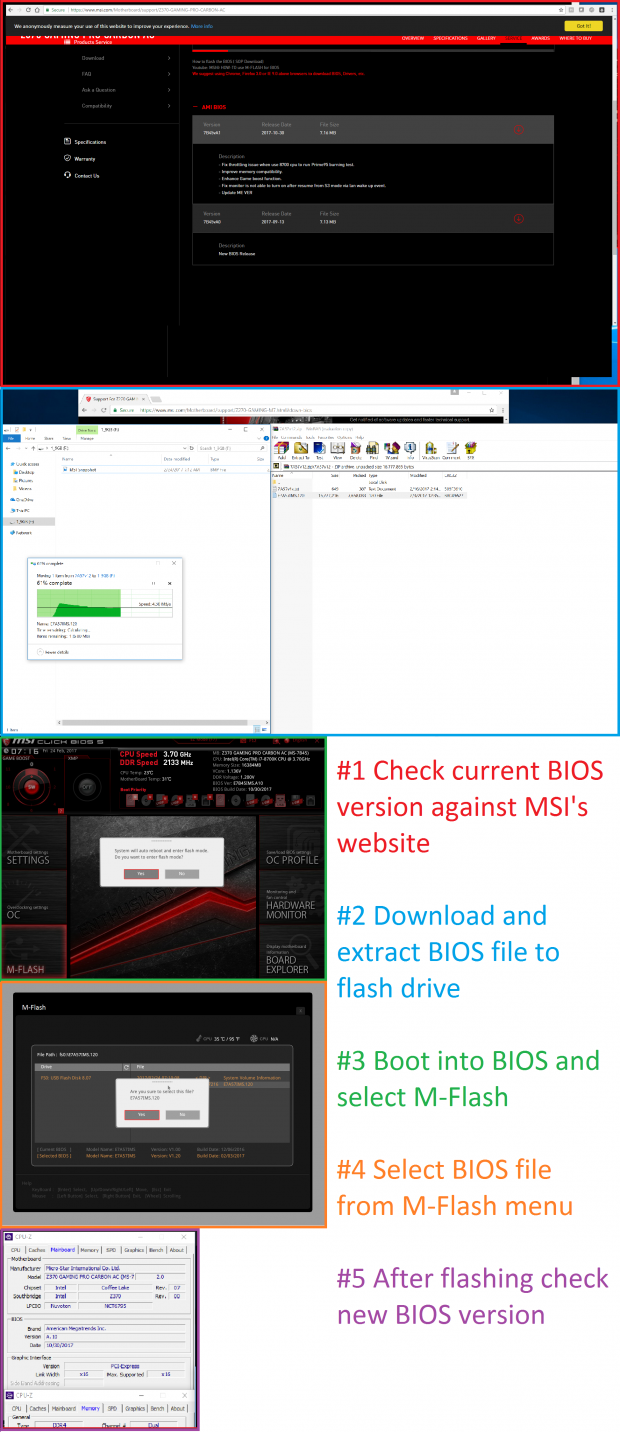 I made a nice little step-by-step image for you to follow to manually update the UEFI. There are many ways to update the UEFI, but I prefer using the UEFI's built-in BIOS flashing tool. For manual flashing, you can download MSI's latest UEFI/BIOS version from their official website and load it onto a USB drive.
Then you will enter the UEFI, click on M-Flash, and the system will reboot and enter into M-Flash mode. In M-Flash, the utility will scan your USB stick for a BIOS file and ask you if you would like to update using the file. Click yes, and the system will attempt to flash the UEFI. Do not, no matter what, interrupt this process. One thing I always like to do after a flash is load optimized defaults and then save and exit the BIOS and proceed as usual.
Fan Control and RGB Setup
Fan Control
I highly recommend positive internal case pressure, with more air blowing in than out, as that will optimize motherboard cooling. 6I prefer setting up my fans in the UEFI because that way there is no need to install Windows-based software to control fans. However, Windows-based fan control software can also be advantageous because Windows programs have more capabilities than the constricted UEFI. I will now show you both on MSI's Z370 Gaming Pro Carbon/AC.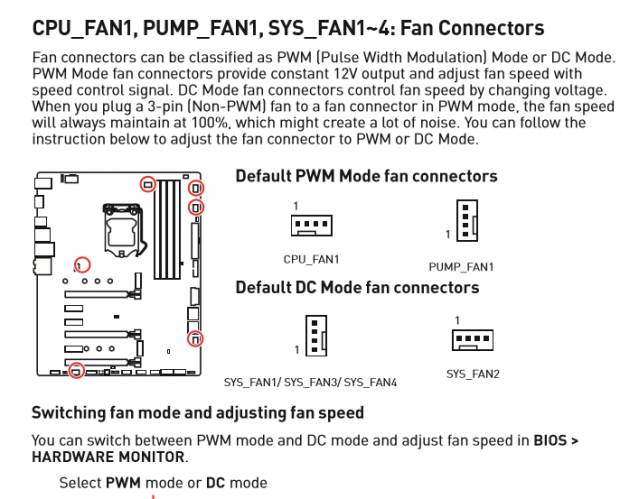 MSI's motherboard has six fan headers, and while all of them can operate in either PWM or DC mode, the two at the top-center of the motherboard (CPU_FAN1/PUMP_FAN1) are default PWM mode while all system fan headers are DC by default. MSI's manual does a decent job of explaining the difference between PWM and DC/Voltage mode headers/fans. However, more simply, in DC mode the motherboard controls the fan speed by regulating the power to the fan while in PWM mode the motherboard feeds the fan the maximum voltage level and a PWM signal and the fan self-regulates. DC/Voltage mode headers can control both DC and PWM fans, but PWM headers can only control PWM fans while DC fans in PWM headers will always run at 100%.
You can change their mode in the UEFI. The benefit to PWM fans is that they operate much smoother at low speeds and avoid the "clicking" noise that voltage mode fans experience when they aren't given enough power to get started. That is because PWM fans are designed to self-regulate, so they know their motors' characteristics better. However, DC/voltage mode fans (always 3-pins) are typically the included case fans, and PWM fans are typically more expensive. To make use of all fans, you need a motherboard with headers that support both types of fans, such as the Z370 Gaming Pro Carbon/AC.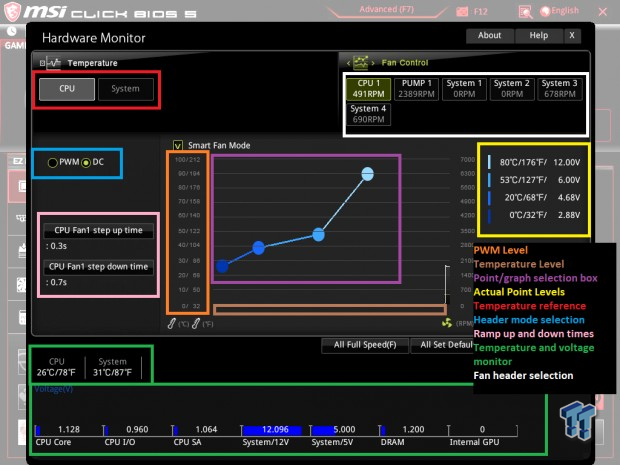 MSI's fan control GUI is setup in an easy to comprehend fashion. Each of the six fans has its own tab, and each can reference either the CPU or System temperature for Smart Fan Mode curve control points. You can manually select between PWM and DC mode. The vertical (y-axis) of the graph is a voltage level for DC/voltage mode fans (image on the left) or a percentage/PWM value for PWM mode fans (image on the right). The horizontal axis (x-axis) is always temperature.
To move a point of the curve, you just click and drag the point. The temperature/speed point list is located to the right of the graph. MSI's GUI also offers real-time temperature and RPM monitoring. To make things more interesting, you can also choose the step-up and step-down time interval between points. Increasing this value allows the fan to more slowly ramp up or down, so if your load (and temperature) is fluctuating rapidly, fan noise doesn't need to necessarily follow suite.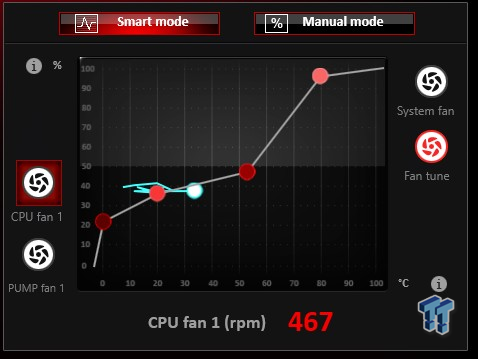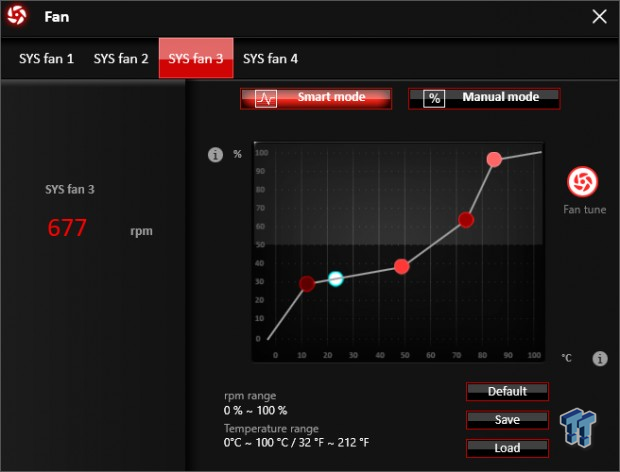 MSI's Command Center fan control is not much different from UEFI's GUI. It does offer automatic fan tuning as well, but I prefer manually doing it.
RGB LED Control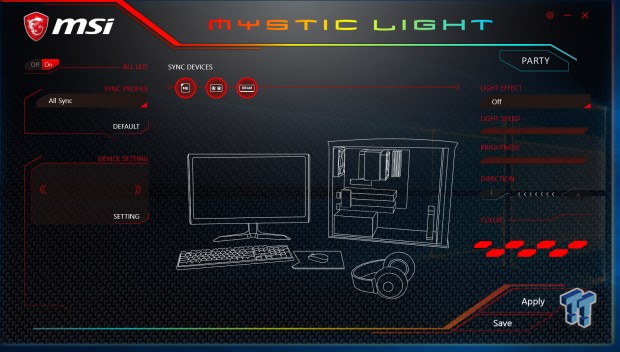 MSI has a new application called Mystic Light, and they have also worked with their GPU department and select memory vendors to sync motherboard, GPU, and even DRAM lighting together. In our case, the TridentZ RGB kit was easily detected by the motherboard as was the MSI GTX 1080 Ti Gaming X Trio. When they are all synced, you won't have individual device setting selection. Instead, I used the Party button up in the top right corner, added a profile, and then could mess with the lighting when everything was synced.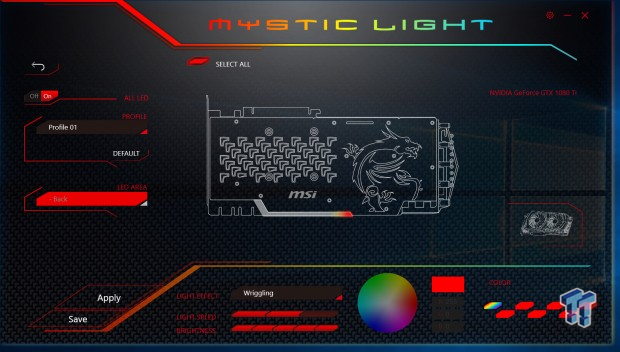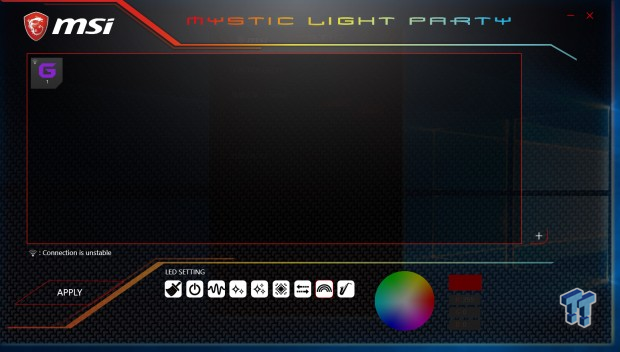 However, if you want individual control, you click the setting button after you select "Individual" under the Sync profile drop-down box. You then get a ton of control over each region of RGBs built into each device. Under the Party, which seems to be linked to their Bluetooth application for your phone, you can choose LED settings as well.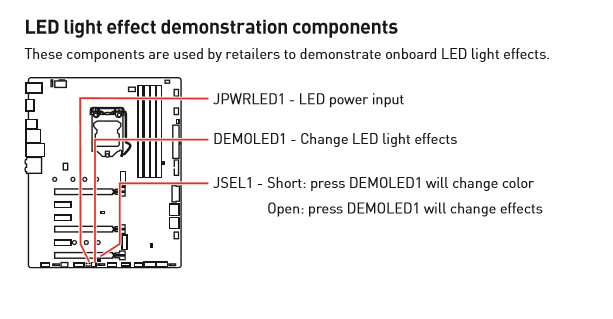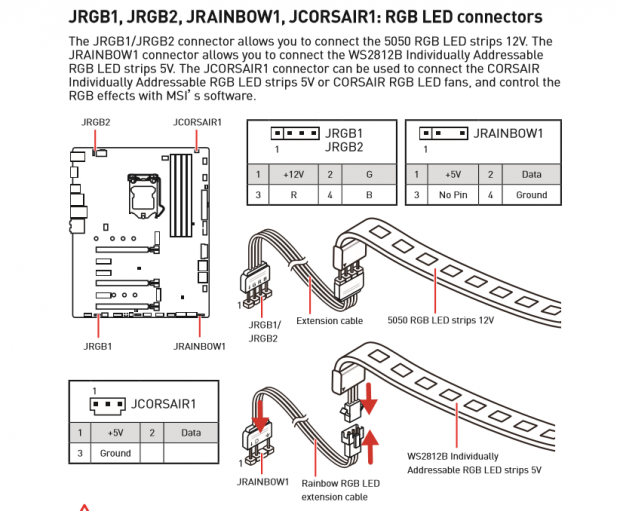 The MSI Z370 Gaming Pro Carbon/AC has three types of RGB LED headers and four headers. The JRAINBOW and CORSAIR headers are 5v digital/addressable RGB LED headers, meaning that each LED can be individually controlled, which produces cool effects. However, more simply, normal RGB headers are powered on 12v and are much simpler to control. They are not interchangeable. Now, MSI also has a few ways to control RGB LEDs on the motherboard without even powering up the motherboard. A special connector will accept 5v and light up the RGBs in a demo mode. However, once the system is on you can use the DEMO LED button to change the color or effect of the LEDs, and you will use the selection jumper to choose what the button does.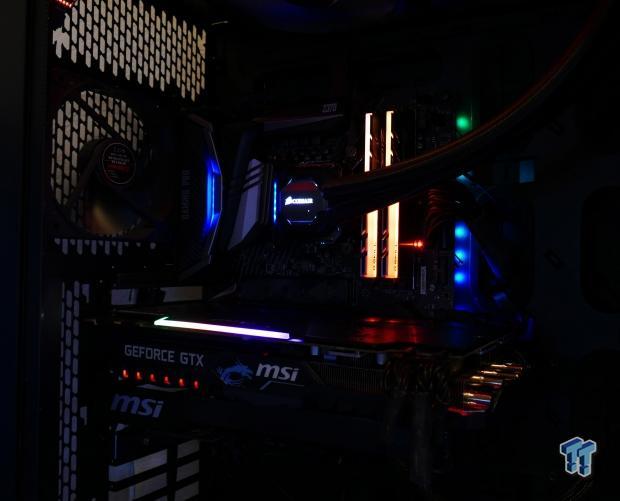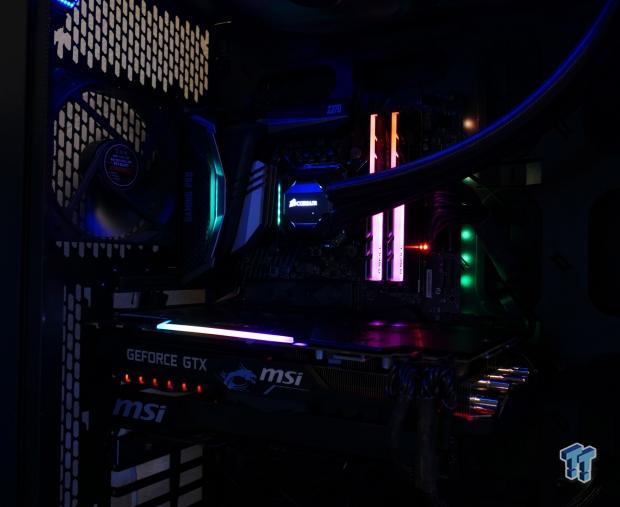 The image on the left is without any external RGB LED strips, and the image on the right is with an RGB LED strip. You can see how RGB LED strips can add to overall case ambiance.
Automatic and Manual CPU Overclocking
Automatic CPU Overclocking
MSI's GAMEBOOST button is located in the UEFI and in the Command Center software.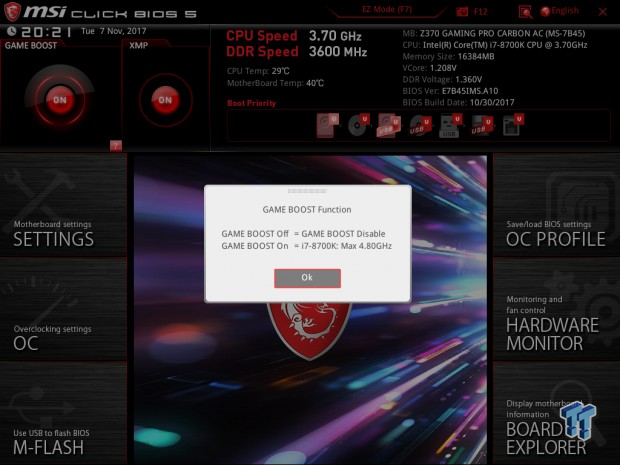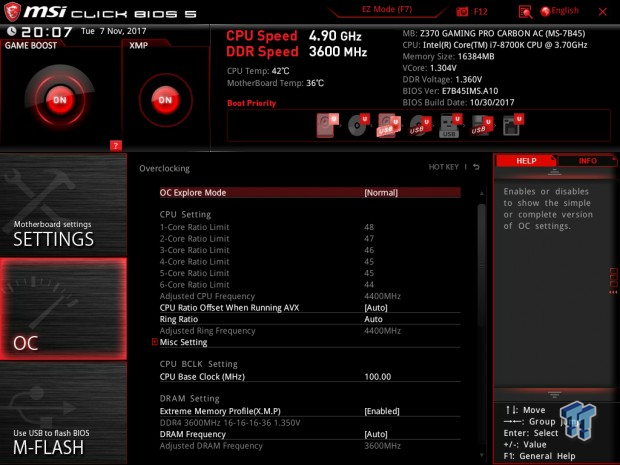 In the UEFI the button is in the top right corner right next to the XMP button. When Game Boost on, you will get a 4.8GHz OC on all cores on an 8700K, which isn't bad. The UEFI also sets 1.2v as the voltage for the CPU. It's a light overclock that every CPU can do, and the CPU won't overheat due to too high auto VCore. I also tested with XMP enabled. Last on we will show you how Game Boost and XMP ON compared to OFF and manual overclocking.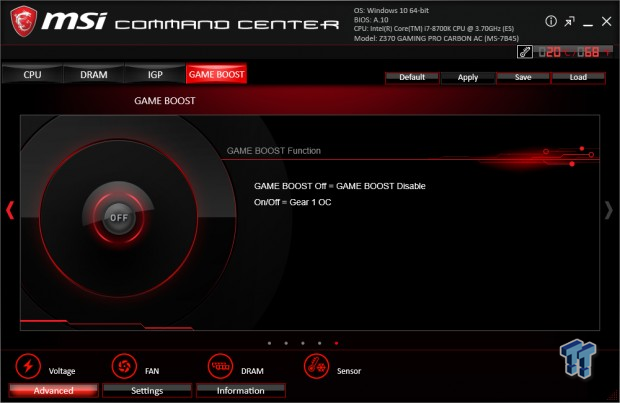 MSI's Command Center is where you will find GAME BOOST in Windows.
Manual CPU Overclocking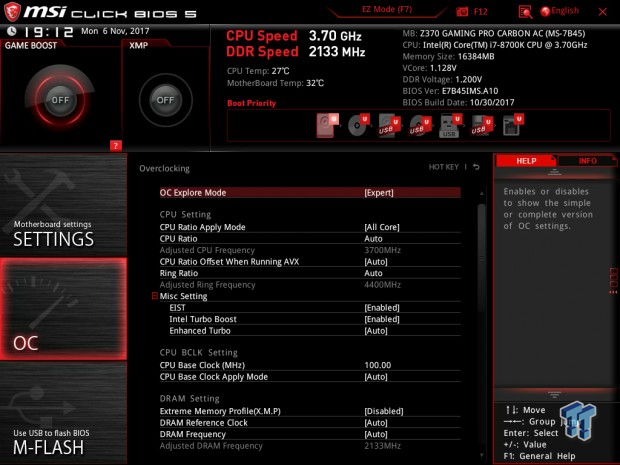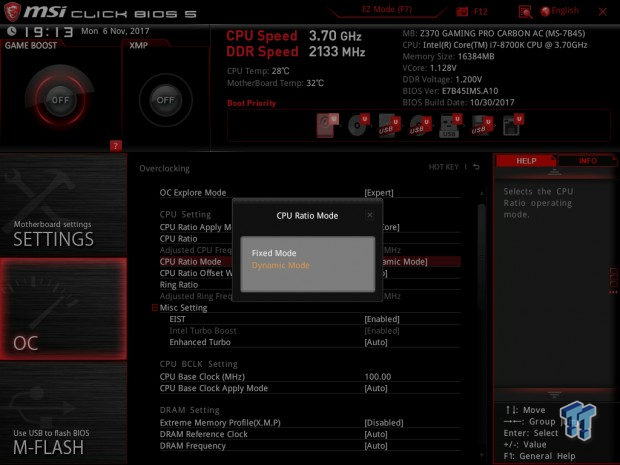 Manual overclocking of the CPU is best done in the BIOS/UEFI. The first thing I did was set OC Explore Mode to Expert. I did this because a few options appear that make things a lot easier, such as CPU Ratio Mode. I set all my cores to 49x under All Core Ratio Apply Mode, and I didn't set an AVX offset because it's not needed. I would start at 4.8Ghz with an 8700K and 1.275v, and work the multiplier upwards. If your CPU can handle any program that doesn't use AVX but crashes when running a program that uses AVX, then it would be smart to set an offset, I would start with -2 (lowers 200MHz when AVX is encountered) and go lower if required.
CPU Ratio Mode is unique to MSI, and it's basically a single setting to control multiple settings (Turbo, EIST, C1E, C-States). If you set the CPU Ratio mode to Fixed Frequency, the CPU multiplier will not drop when the CPU's load is reduced. Instead, you will always run at set multiplier. If you set the CPU Ratio Mode to Dynamic, the CPU frequency will vary with the load to save power. I also make sure to enable XMP.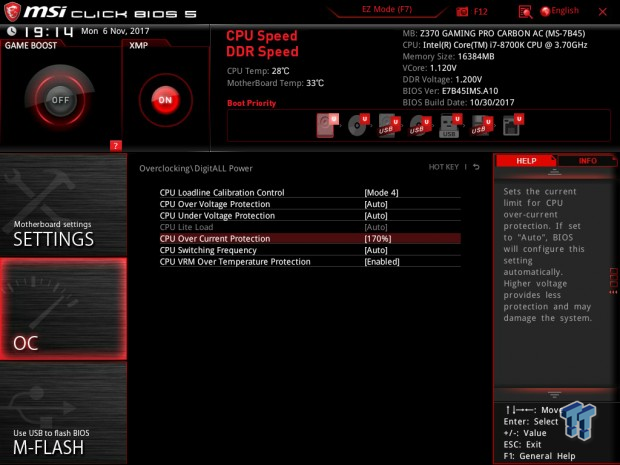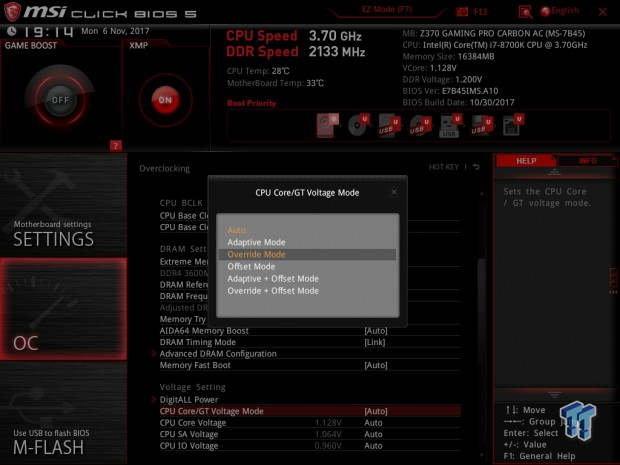 The DigitALL Power menu is where you will find Load Line Calibration (LLC) so compensate for vdroop. There is a graph that will show up when you highlight the setting. I picked Mode 4, as some of the stronger modes were very strong. I also increased CPU overcurrent protection to 170%, but I left VRM over temperature protection intact. When you set VCore, you also need to pick a mode. Override is what I chose since it will always maintain that voltage, but adaptive will allow voltage to drop if multiplier does, while offset will add an offset to the VID when needed. If you use Dynamic Frequency mode, it makes a lot of sense to use Adaptive or Offset voltage so the voltage can drop with frequency.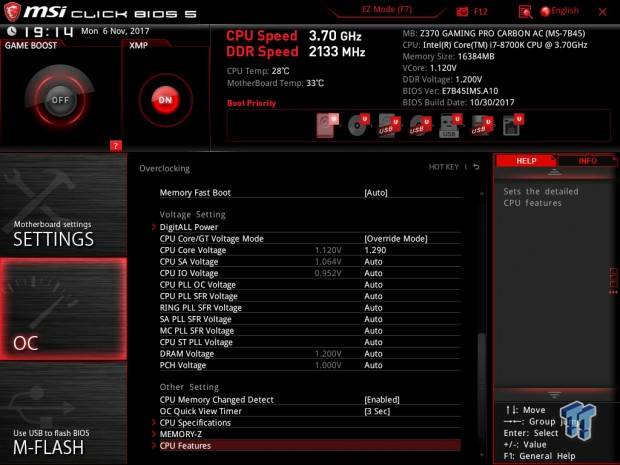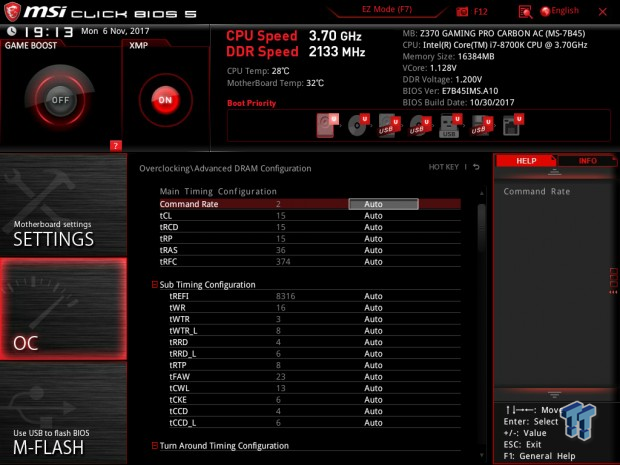 The only voltage I changed was CPU Core Voltage; I set it to 1.290v, as at 1.3v+ the CPU would get too hot. You will be limited by temperatures on the CPU more so than by voltage. You can also change DRAM timings, but there isn't much point if you enable XMP, as XMP will set them for you.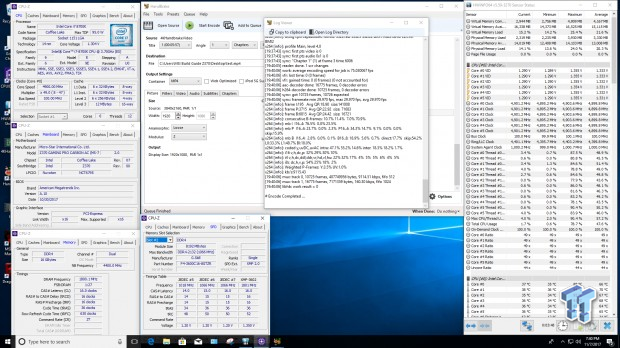 I do quick tests of overclocks by using HandBrake and rendering a 4K video down to 1080P, but with a very large file, so it takes time. HandBrake uses AVX as well, so the CPU is under a lot of stress. You can also gauge performance because HandBrake spits out an average FPS in its log file.
GPU Overclocking and Final Overclocking Results
GPU Overclocking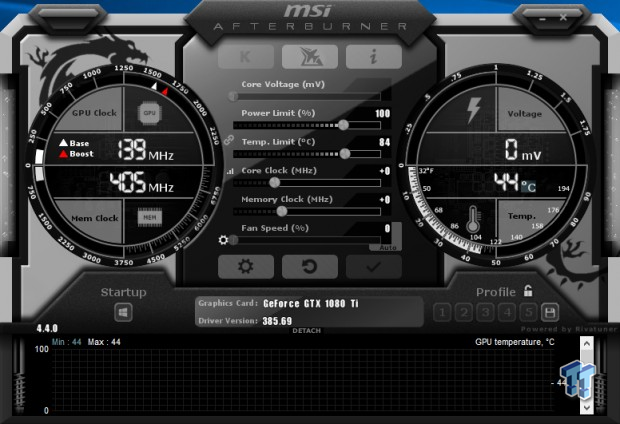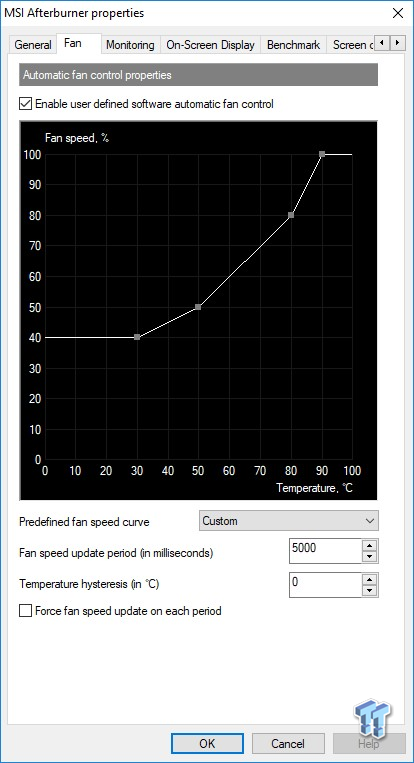 MSI's Afterburner software is perhaps the most famous GPU overclocking software around. While CPU and memory overclock can be done in either Windows or the UEFI, you can only OC the GPU in Windows. Afterburner also allows us to manipulate the GPU's fans, and since we are using an MSI GPU, things work in harmony. You can set the fan speed to scale on its automatic curve, or you can activate a manual fixed level or a manual applied curve. I set the curve shown above so that the GPU's fan speed would ramp up quickly.

My final overclock seen above. I increased the already overclocked GTX 1080 Ti to 1605MHz Core and 1509MHz on the memory. I also increased power and temperature limits, but I didn't touch the voltage level as the GPU is just very expensive and I didn't want to add more noise because of the required extra cooling. Some video cards cost a lot because of their advanced cooling and voltage regulators, and the GTX 1080 Ti Gaming X Trio already comes overclocked, but it did have room for more. If you are using a card and don't know what type of overclocks to expect, try reading some reviews, because they typically overclock the GPUs to see how far they go.
Final Overclocking Gains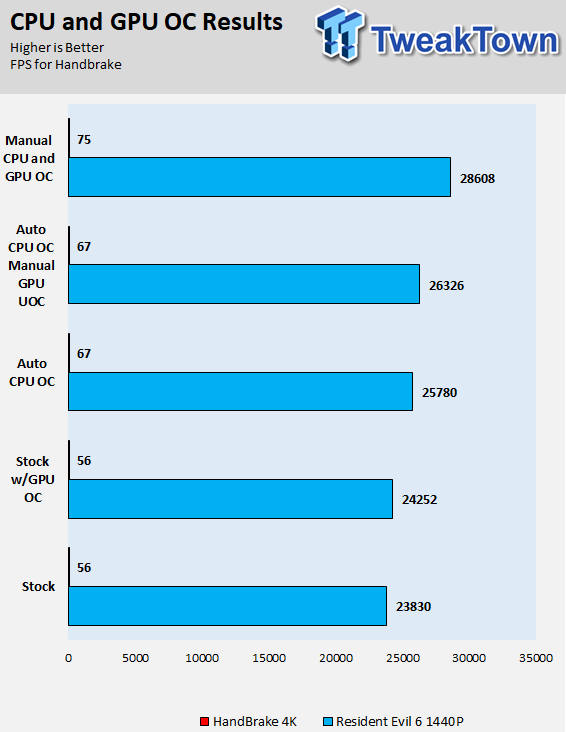 Here we see how the system does with varying levels of overclocking and the type of overclocking. From stock to GAME BOOST, the CPU gains roughly 19% better performance with just automatic overclocking in Handbrake and gains 8% in gaming in Resident Evil 6. Those gains go higher and higher.
If we leave the CPU stock and overclock the GPU, we also get minor gains, but the GPU OC makes more of a difference when we remove the CPU as the bottleneck by overclocking it either manually or through GAME BOOST. Our best results come from combining our manual CPU OC and GPU OC together.
MSI's Software
We have already gone over some of the software features of the motherboard, such as Mystic Light, and here we will go over all the remaining software.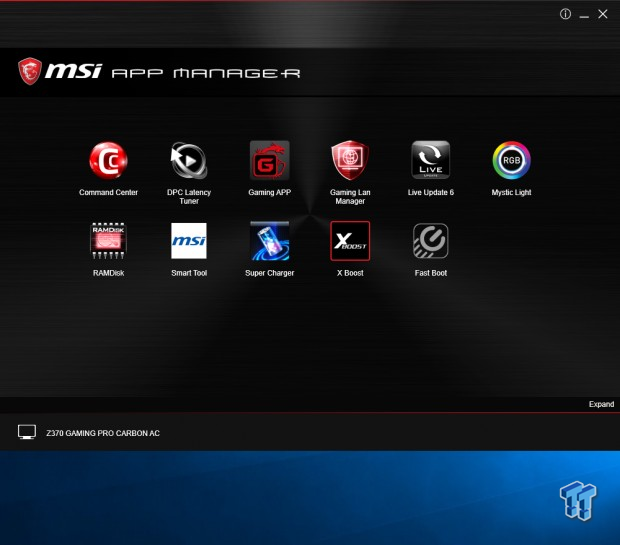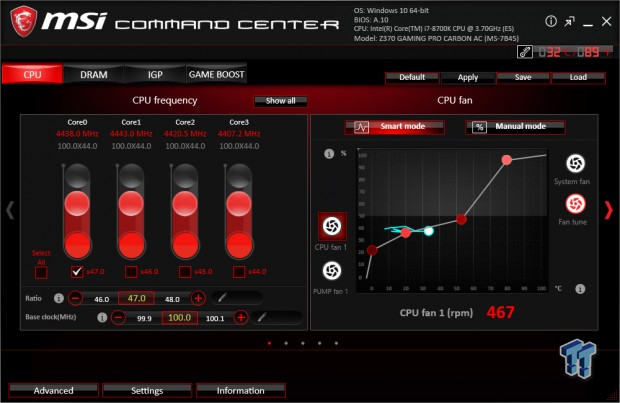 MSI has a new application called APP MANAGER, and it's where you can readily launch any of the applications. It's also where you can auto download and install all the applications; you just need to hit expand in the lower right-hand corner and then hit Total Installer. Command Center is where you have fan control, where you can do auto overclocking, and even where you can do manual overclocking. However, if you are going to do manual overclocking, I strongly recommend the UEFI.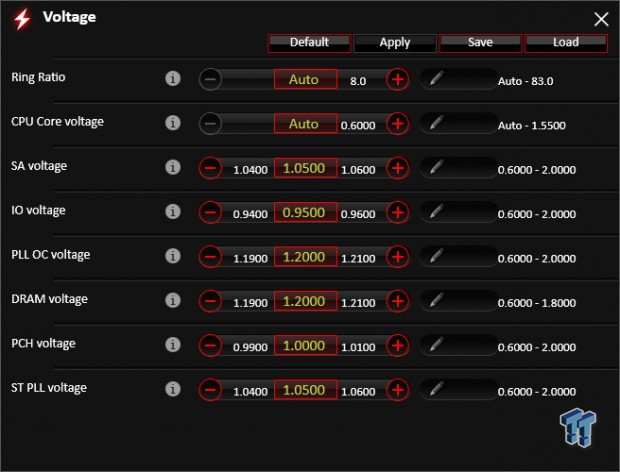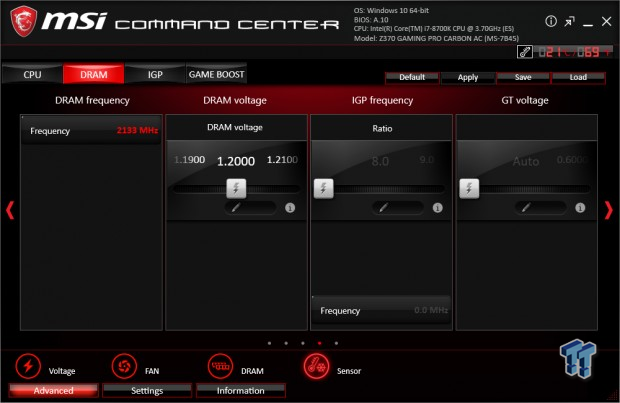 You can also adjust CPU voltages through the Command Center's advanced tab. Under the DRAM section, you also get DRAM frequency and voltage, but you will need to restart your system for those changes to take effect.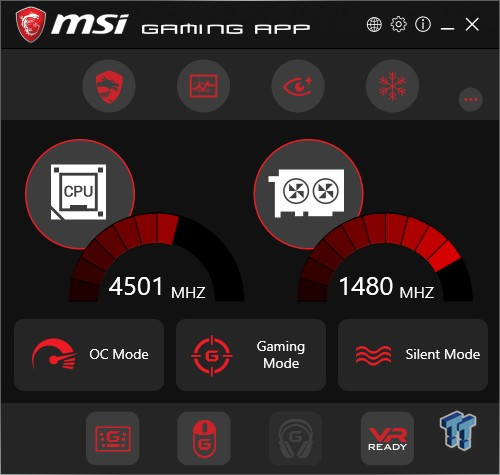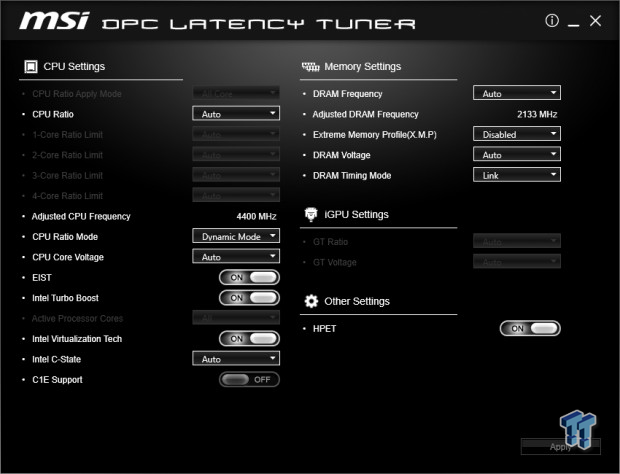 MSI's Gaming APP is where you can control both the CPU and GPU together, and access gaming features such as an OSD or lighting conditions for your eyes. The DPC Latency Tuner will allow you to change DPC latency.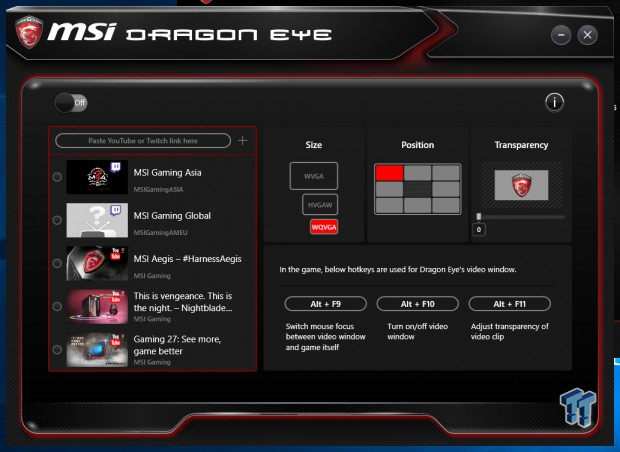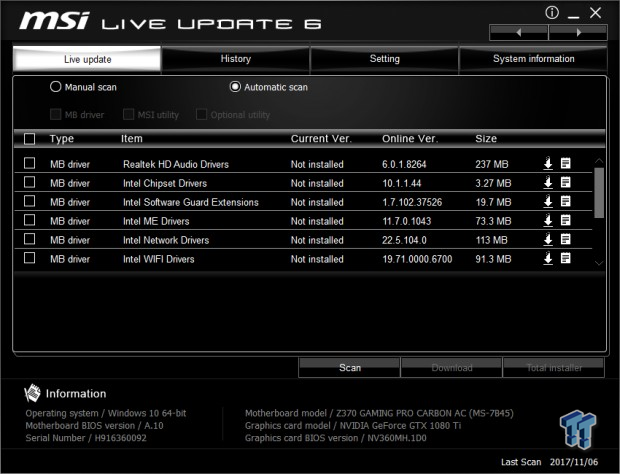 The MSI Dragon Eye application allows you to add streaming overlays as you play. MSI's Live Update 6 can update all drivers and even MSI utilities.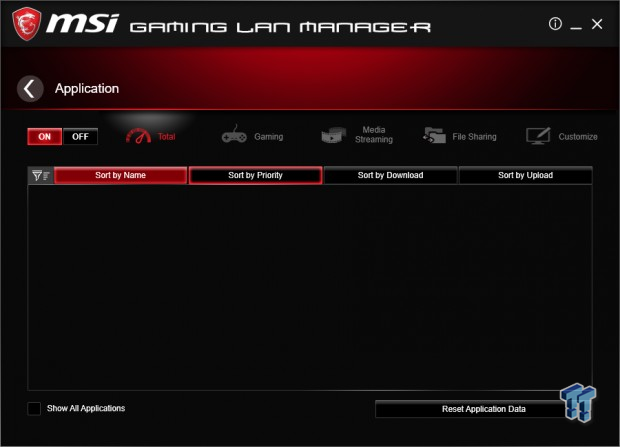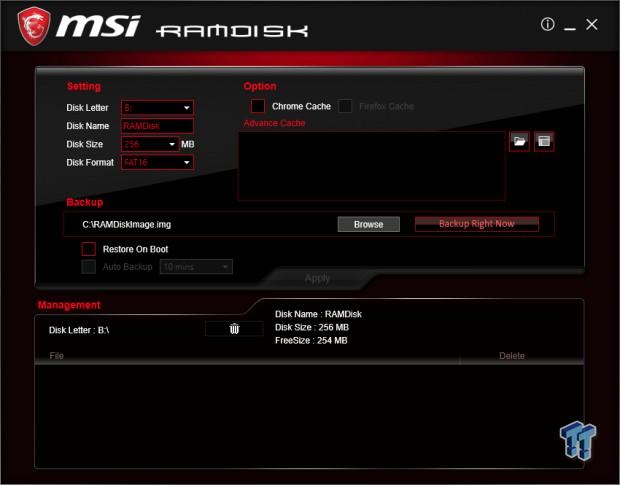 MSI's Gaming LAN Manager is where you find the ability to control LAN bandwidth and prioritize games. MSI's RAMDISK software can create a RAM disk.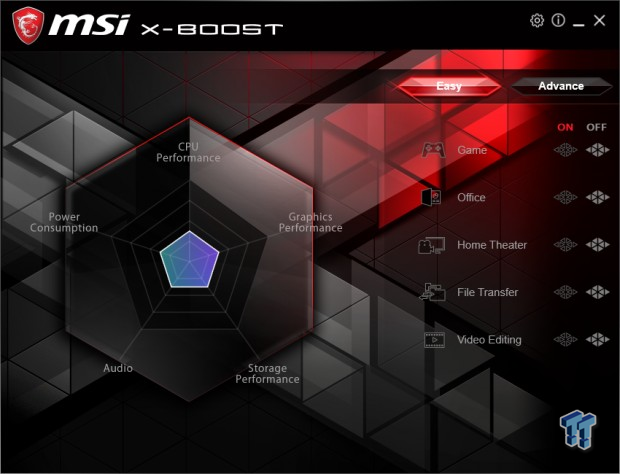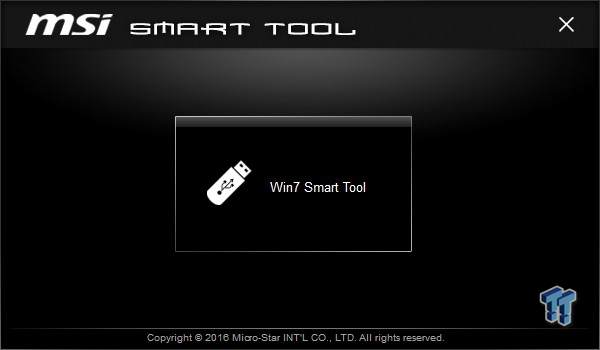 X-BOOST is capable of boosting different things such as USB speeds to optimize office work, or audio to improve home theater experience. MSI's Smart Tool lets you create a Windows 7 installation medium.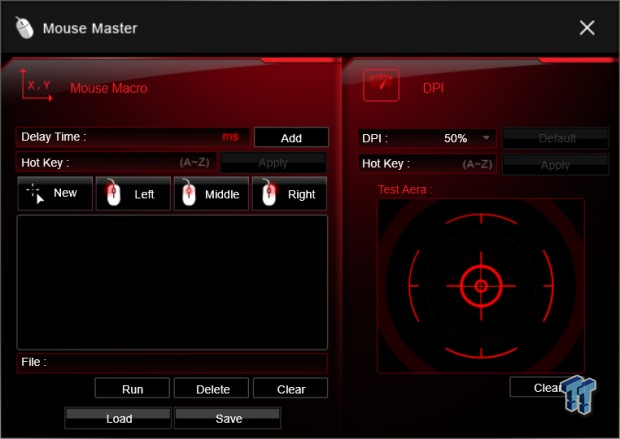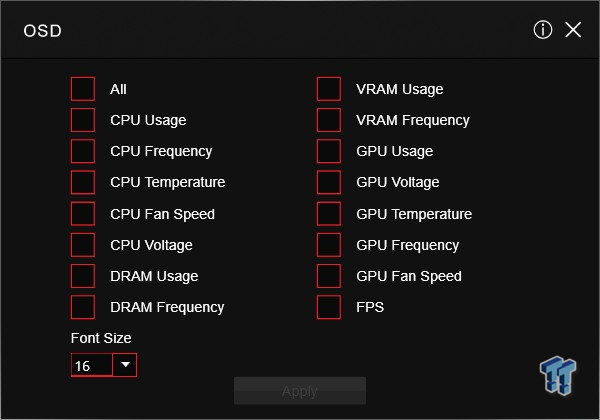 The Mouse Master allows you to optimize your mouse for gaming. An OSD program can be accessed from the Gaming APP.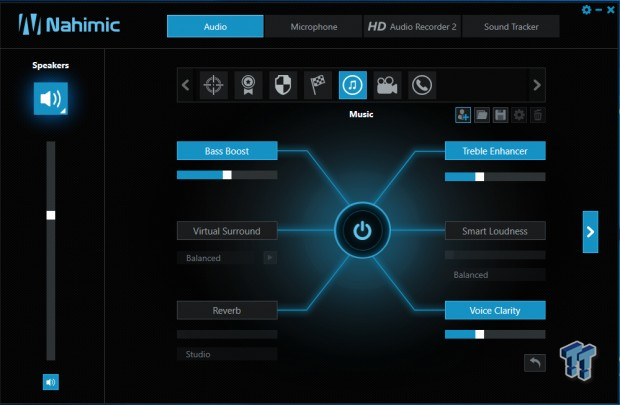 MSI has teamed up with Nahimic to deliver Nahimic 2+, which is an audio augmentation program to improve gaming audio and even music listening.
Finale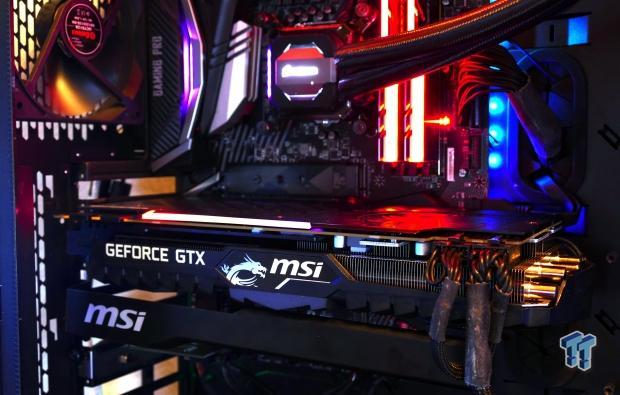 I hope that this build guide has taken you through all the steps required to make full use of both the Z370 Gaming Pro Carbon/AC and GTX 1080 Ti Gaming X Trio MSI products. They work together extremely well, and their RGB LEDs even sync up with the RGBs of other products from Corsair and G.Skill. I was very surprised to find a Corsair specific RGB header on the motherboard, and it's nice to see MSI work to collaborate with many of the other vendors in the ecosystem.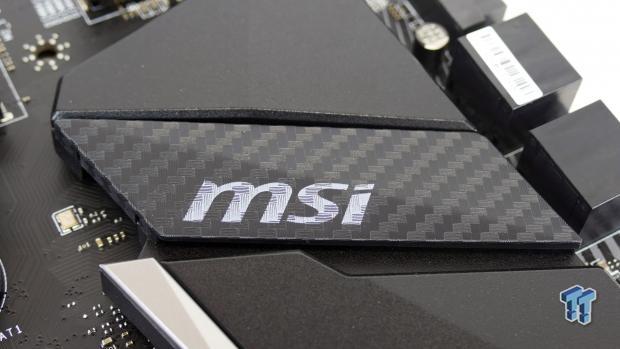 This system could have been built for a lot less money with the same GPU and motherboard combination. We found you can save money and still game hardcore with an i5-8400 or i5-8600K. Your DRAM also doesn't need to be rated for 3600MHz, like ours, but we highly recommend RGB memory if that is your thing. Your storage configuration might also be different; you could use a smaller 256GB SSD and a 1TB HDD for the same price or cheaper than the 960 Pro we used in this article.
Whether you go higher in price or lower compared to our build, if you need help with the combination of MSI products we used, please just ask!
Please Note:
This is sponsored content and its contents may or may not represent the thoughts or opinions of TweakTown or its editors. You can read about TweakTown's
Editorial & Ethics Policy here
.
PRICING: You can find products similar to this one for sale below.

United States: Find other tech and computer products like this over at Amazon.com

United Kingdom: Find other tech and computer products like this over at Amazon.co.uk

Australia: Find other tech and computer products like this over at Amazon.com.au

Canada: Find other tech and computer products like this over at Amazon.ca

Deutschland: Finde andere Technik- und Computerprodukte wie dieses auf Amazon.de
We openly invite the companies who provide us with review samples / who are mentioned or discussed to express their opinion. If any company representative wishes to respond, we will publish the response here. Please contact us if you wish to respond.