Titanfall 2 Graphics Performance Tweak Guide
We show you the graphics options available in Titanfall 2 and how they affect gaming image quality and performance.
Published
5 minute read time
Introduction, Testing Setup, & System Requirements
After a falling out with Activision, Call of Duty creators Jason West and Vince Zampella went on to found Respawn Entertainment, which launched Titanfall in 2014. The spiritual successor to the Call of Duty series, Titanfall threw mechs ("titans") into the mix as well as wallriding. Its sequel, the newly launched Titanfall 2, adds in grappling hooks for even more gameplay variety, a great single player campaign, clans ("networks"), and lots more.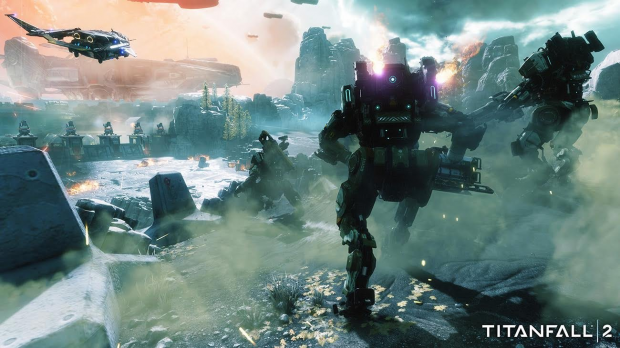 On the technical side, Titanfall 2 includes a fair amount of graphics options. To get the most out of them and ensure you have the best balance between image quality and performance, read on.
Test Setup and System Requirements
Our Test System
OS: Windows 10 64-bit

Processor: Intel Core i5 3570K 3.4GHz (Stock)

Memory: Corsair XMS3 8GB DDR3-1600 (Stock)

Storage: Crucial BX200 2.5'' 480GB 6GB/s SSD

Video Card: Sapphire Tri-X R9 290X 4GB (Stock)

Driver: Radeon Software Version 16.10.2

Resolution: 1920x1080

Input: Logitech G400 mouse, Hermes RGB mechanical keyboard
System Requirements
Minimum:
OS: Win 7/8/8.1/10 64-bit

Processor: Intel Core i3-3600t or equivalent

Memory: 8GB RAM

Graphics: NVIDIA GeForce GTX 660 2GB or AMD Radeon HD 7850 2GB

Storage: 45GB available space
Recommended:
OS: Win 7/8/8.1/10 64-bit

Processor: Intel Core i5-6600 or equivalent

Memory: 16GB RAM

Graphics: NVIDIA GeForce GTX 1060 6GB or AMD Radeon RX 480 8GB

Storage: 45GB available space
Ultra 4K60:
OS: Win 7/8/8.1/10 64-bit

Processor: Intel Core i7-6700k or equivalent

Memory: 16GB RAM

Graphics: NVIDIA GeForce GTX 1080 8GB

Storage: 45GB available space
Display Mode, Resolution, & Field of View
Display Mode
This option lets you choose between Fullscreen and Windowed modes (the former better for performance and input lag reduction, and the latter better for multitasking). Unfortunately, no Fullscreen Borderless mode is available.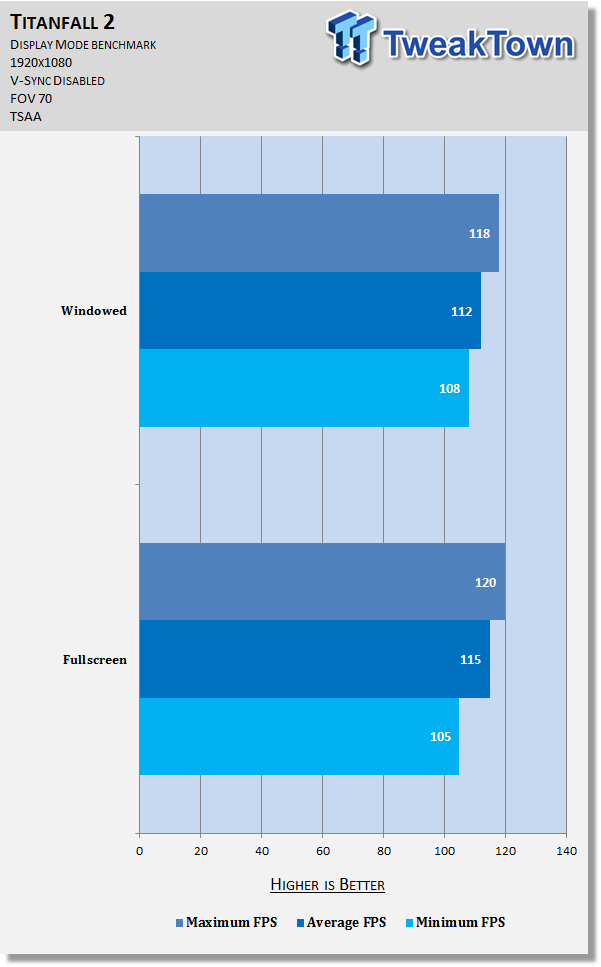 The benchmark shows Windowed mode comes at a small but notable expense to framerate. Moreso for the input lag reduction and the greater attention the genre requires, I recommend keeping this set to Fullscreen. However, if you really want to multitask while playing casually, Windowed won't hurt you too bad.
Resolution
The quality at which the scene is rendered, corresponding to the number of pixels; higher resolutions mean more pixels, which means higher quality. The screenshots below are scaled as appropriate to illustrate the image quality differences; as you can see, they're much more minor than usual.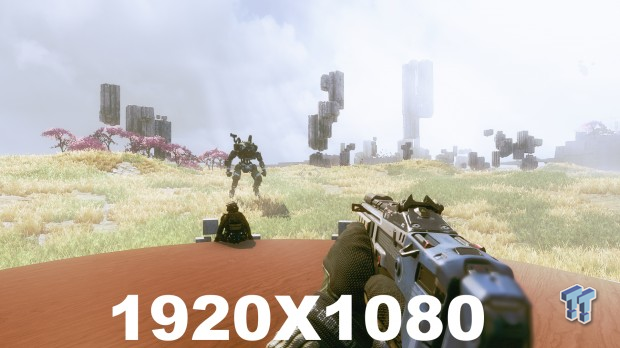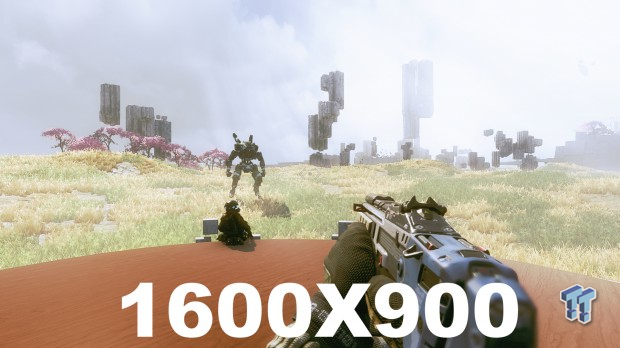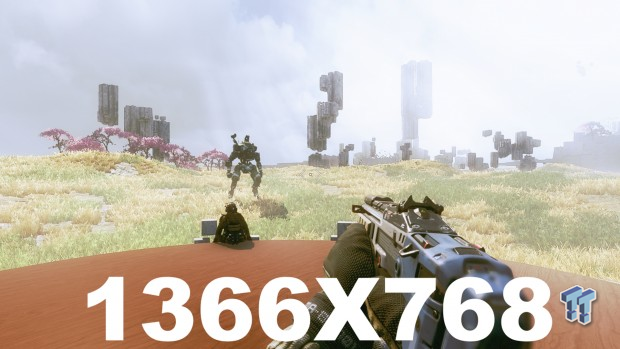 In line with the screenshots, the benchmark shows resolution has a very minor impact on framerate, and even then only at 1920x1080. With no real benefit from lowering this setting, lowering it shouldn't be considered, even as a last resort.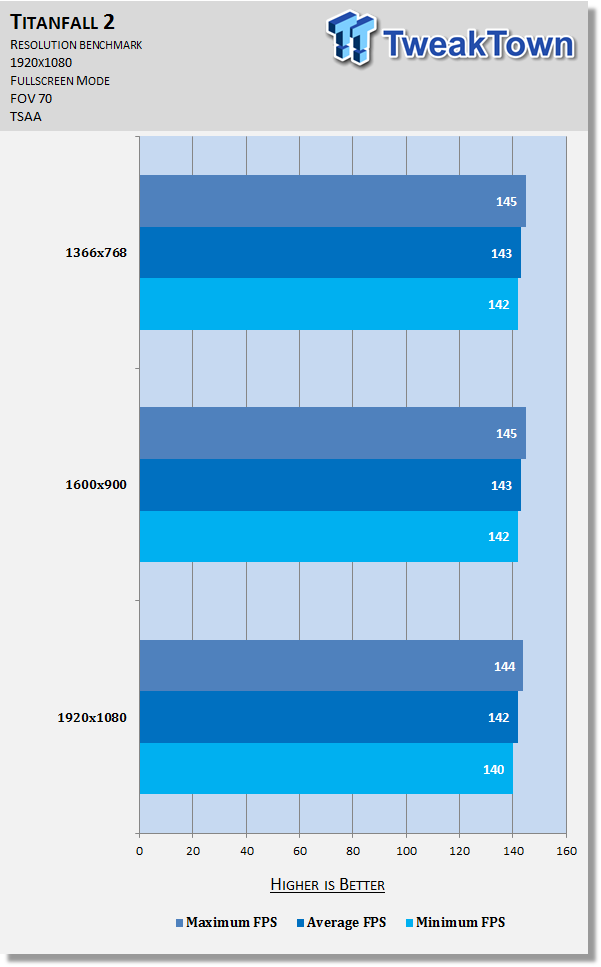 Field of View
One of the more popular and important settings, Field of View (FOV) lets you adjust how 'wide' your perspective is. At the high-end, you see more, but accuracy can be more of a challenge, and depending on your setup, you may get 'fisheye.'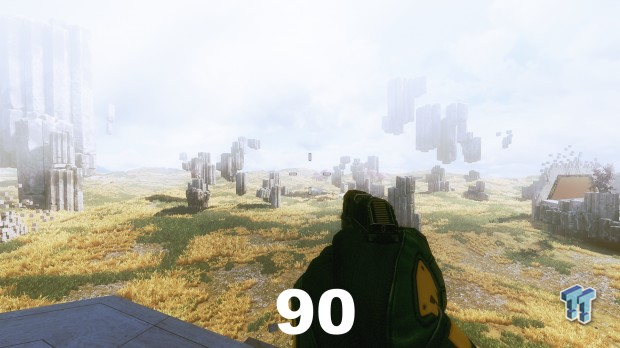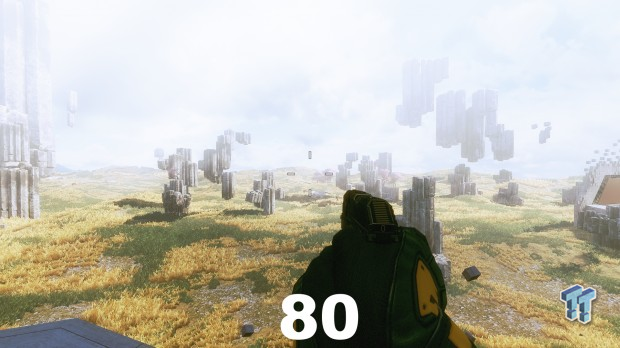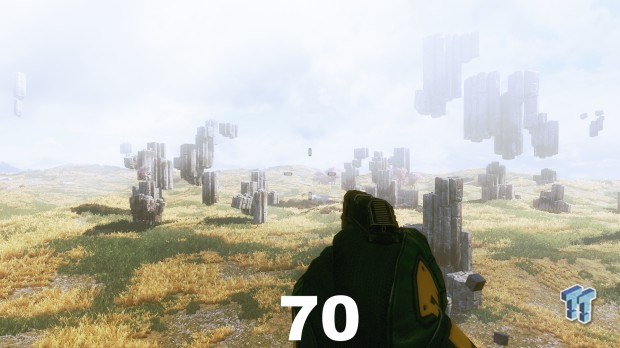 The benchmark shows that expectedly, FOV has a moderate impact on performance. For most on 1920x1080, I recommend around 80 regardless of performance, but if you really need the frames, 70 will serve you well at the cost of a somewhat cramped view.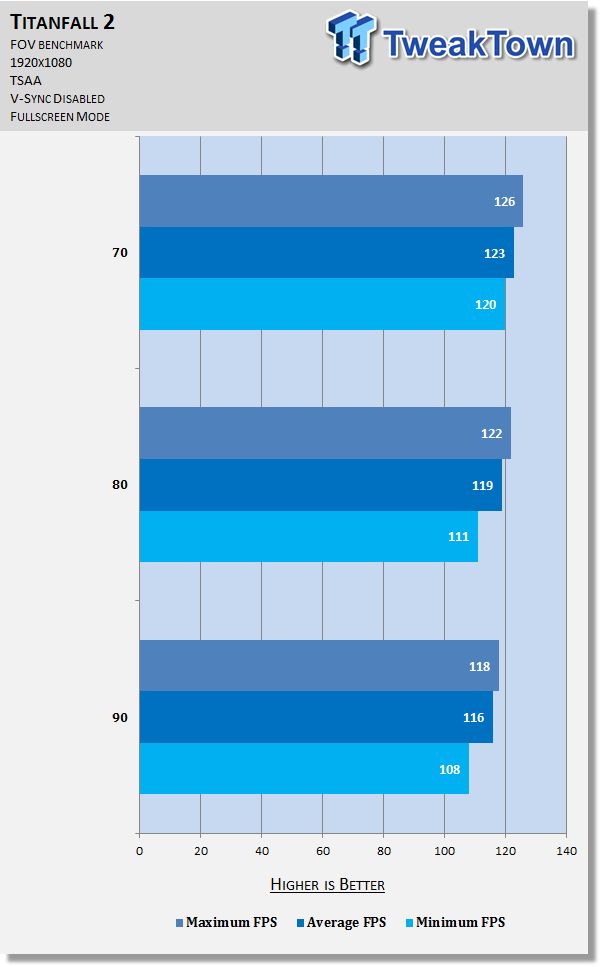 Texture Quality, Texture Filtering, Ambient Occlusion, & Sun Shadow Detail
Texture Quality
Affects the quality and sharpness of textures. The screenshots display no noticeable differences between the top three settings while dropping to Medium sees select surfaces degrade (observe the bottom blue plating on the titan as well as the torn ship in the back right). Dropping further to Low sees a gigantic degradation in texture quality across almost the entire scene.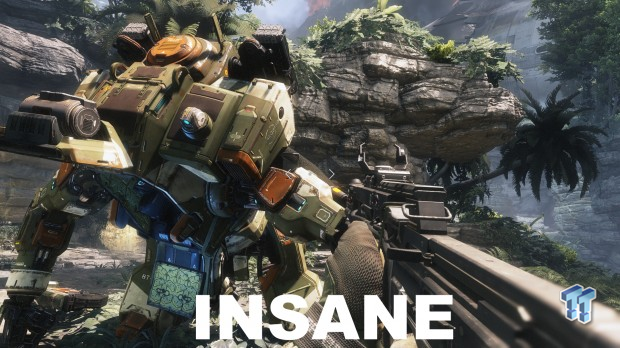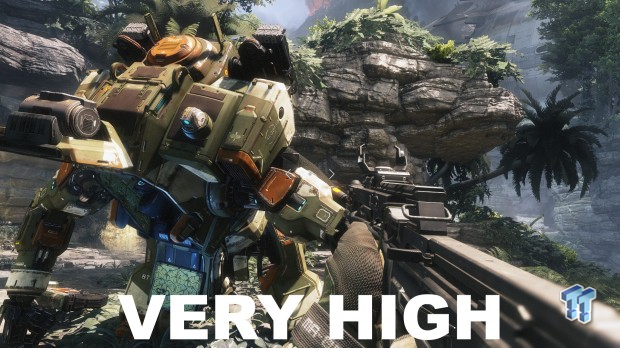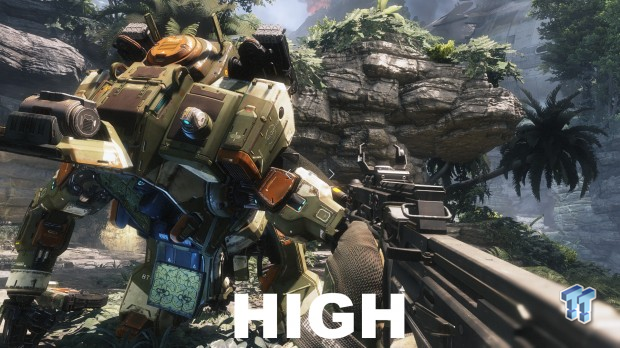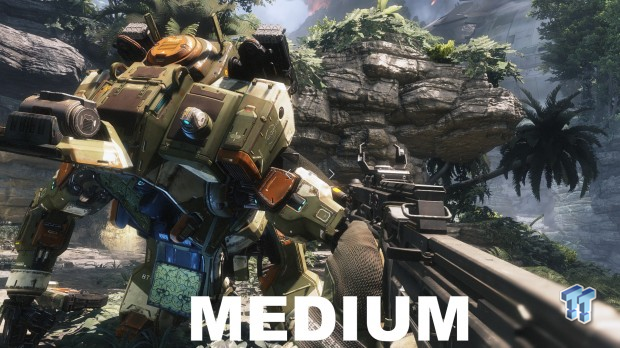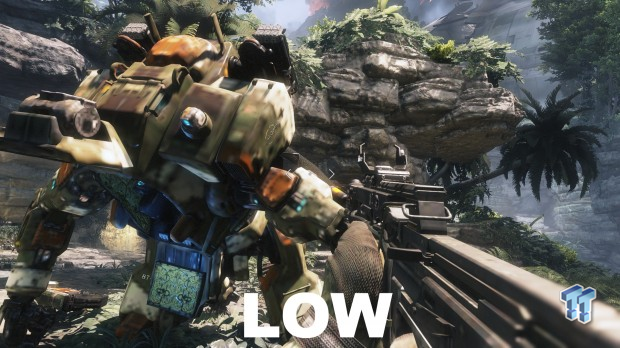 The benchmark shows Texture Quality's only definitive performance impact is seen with minimum FPS on the Low setting. This setting is largely dependent on VRAM and RAM, so testing shows 4GB VRAM and 8GB RAM will let you max it without worry. If you have less, consider lowering this setting; start with High and go from there.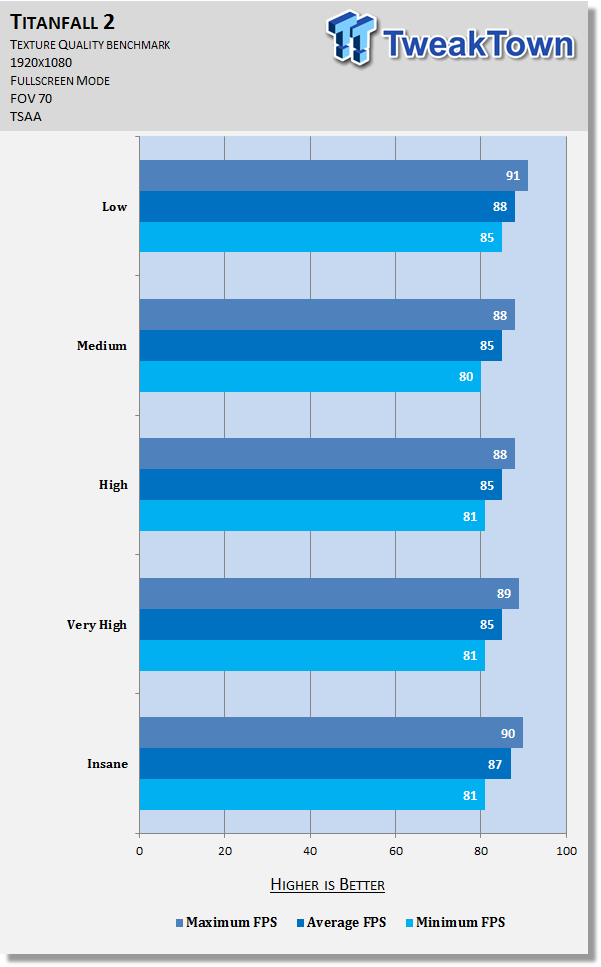 Texture Filtering
Affects the quality and sharpness of textures, particularly when viewed at an angle. In the screens below, observe the far corner wall on the right at 4X and up, and that section as well as the full wall on the right at 2X and below.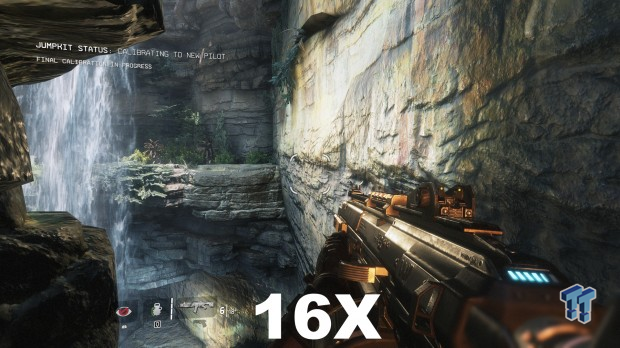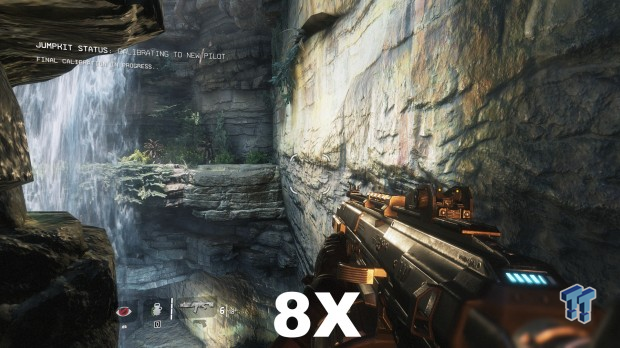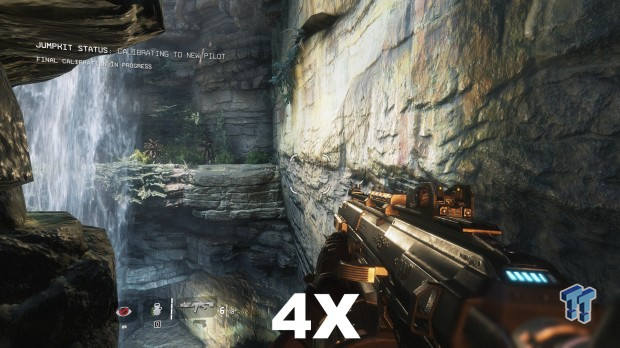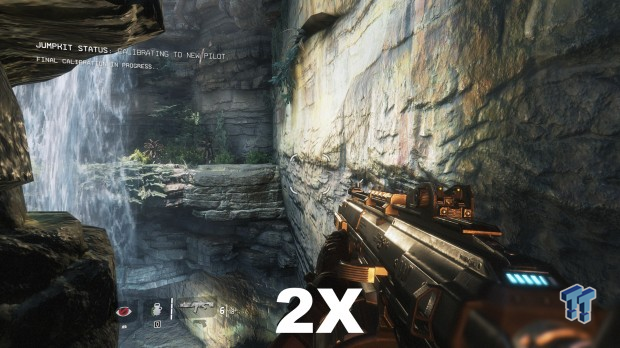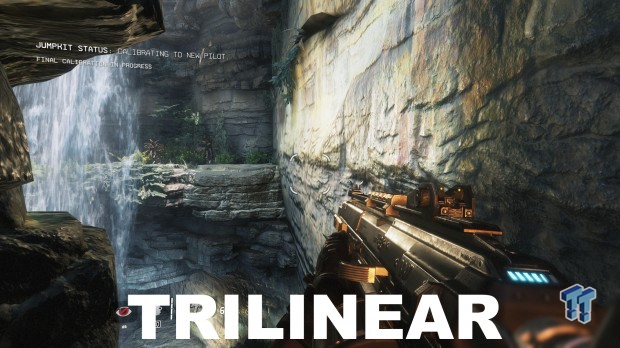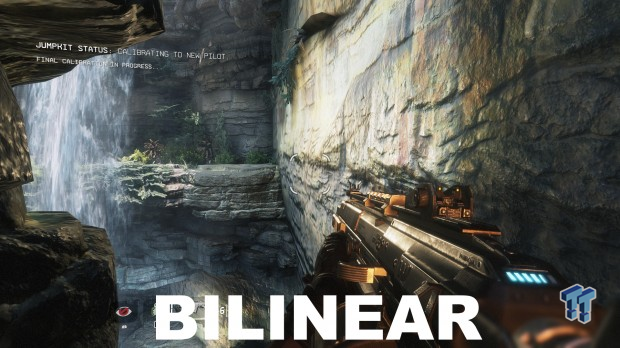 Testing reveals this setting maintains a moderate, steady hit to framerate as it is increased. Reducing it to 8X seems to have no negative effect on visuals, and even the change at 4X is pretty minor, so go ahead and lower it either setting for a more or less free performance boost. Most should avoid 2X and below if they can help it.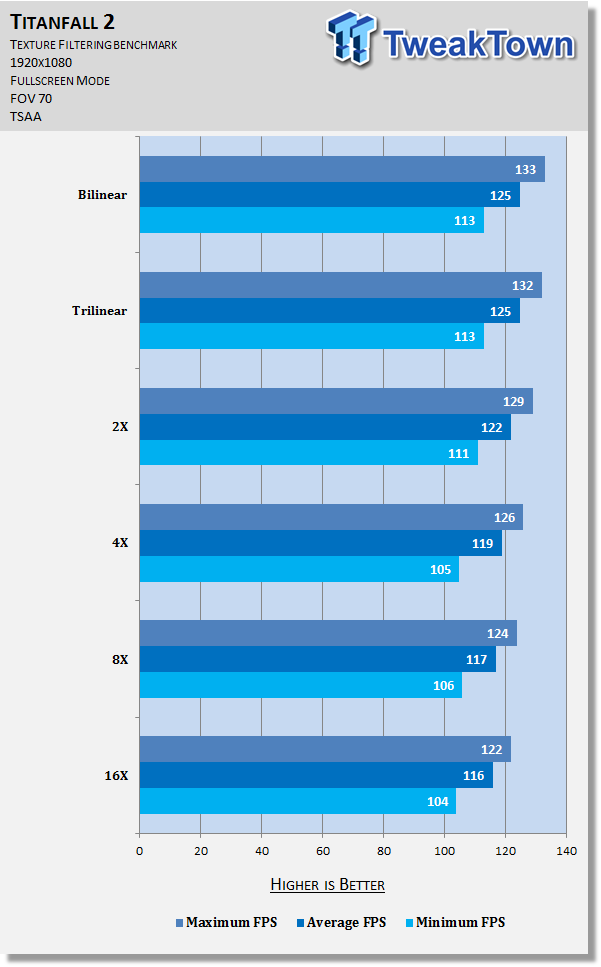 Ambient Occlusion
This setting determines how realistic and rich shadows are in-game. Disabling it has a majorly negative effect on graphics.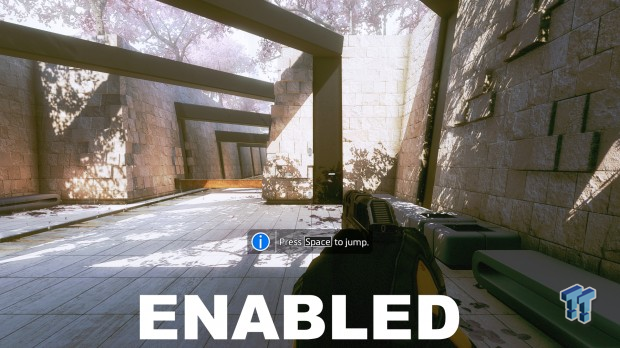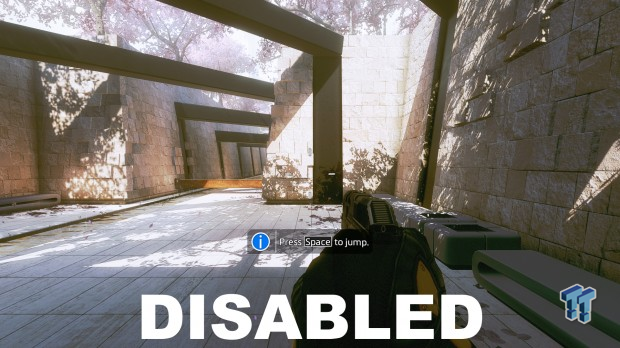 Although AO is known to have a significant performance impact, I don't know if I've ever seen it so severe as it is here. And while the added depth it brings to scenes is very much appreciated, the game doesn't look bad without it (just flatter), so it's well worth considering disabling for an extra 20+ frames.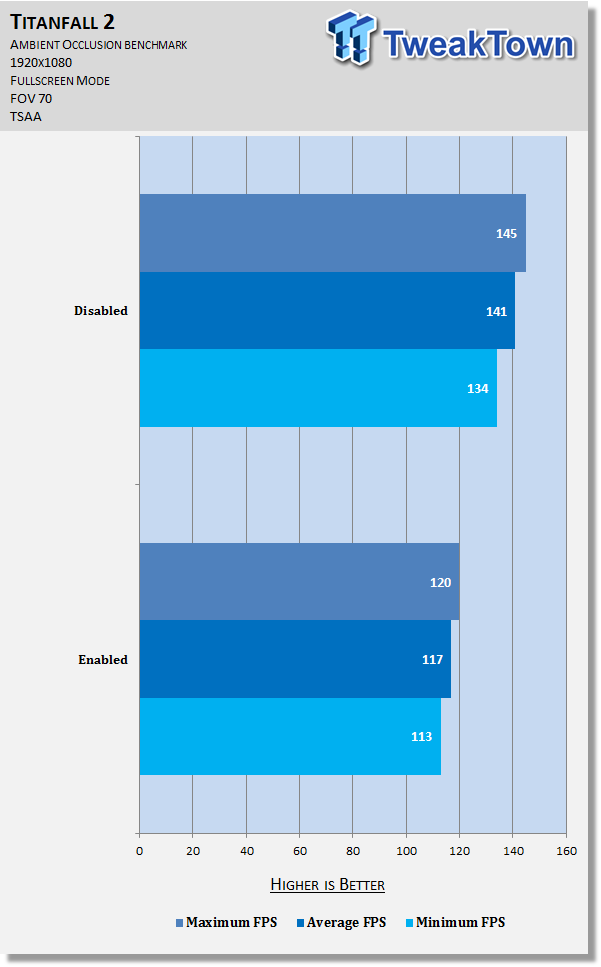 Sun Shadow Detail
Affects the presence and quality of shadows as caused by the sun. Unlike some of Titanfall 2's other settings, each level of Sun Shadows is noticeably more or less detailed than the last, with high resolution and intricately detailed shadows at Very High all the way down to very flat shadows when this setting is disabled.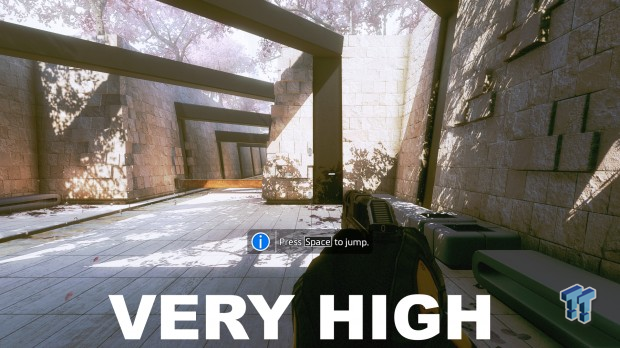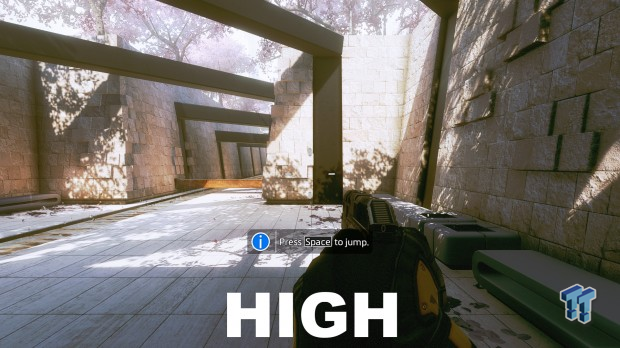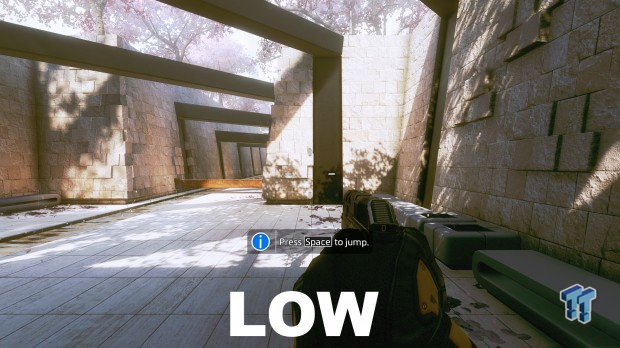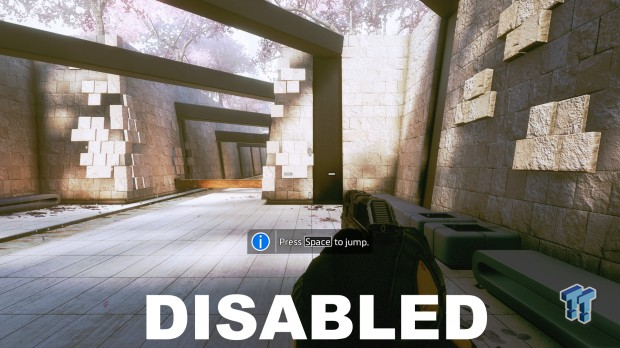 Shadows once again prove to be expensive here, with an approximately 10 FPS hit at all levels as this setting is increased. What you can live with is very much down to preference and hardware here, but if I had to give advice, I'd say go all in or not at all.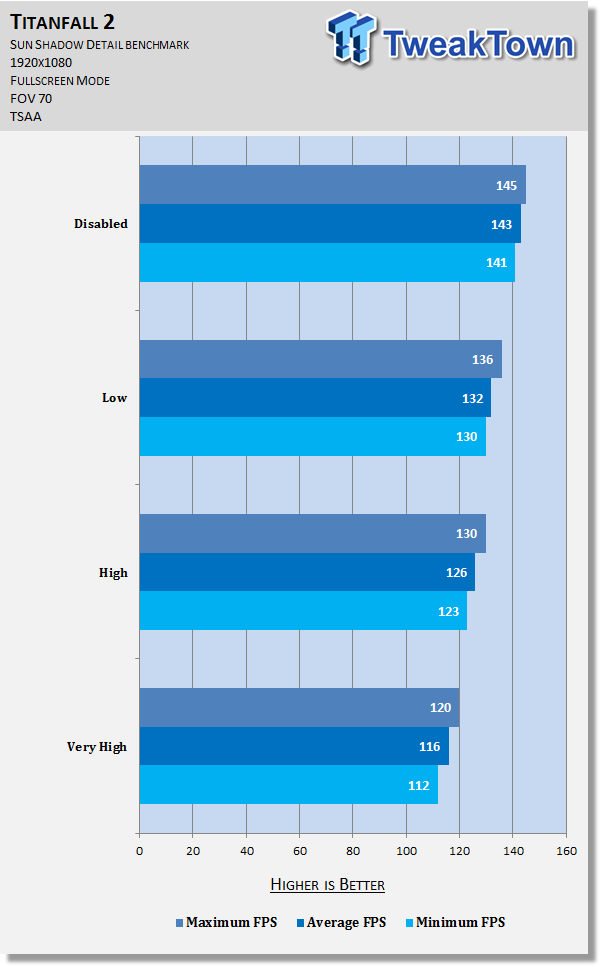 Spot Shadow Detail, Dynamic Spot Shadows, Model Detail, & Final Thoughts
Spot Shadow Detail
Dictates the quality and presence of shadows in the environment as cast by lights. One of those bizarre settings that some may actually prefer turned off, Spot Shadow Detail looks more realistic at higher settings but offers a more vivid picture when disabled.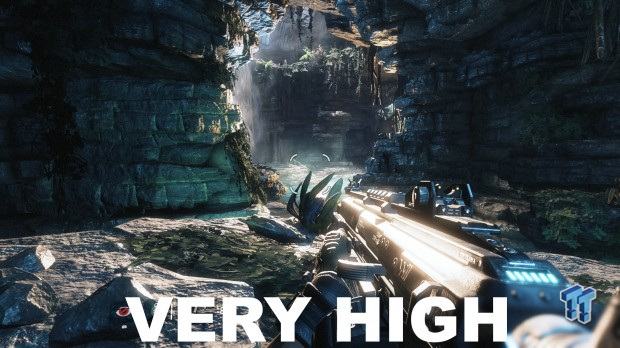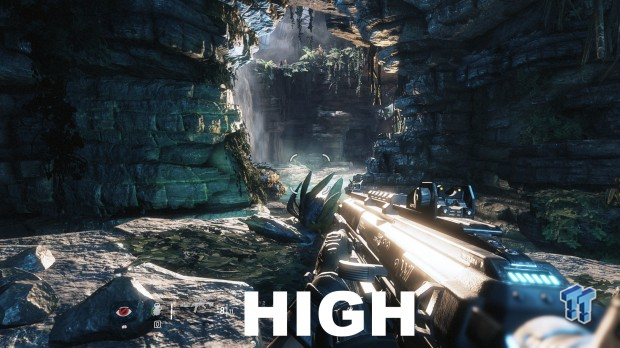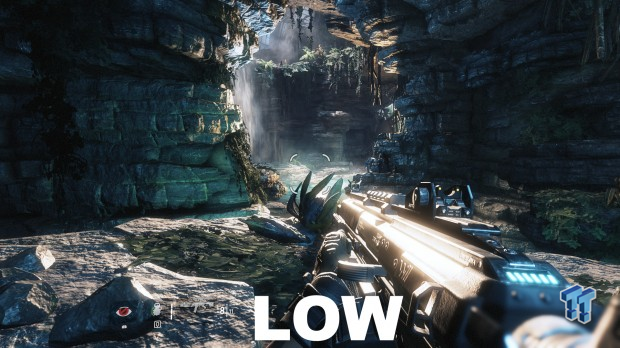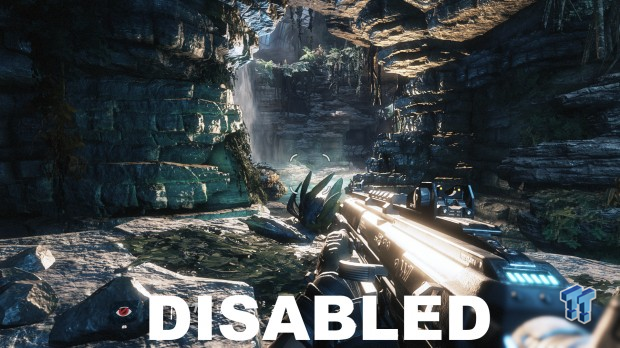 This setting offers a moderate performance increase as it is lowered. If you could use nearly 10 extra FPS, I recommend disabling it if you prefer the look of it off. If you prefer the look with it on, High or Low will still net you a nice boost without too much expense to shadows.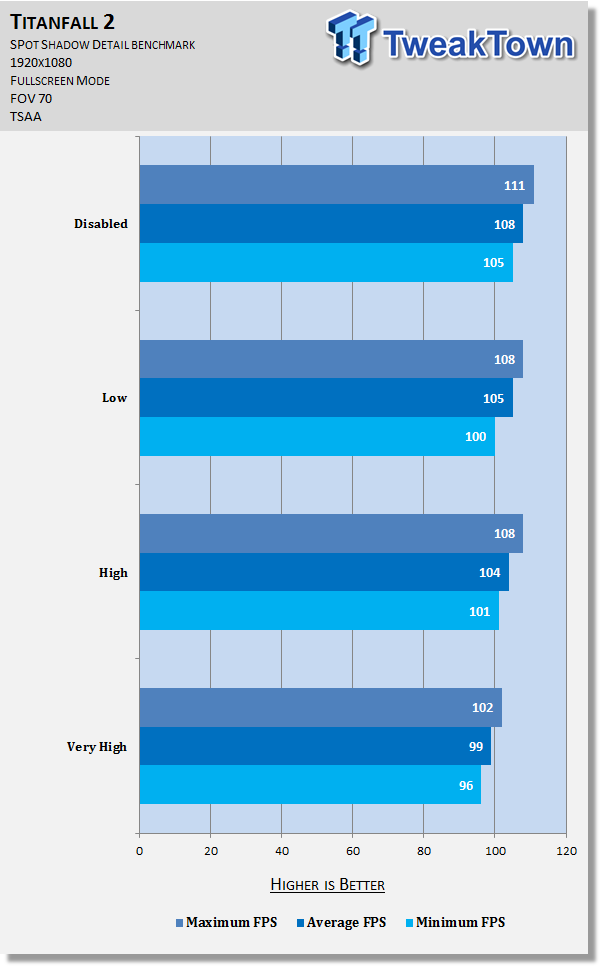 Dynamic Spot Shadows
Controls whether lights in the environment can move. This setting is impossible to capture and compare accurately in screenshots, so they've been left out of this section.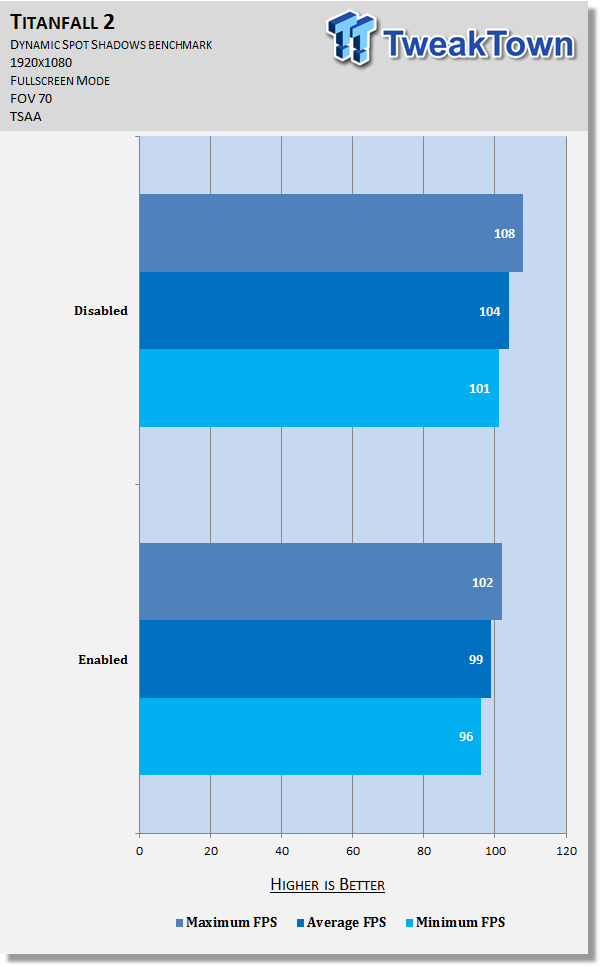 Testing tells us Dynamic Spot Shadows also have a moderate impact on performance. Moving lights are by no means a necessity, so feel free to disable this setting for an appreciable increase in framerate.
Model Detail
Said to dictate the fidelity of characters and objects, in practice, this setting seems to mainly affect terrain, particularly rocks.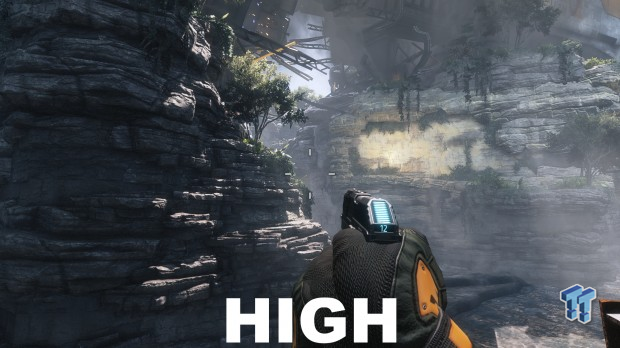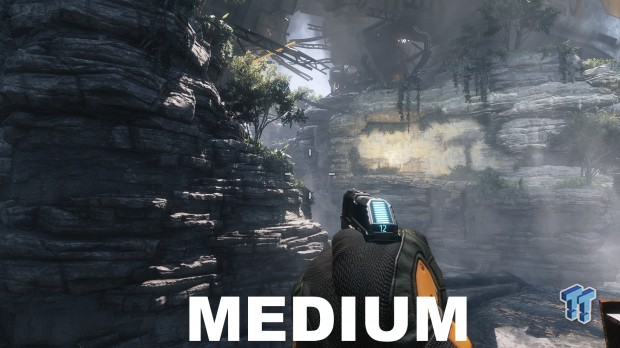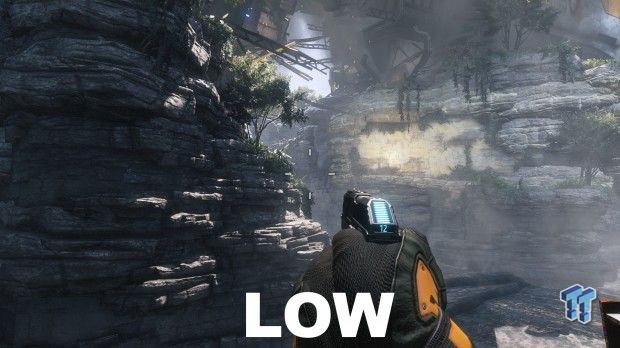 The benchmark illustrates a very minor performance hit at Medium and a moderate one at High. Given the non-essential nature of this setting and the performance differences, most should be good at Medium.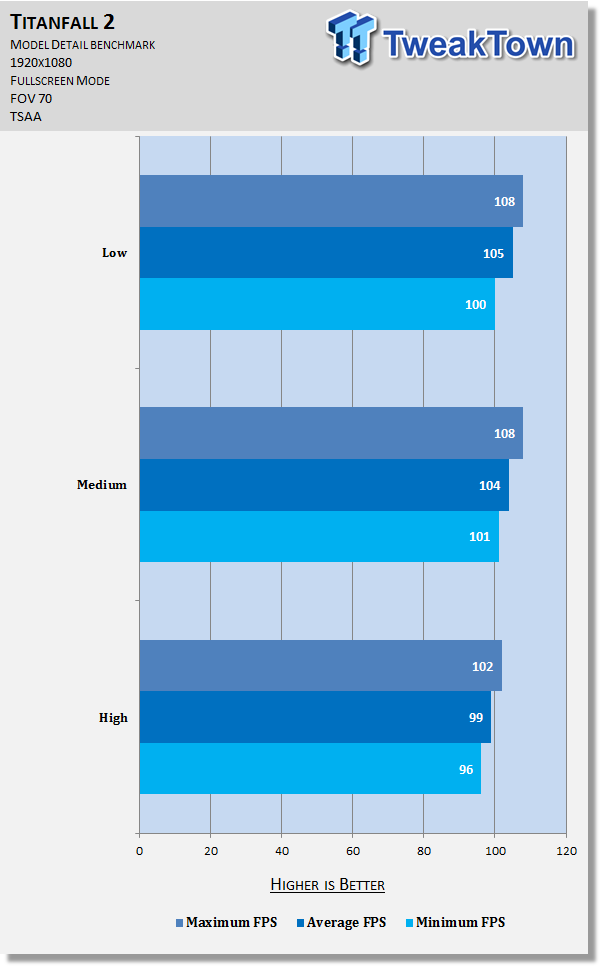 Effects Detail, Impact Marks, & Ragdolls
The first of these three settings controls the detail on effects like explosions; the second where and how many marks appear when titans hit the ground, and the third the quality of ragdoll animations. All are difficult or impossible to capture or compare in screenshots, and the story is similar with benchmarks, so they've been left out of this section.
However, I can say that based on our attempted testing, Effects appears to have a steady, significant performance impact, and if you're not super confident in your CPU, turning down the latter two options may be wise.
Final Thoughts
Unlike most titles, almost all of Titanfall 2's settings offer major differences in graphics and performance when tweaked, so this time, I strongly encourage you to simply read through this entire guide rather than focus on a few settings.
Doing so, you should come out with a game that performs much better than with default settings, or at the very least, you'll have a better balance between graphics and frames than before.
Happy tweaking!
PRICING: You can find products similar to this one for sale below.

United States: Find other tech and computer products like this over at Amazon.com

United Kingdom: Find other tech and computer products like this over at Amazon.co.uk

Australia: Find other tech and computer products like this over at Amazon.com.au

Canada: Find other tech and computer products like this over at Amazon.ca

Deutschland: Finde andere Technik- und Computerprodukte wie dieses auf Amazon.de
We openly invite the companies who provide us with review samples / who are mentioned or discussed to express their opinion. If any company representative wishes to respond, we will publish the response here. Please contact us if you wish to respond.