Mirror's Edge Catalyst Graphics Performance Tweak Guide
We show you the graphics options available in Mirror's Edge Catalyst and how they affect gaming image quality and performance.
Published Sun, Sep 25 2016 6:31 PM CDT
|
Updated Tue, Nov 3 2020 6:58 PM CST
Introduction, Testing Setup, & System Requirements
Six years ago, developer DICE had a wild idea to create a parkour game. Initially rejected by EA, the publisher eventually relented and a gem was born in Mirror's Edge, albeit one that was too innovative and unique for most to appreciate. Since then, there's been a struggle regarding which direction a sequel should take, but the pieces eventually came together to form Mirror's Edge Catalyst, a semi-open world game with messenger missions and traditional cut scenes (as opposed to the animated ones seen in the previous title).
On the technical side, the game is pretty well optimized, as is always the case with DICE games. But whether you're on a low-end laptop or just looking to get things running butter smooth on your mid-range rig, this guide will help you get the best balance between image quality and performance.
Test Setup and System Requirements
Our Test System
OS: Windows 10 64-bit

Processor: Intel Core i5 3570K 3.4GHz (Stock)

Memory: Corsair XMS3 8GB DDR3-1600 (Stock)

Storage: Crucial BX200 2.5'' 480GB 6GB/s SSD

Video Card: Sapphire Tri-X R9 290X 4GB (Stock)

Driver: Radeon Software Version 16.9.1

Resolution: 1920x1080

Input: Logitech G400 mouse, Hermes RGB mechanical keyboard
System Requirements
Minimum:
OS: Windows® 7 64-Bit

Processor: Intel i3-3250 / AMD FX-6350

Memory: 6 GB RAM

Graphics: NVIDIA GeForce® GTX 650 Ti 2GB or better / AMD Radeon™ R9 270x or better

Storage: 25 GB available space
Recommended:
OS: Windows® 10 64-Bit

Processor: Intel Core i7-3770 at 3.4GHz / AMD FX-8350 at 4.0GHz

Memory: 16 GB RAM

Graphics: NVIDIA GeForce® GTX 970 4GB or better / AMD Radeon™ R9 280x 3GB or better

Storage: 25 GB available space
Field of View, Resolution, Fullscreen Mode, & Resolution Scale
Field of View
One of the more popular and important settings, Field of View (FOV) lets you adjust how 'wide' your perspective is. At the high-end, you see more, but accuracy can be more of a challenge, and depending on your setup, you may get 'fisheye.'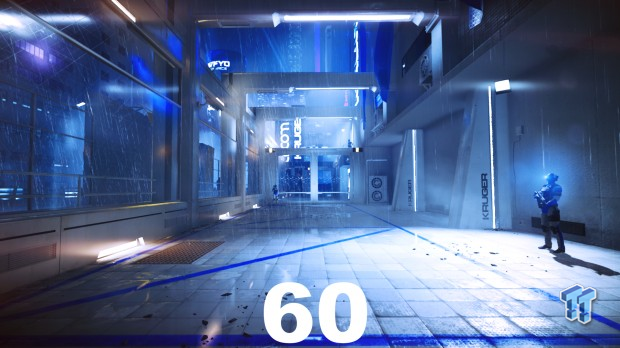 The benchmark shows that FOV has a significant performance impact at all levels, but as 90 is likely too much for most users, 75 is a great balance between vision and performance.
Resolution
The quality at which the scene is rendered, corresponding to the number of pixels; higher resolutions mean more pixels, which means higher quality.
The benchmark shows Resolution has a major performance impact at all levels. While lowering it may be tempting, it also has a major visual impact, so look at it as a last resort option.
Fullscreen Mode
This lets you choose between Fullscreen and Windowed modes (the former better for performance, and the latter better for multitasking), and Windowed Borderless mode, which appears identical to Fullscreen, but allows for quick switching between the game and other tasks, typically at the cost of game performance.
The benchmark shows that expectedly, Windowed Borderless has a moderate impact on performance. If you can spare the few frames and like multi-tasking, it's worth it, but otherwise stick to Fullscreen if at all possible, or Windowed if you want something in between. Also be aware that anything but Fullscreen tends to add input lag, although it may be difficult to notice.
Resolution Scale
This setting allows you to render the game at a higher resolution than you monitor natively supports, then downsample it to your native resolution through a process referred to as supersampling, thereby producing a sharper quality image. Alternately, you can downsample to a lower resolution, then upsample it for improved performance at the cost of image quality.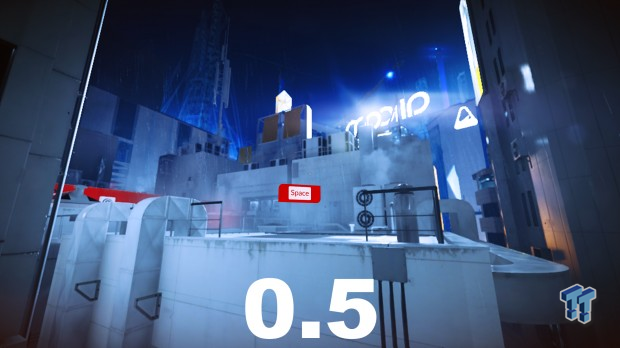 The benchmark reveals a massive effect on performance as this setting is changed, and while the visual differences are certainly appreciable, they don't scale with the cost. As such, all but the highest end users should leave it as is, while those with struggling machines should look to it as a last resort option that offers a major boost to frames (as with Resolution).
Overall Quality, Texture Quality, Lighting Quality, & Reflection Quality
Overall Quality
The presets allow for easy changes in visual fidelity in performance by affecting all graphics settings. They are imprecise and don't cater to individual preferences, however, so it's very unlikely you'll see the optimal result by playing with these, but it's useful to observe the cumulative effect of changing multiple settings at once.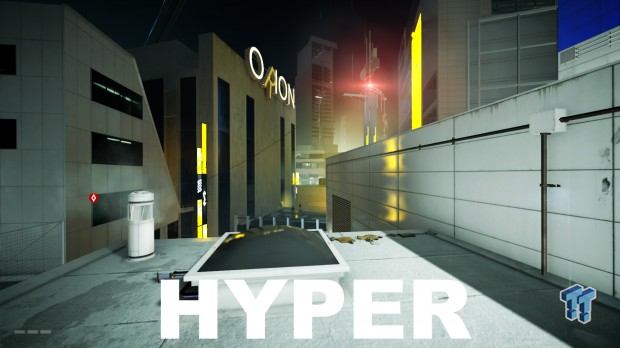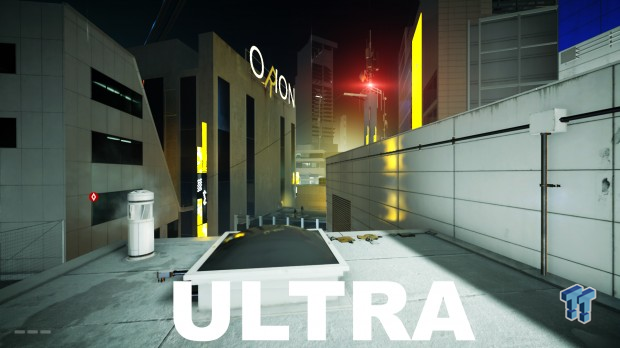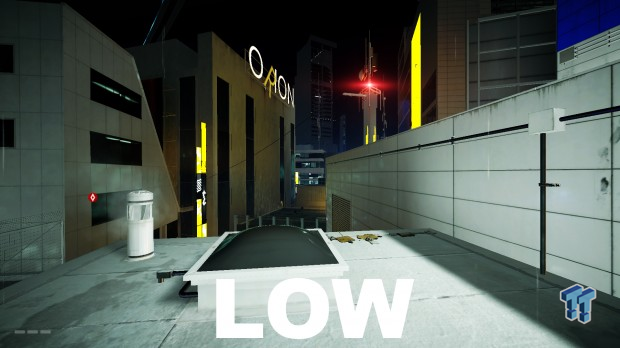 The benchmark shows Overall Quality has an unsurprisingly major effect on performance, although only between the Low, Medium, and High settings; the performance differences between High, Ultra, and Hyper are much less pronounced, which is perfectly in line with the visual differences. To put it another way, High makes for a good balance between image quality and performance.
Texture Quality
Affects the quality and sharpness of textures. In Mirror's Edge: Catalyst, the difference is difficult to notice in many scenes; in the one below, it's only obvious in the ground textures and the graffiti on the wall, but even then the only change really is seen between High and Medium.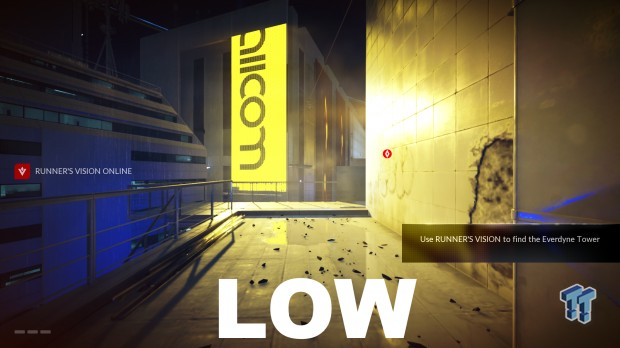 As is often the case with Texture Quality, no definitive impact on framerate is observed when changing this setting, although this could well change if you lack in VRAM. Most should keep it at the maximum setting; if you're on a lower-end card, try High and work downward from there.
Lighting Quality
Affects the resolution of various lighting in a given scene. In the screens here, it's noticeable on the couch to the left as well as on the ground in front of Faith, much moreso when changing between High and Medium and Medium and Low.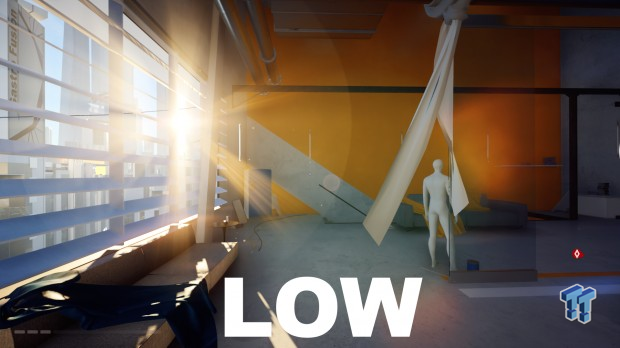 In these screenshots, the differences are most noticeable on the wooden railings and ground surfaces; quality improves significantly between 1X and 2X settings, as well as between 2X and 4X.
Testing reveals this setting comes with a significant framerate hit at all levels. Given how difficult it is to notice any improvement on Ultra and Hyper and the startling degradation at Medium and Low, High makes for a great choice if you're looking to save on frames without sacrificing much visually. You can save further with Medium and Low, but it's nothing to write home about.
Reflection Quality
Affects the presence and quality of reflections off certain lights and objects. There's no meaningful difference observed in the screenshots here between Hyper and Ultra or Ultra and High, but you can see a slight change between High and Medium, where the reflections on the floor become more vivid – less realistic perhaps, but not necessarily less appealing visually. At Low, Reflections are almost completely absent and make for a very ugly sight.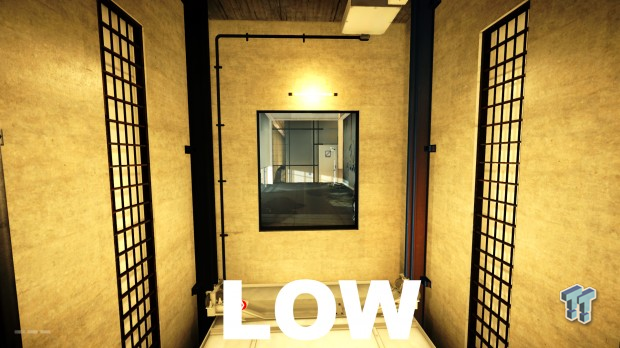 Corresponding to the lack of visual differences, the only truly major performance discrepancy here is seen when employing the Low setting, which offers about an extra four frames across the board. Most should leave this setting at Hyper.
Effects Quality, Post Process Quality, Mesh Quality, & Anisotropic Filter
Effects Quality
This setting should alter the quality, resolution, and maximum number of effects, such as those for explosions. However, examples of it are difficult to find in game, so this setting has been left out of our testing.
Post Process Quality
Controls the quality of various post processing effects in a given scene. Typically, this includes things like shaders, HDR, and/or depth of field. In Catalyst, it's difficult to observe in action, regardless of the scene.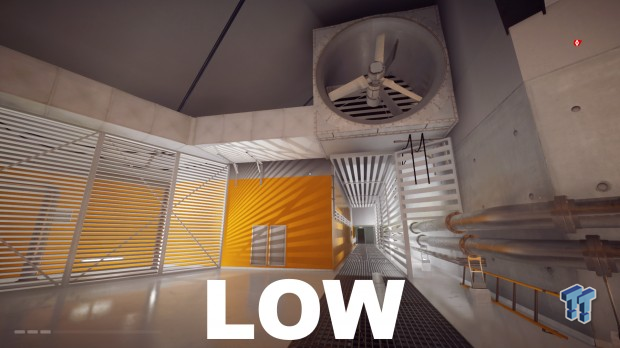 The benchmark reveals this setting has significant impact on performance at High and above; no definitive impact is observed between Low and Medium. Given how difficult it was to observe the visual effect of this setting across many different scenes, most should be good to employ the Low or Medium setting with little penalty and major reward.
Mesh Quality
Affects the presence and quality of various elements in a given scene (in this case, mesh fencing, scaffolding, etc.). Each setting offers subtly and steadily improved visual quality; lower settings aren't quite an eyesore, but lack that finishing touch.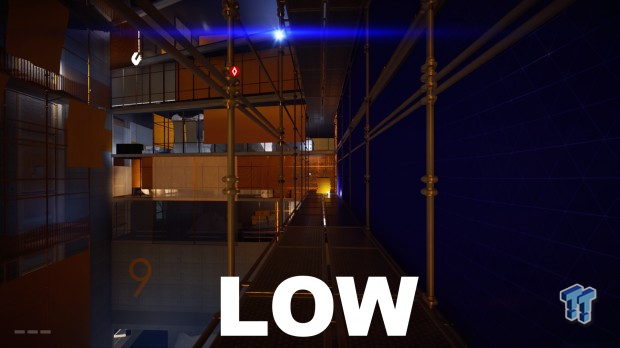 The benchmark shows only the Hyper setting has any real performance hit, and it is major. While the added graphical fidelity it brings is appreciated, anyone needing an extra 20 FPS will be much better served by switching to Ultra.
Anisotropic Filter
This setting alters the sharpness of textures, namely when they are viewed from a distance or an angle. In Catalyst, it's very difficult if not impossible to notice, however (the differences in the screenshots here are due to dynamic lighting changes caused by a video screen, not anisotropic filtering).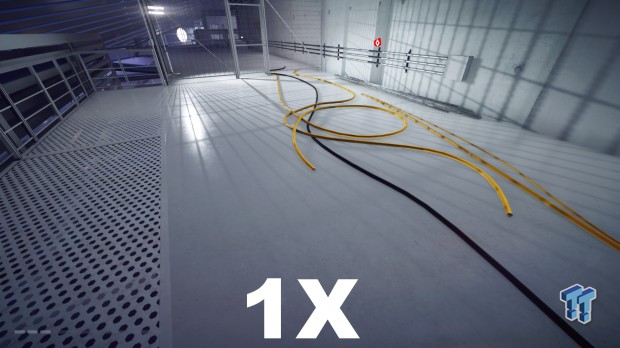 In contrast to the lack of visual differences, Anistropic Filter has a very small but steady performance hit as this setting is increased. Feel free to lower it to 1X for a few extra frames at little to no cost to graphics.
Ambient Occlusion, Motion Blur, & Final Thoughts
Ambient Occlusion
Changes the quality and method of Ambient Occlusion, which in turn determines how realistic and rich shadows are in-game.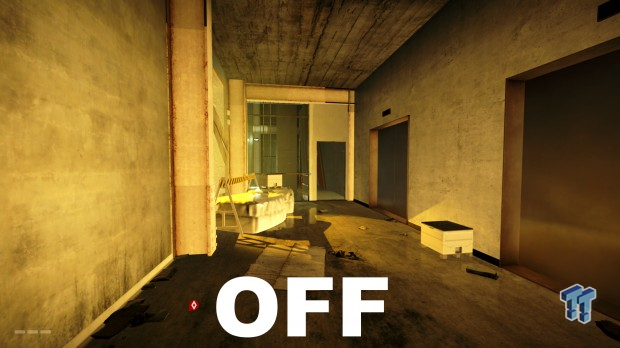 The benchmark shows there is no definitive performance hit when switching between HBAO and SSAO, so if you're going to enable this setting, HBAO is way to go. If you need to save a lot of performance and are willing to take a big hit to visual depth in all scenes, Off is the option for you.
Motion Blur
This setting is always arduous to capture properly, and it's no different here, so screenshots are absent from this section. In-game, its implementation is extremely subtle.
Testing shows Motion Blur has what appears to be a small performance impact as this setting is increased. Most should disable it as it offers little and costs a few frames.
Final Thoughts
Mirror's Edge Catalyst offers a strong list of graphics options to play around with, and as the results show, many of them are great candidates for tweaking if you need some extra frames.
As always, I recommend you read the entire guide thoroughly. That said, the key options to look at are Field of View, Lighting Quality, Post Process Quality, and Mesh Quality.
Happy tweaking!
PRICING: You can find products similar to this one for sale below.

United States: Find other tech and computer products like this over at Amazon.com

United Kingdom: Find other tech and computer products like this over at Amazon.co.uk

Australia: Find other tech and computer products like this over at Amazon.com.au

Canada: Find other tech and computer products like this over at Amazon.ca

Deutschland: Finde andere Technik- und Computerprodukte wie dieses auf Amazon.de